The Socialist 17 May 2017
Kick out the Tories! For a Corbyn-led government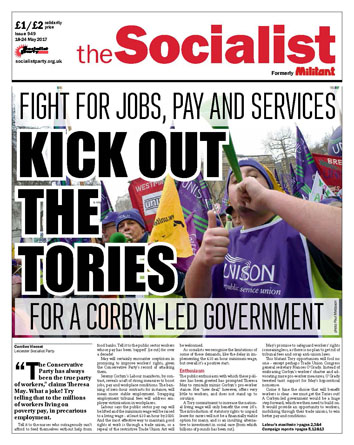 ---
Kick out the Tories: For a Corbyn-led government
Tories out! Corbyn can win with socialist policies
Corbyn's manifesto: An important step in the right direction
TUSC confirms no candidates in June
Suprise rally with Jeremy Corbyn in Morley
Corbyn's alternative for young people
Corbyn could re-win Scotland with a socialist approach to independence
---
One in three borrow for rent, Corbyn pledges housing revolution
Tories escape election fraud charges
NHS cyberattack: budget cuts and spy agency to blame
31,000 more kids at risk of abuse or neglect
---
PCS election: Increased majority for Democracy Alliance
Support Corbyn's call to renationalise Royal Mail
CWU walkout wins large concessions
Blackpool deserves better - anti-austerity rally
Unison must back Corbyn's pledge to abolish zero-hour contracts with action
---
Socialist ideas are energising young people
Fund the fight against the Tories
Packed meeting sets out socialist policies needed to defeat the Tories
---
Palestinian prisoners on mass hunger strike protest
Brazil: General strike against Temer regime
---
Barcelona May Days 1937 - a civil war within a civil war
Hull workers who fought in the Spanish Civil War
PO Box 24697, London, E11 1YD
020 8988 8777
editors@socialistparty.org.uk

Link to this page: http://www.socialistparty.org.uk/issue/949/25478
Home | The Socialist 17 May 2017 | Join the Socialist Party
Subscribe | Donate | Audio | PDF | ebook
31,000 more kids at risk of abuse or neglect
Corbyn's £8bn for a 'National Care Service' would start to reverse this
Public ownership of care and resistance to council cuts also needed
Laurel Fogarty
Over 31,400 more children were at risk of neglect or abuse in 2015-16 compared to 2010-11, according to a parliamentary report by the National Children's Bureau.
Budgets dedicated to protecting these vulnerable children have been brutally slashed by successive Tory governments leaving a deepening crisis in child social care.
Researchers have predicted that the social care budget will have a deficit of nearly £2 billion by 2020 leaving more and more children in immediate danger. Almost 90% of directors of children's services are finding it near impossible to protect the children in their care.
The true scope of this problem is impossible to know. The number of children living in extreme poverty or at risk of abuse is becoming more difficult to calculate.
As council budgets are slashed the thresholds for children being given extra support are rising. A child that might have been supported in 2010 may not be helped in 2017. This is particularly acute for disabled children.
While the Tories have insisted that spending on crisis care has increased in recent years, this statistic covers up an ugly truth - councils have been forced to increase spending on crisis care at the expense of effective early interventions such as Sure Start, because the needs of children are growing so rapidly.
Time bomb
This has created a ticking time bomb in social care as the foundations of early intervention are shattered.
Labour's manifesto pledges moves towards a "National Care Service." A government led by Jeremy Corbyn would fund local authorities to meet the basic needs of the most vulnerable children and adults, and end poverty pay for overworked care staff.
It promises to increase social care funding by £8 billion over the likely life of the next parliament, pulling social care back from the brink of complete collapse and allowing councils to fund important preventative programmes.
However, Corbyn must also instruct Labour councillors to defy Tory brutality and refuse to pass cuts budgets if the Tories return to government on 9 June.
---
In this issue
---
Kick out the Tories! Corbyn can win

Kick out the Tories: For a Corbyn-led government

Tories out! Corbyn can win with socialist policies

Corbyn's manifesto: An important step in the right direction

TUSC confirms no candidates in June

Suprise rally with Jeremy Corbyn in Morley

Corbyn's alternative for young people

Corbyn could re-win Scotland with a socialist approach to independence
---
Socialist Party news and analysis

One in three borrow for rent, Corbyn pledges housing revolution

Tories escape election fraud charges

NHS cyberattack: budget cuts and spy agency to blame

31,000 more kids at risk of abuse or neglect
---
Socialist Party workplace news

PCS election: Increased majority for Democracy Alliance

Support Corbyn's call to renationalise Royal Mail

CWU walkout wins large concessions

Blackpool deserves better - anti-austerity rally

Unison must back Corbyn's pledge to abolish zero-hour contracts with action

Workplace news in brief
---
Socialist Party reports and campaigns

Socialist ideas are energising young people

Fund the fight against the Tories

Packed meeting sets out socialist policies needed to defeat the Tories
---
International socialist news and analysis

Palestinian prisoners on mass hunger strike protest

Brazil: General strike against Temer regime
---
Socialist Party comments and reviews

Barcelona May Days 1937 - a civil war within a civil war

Hull workers who fought in the Spanish Civil War

The Socialist inbox
---
Home | The Socialist 17 May 2017 | Join the Socialist Party
Related links:

Cuts harm kids' health

Hands off free school meals!

International Women's Day

The Socialist inbox: International Women's Day

Capitalism oppresses women - fight for socialism!

Toys R Us, Maplin: worsening retail crisis claims more jobs

McDonnell says Labour would put services 'irreversibly' in workers' hands

Failing academy chain strips school assets - end academisation!

NHS: use the 3 February protests as a launch pad for a mass movement

School strikes against academy management

Swansea Labour council votes for cuts

Socialist Party congress 2018

Homes for All - Not billionaire profit!

Passing the council cuts test

For a fighting, democratic Labour Party

NHS pay: Reject the Tories' divide and rule offer

Them & us

Russia, spies and nerve agents

Abolish tuition fees and student debt!

Spring Statement 2018: Tory austerity staggers on despite economic and political weakness

Jeremy Corbyn and Brexit