The Socialist 17 May 2017
Kick out the Tories! For a Corbyn-led government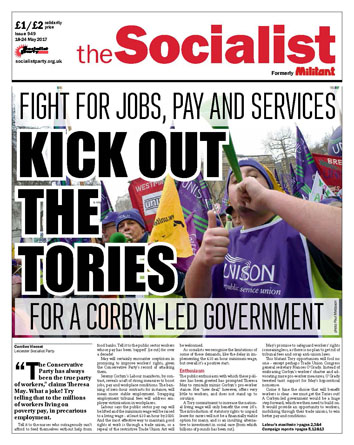 ---
Kick out the Tories: For a Corbyn-led government
Tories out! Corbyn can win with socialist policies
Corbyn's manifesto: An important step in the right direction
TUSC confirms no candidates in June
Suprise rally with Jeremy Corbyn in Morley
Corbyn's alternative for young people
Corbyn could re-win Scotland with a socialist approach to independence
---
One in three borrow for rent, Corbyn pledges housing revolution
Tories escape election fraud charges
NHS cyberattack: budget cuts and spy agency to blame
31,000 more kids at risk of abuse or neglect
---
PCS election: Increased majority for Democracy Alliance
Support Corbyn's call to renationalise Royal Mail
CWU walkout wins large concessions
Blackpool deserves better - anti-austerity rally
Unison must back Corbyn's pledge to abolish zero-hour contracts with action
---
Socialist ideas are energising young people
Fund the fight against the Tories
Packed meeting sets out socialist policies needed to defeat the Tories
---
Palestinian prisoners on mass hunger strike protest
Brazil: General strike against Temer regime
---
Barcelona May Days 1937 - a civil war within a civil war
Hull workers who fought in the Spanish Civil War
PO Box 24697, London, E11 1YD
020 8988 8777
editors@socialistparty.org.uk

Link to this page: http://www.socialistparty.org.uk/issue/949/25483
Home | The Socialist 17 May 2017 | Join the Socialist Party
Subscribe | Donate | Audio | PDF | ebook
Brazil: General strike against Temer regime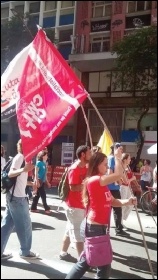 Members of the Socialist Party's sister party in Brazil marching in solidarity with strikers, photo CWI (Click to enlarge)
On 28 April, the Brazilian working class gave a clear sign of its strength and ability to mobilise.
A 24-hour general strike was called, as a unified action by all the trade union centres of the country, against the pension and labour reforms of the illegitimate government of right-wing president Michel Temer.
Liberdade, Socialismo e Revolução (LSR - CWI in Brazil) demands that a follow up 48-hour general strike be called now and be organised from below.
---
In this issue
---
Kick out the Tories! Corbyn can win

Kick out the Tories: For a Corbyn-led government

Tories out! Corbyn can win with socialist policies

Corbyn's manifesto: An important step in the right direction

TUSC confirms no candidates in June

Suprise rally with Jeremy Corbyn in Morley

Corbyn's alternative for young people

Corbyn could re-win Scotland with a socialist approach to independence
---
Socialist Party news and analysis

One in three borrow for rent, Corbyn pledges housing revolution

Tories escape election fraud charges

NHS cyberattack: budget cuts and spy agency to blame

31,000 more kids at risk of abuse or neglect
---
Socialist Party workplace news

PCS election: Increased majority for Democracy Alliance

Support Corbyn's call to renationalise Royal Mail

CWU walkout wins large concessions

Blackpool deserves better - anti-austerity rally

Unison must back Corbyn's pledge to abolish zero-hour contracts with action

Workplace news in brief
---
Socialist Party reports and campaigns

Socialist ideas are energising young people

Fund the fight against the Tories

Packed meeting sets out socialist policies needed to defeat the Tories
---
International socialist news and analysis

Palestinian prisoners on mass hunger strike protest

Brazil: General strike against Temer regime
---
Socialist Party comments and reviews

Barcelona May Days 1937 - a civil war within a civil war

Hull workers who fought in the Spanish Civil War

The Socialist inbox
---
Home | The Socialist 17 May 2017 | Join the Socialist Party
Related links:

International news in brief

Street cleaners support the Birmingham bin strike

Workplace news in brief

Bron Afon workers strike against £3,000 pay cut

Birmingham bin workers stand firm

Protests around the country demand: Tories out!

Socialist Party Congress 2017 reports

East London Socialist Party: Workers' struggles across Europe

Waltham Forest Socialist Party: Report from the CWI summer school