The Socialist 17 May 2017
Kick out the Tories! For a Corbyn-led government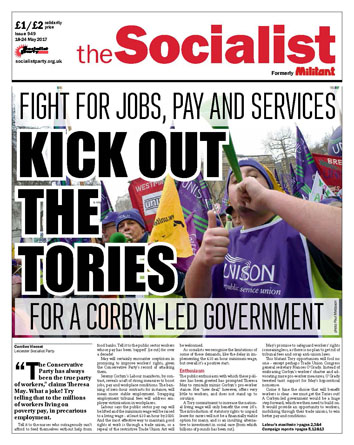 ---
Kick out the Tories: For a Corbyn-led government
Tories out! Corbyn can win with socialist policies
Corbyn's manifesto: An important step in the right direction
TUSC confirms no candidates in June
Suprise rally with Jeremy Corbyn in Morley
Corbyn's alternative for young people
Corbyn could re-win Scotland with a socialist approach to independence
---
One in three borrow for rent, Corbyn pledges housing revolution
Tories escape election fraud charges
NHS cyberattack: budget cuts and spy agency to blame
31,000 more kids at risk of abuse or neglect
---
PCS election: Increased majority for Democracy Alliance
Support Corbyn's call to renationalise Royal Mail
CWU walkout wins large concessions
Blackpool deserves better - anti-austerity rally
Unison must back Corbyn's pledge to abolish zero-hour contracts with action
---
Socialist ideas are energising young people
Fund the fight against the Tories
Packed meeting sets out socialist policies needed to defeat the Tories
---
Palestinian prisoners on mass hunger strike protest
Brazil: General strike against Temer regime
---
Barcelona May Days 1937 - a civil war within a civil war
Hull workers who fought in the Spanish Civil War
PO Box 24697, London, E11 1YD
020 8988 8777
editors@socialistparty.org.uk

Link to this page: http://www.socialistparty.org.uk/issue/949/25486
Home | The Socialist 17 May 2017 | Join the Socialist Party
Subscribe | Donate | Audio | PDF | ebook
Theatre review: Ocho
The story of workers from Hull who fought in the Spanish Civil War
Archbishop Sentamu Academy
Ocho tells the story of eight men from Hull who went to fight in the Spanish Civil War. Jane Thornton is a Bafta-winning playwright who has worked with local historians and relatives of the eight men to weave together this fascinating tale, not only of the men but of the wives they left behind.
Beginning in Hull in 1936 and set against the background of the depression, the play evokes memories of picnics in East Park, the tannery, the docks and the joy of washing day!
Facing the challenge of unemployment and the rise of fascism, James Bentley and Robert Wardle decide to take a train from Paragon Station in Hull and travel to London, through France and over the Pyrenees on foot to fight with the International Brigades in Spain.
They leave behind their wives, Kitty and Maggie, and three small children, who despite the struggles of the time, remain optimistic and hopeful for their husbands' return.
With specially composed songs by Dave Rotheray of the Beautiful South, Ocho is performed by the Spotlight Ensemble from Archbishop Sentamu Academy in Hull.
With ever-increasing cuts to the arts and severe lack of support from the government at a time when young people need it most to help deal with academic pressures and self-belief, pursuing a career in the arts can seem unachievable for young people from a disadvantaged area. The Spotlight scholarship programme was set up at Archbishop Sentamu School in September 2016 to encourage gifted and talented pupils in the performing arts.
Having worked with John Godber and Jane Thornton on projects in the past, the school approached them to help with an idea to launch the scholarship programme. They had been told the story of the eight men by musician Gary Hammond (drummer with the Beautiful South) who was seeking a platform to honour them and their achievements.
The two ideas came together and Jane set about writing a play that would give the students an opportunity to work with professionals on all areas of the production and the chance to perform not just in school but in professional spaces across the city.
Barcelona
Through his connections as a fellow at Liverpool John Moore University, John Godber was able to organise taking the play to the Institute of the Arts in Barcelona. 18 pupils will travel out to Spain on 10 July and as well as performing, they will enjoy cultural tours of Barcelona and areas relevant to the Spanish Civil War.
There is a small plaque in the Guildhall in Hull that commemorates the bravery of the eight men who went to Spain. The Hull International Brigades Memorial Group is currently fundraising in order to build a permanent memorial in the city.
Ocho will be performed at:
Archbishop Sentamu School, Hull, 27-30 June
Kardomah Theatre, Hull, 4 July
Howden Shire Hall, Goole, 5 July
East Riding Theatre, Beverley, 6 July
Institute of the Arts, Sitges, Barcelona, 11 July
---
In this issue
---
Kick out the Tories! Corbyn can win

Kick out the Tories: For a Corbyn-led government

Tories out! Corbyn can win with socialist policies

Corbyn's manifesto: An important step in the right direction

TUSC confirms no candidates in June

Suprise rally with Jeremy Corbyn in Morley

Corbyn's alternative for young people

Corbyn could re-win Scotland with a socialist approach to independence
---
Socialist Party news and analysis

One in three borrow for rent, Corbyn pledges housing revolution

Tories escape election fraud charges

NHS cyberattack: budget cuts and spy agency to blame

31,000 more kids at risk of abuse or neglect
---
Socialist Party workplace news

PCS election: Increased majority for Democracy Alliance

Support Corbyn's call to renationalise Royal Mail

CWU walkout wins large concessions

Blackpool deserves better - anti-austerity rally

Unison must back Corbyn's pledge to abolish zero-hour contracts with action

Workplace news in brief
---
Socialist Party reports and campaigns

Socialist ideas are energising young people

Fund the fight against the Tories

Packed meeting sets out socialist policies needed to defeat the Tories
---
International socialist news and analysis

Palestinian prisoners on mass hunger strike protest

Brazil: General strike against Temer regime
---
Socialist Party comments and reviews

Barcelona May Days 1937 - a civil war within a civil war

Hull workers who fought in the Spanish Civil War

The Socialist inbox
---
Home | The Socialist 17 May 2017 | Join the Socialist Party
Related links:

Catchy folk rock with a socialist edge

Hull youth festival

Young, angry and fighting back

School students' remarkable tribute to workers' Spanish Civil War bravery

Protests around the country demand: Tories out!

London bus drivers' rally

Defuse the consumer debt time bomb: nationalise the banks!

Korean peninsula: is nuclear war likely?

Caerphilly and RCT Socialist Party: How can we avoid a nuclear war?

Warts-and-all account of class war and the struggle for LGBT+ rights

Corbyn confirms £1bn for the arts

Russia 1917: how art helped make the revolution

Huddersfield A&E closure goes to judicial review

Student occupation at Chelsea College of Arts

Young Socialists launched in Greater Manchester

Massacre in Barcelona

Why do young people need socialism?

Demonstrators see off far-right in Keighley

Schools and teaching: A perfect storm of cuts, underfunding, excessive workloads and low pay