The Socialist 17 May 2017
Kick out the Tories! For a Corbyn-led government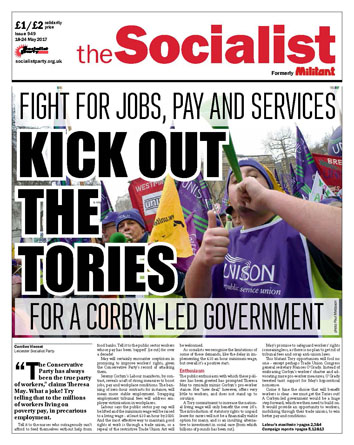 ---
Kick out the Tories: For a Corbyn-led government
Tories out! Corbyn can win with socialist policies
Corbyn's manifesto: An important step in the right direction
TUSC confirms no candidates in June
Suprise rally with Jeremy Corbyn in Morley
Corbyn's alternative for young people
Corbyn could re-win Scotland with a socialist approach to independence
---
One in three borrow for rent, Corbyn pledges housing revolution
Tories escape election fraud charges
NHS cyberattack: budget cuts and spy agency to blame
31,000 more kids at risk of abuse or neglect
---
PCS election: Increased majority for Democracy Alliance
Support Corbyn's call to renationalise Royal Mail
CWU walkout wins large concessions
Blackpool deserves better - anti-austerity rally
Unison must back Corbyn's pledge to abolish zero-hour contracts with action
---
Socialist ideas are energising young people
Fund the fight against the Tories
Packed meeting sets out socialist policies needed to defeat the Tories
---
Palestinian prisoners on mass hunger strike protest
Brazil: General strike against Temer regime
---
Barcelona May Days 1937 - a civil war within a civil war
Hull workers who fought in the Spanish Civil War
PO Box 24697, London, E11 1YD
020 8988 8777
editors@socialistparty.org.uk

Link to this page: http://www.socialistparty.org.uk/issue/949/25493
Home | The Socialist 17 May 2017 | Join the Socialist Party
Subscribe | Donate | Audio | PDF | ebook
Workplace news in brief
Fujitsu fight
Fujitsu workers are continuing their ongoing battle against offshoring, job cuts, attacks on pensions and unequal pay with further strike action. This has included protests outside of events Fujitsu Services Ltd has had a high profile at.
Strikers are angry given that these cutbacks come at the same time as Fujitsu's latest accounts show it made £85.6 million profits in the UK but paid 0% tax on this with one director alone receiving £1.5 million.
The series of strikes so far was added to on 11-12 May when workers across the country held protests outside Marks and Spencers stores, one of the major clients of Fujitsu.
In Leeds, strikers were joined by activists from Unite Community, the Socialist Party and others to leaflet customers. Managers and security staff were spotted reading the leaflets and then on the phone - presumably ringing those higher up about the issue, showing that the action was having its intended effect.
The dispute is still ongoing. More information can be found at socialistparty.org.uk as well as the strikers' website: ouruniontest.wordpress.com
Iain Dalton, Leeds Socialist Party
---
>
Blacklisted
Frank Morris, a member of Unite's executive council, is holding a one-man protest picket outside missile manufacturer MBDA in Stevenage. Frank spoke to the Socialist:
"It's been very good so far. People have been supporting me.
"After being out of work for four months, I got a start with W Portsmouth. Then after they found out I was a union activist, I was escorted off site and dismissed.
I was working in Enfield at Chase Farm Hospital but MBDA are the main customer of the company so I decided to stage my protest here in Stevenage.
"The MBDA management have called the police many times, I've had every rank of officer from PC to inspector. After the inspector came along and said what I was doing was perfectly legal, and went in to tell the management that, I've not had any trouble.
"I just want a job, I am not after money and I want to work. I am here for the long haul and will continue my protest until I get some justice.
Other trade unionists should support me, they could be affected by blacklisting. If these companies in the supply chain can get away with it, it won't be long before the main customer companies start using blacklisting as well."
Steve Glennon, Stevenage Socialist Party
---
>
RCN result
Members of the RCN nursing union have given a clear message to the government about pay. It was announced at the RCN conference that 52,000 members working in the NHS had taken part in an indicative poll which measured members' appetite for industrial action. The results of the three-week poll revealed 91% of members would take industrial action short of strike, with 78% saying they were prepared to strike. The unprecedented results show a real appetite for industrial action from RCN members for the first time ever.
Conference passed an emergency resolution calling for a summer of planned protest activity, followed by an industrial action ballot, should the next UK government fail to end the policy of pay restraint.
---
In this issue
---
Kick out the Tories! Corbyn can win

Kick out the Tories: For a Corbyn-led government

Tories out! Corbyn can win with socialist policies

Corbyn's manifesto: An important step in the right direction

TUSC confirms no candidates in June

Suprise rally with Jeremy Corbyn in Morley

Corbyn's alternative for young people

Corbyn could re-win Scotland with a socialist approach to independence
---
Socialist Party news and analysis

One in three borrow for rent, Corbyn pledges housing revolution

Tories escape election fraud charges

NHS cyberattack: budget cuts and spy agency to blame

31,000 more kids at risk of abuse or neglect
---
Socialist Party workplace news

PCS election: Increased majority for Democracy Alliance

Support Corbyn's call to renationalise Royal Mail

CWU walkout wins large concessions

Blackpool deserves better - anti-austerity rally

Unison must back Corbyn's pledge to abolish zero-hour contracts with action

Workplace news in brief
---
Socialist Party reports and campaigns

Socialist ideas are energising young people

Fund the fight against the Tories

Packed meeting sets out socialist policies needed to defeat the Tories
---
International socialist news and analysis

Palestinian prisoners on mass hunger strike protest

Brazil: General strike against Temer regime
---
Socialist Party comments and reviews

Barcelona May Days 1937 - a civil war within a civil war

Hull workers who fought in the Spanish Civil War

The Socialist inbox
---
Home | The Socialist 17 May 2017 | Join the Socialist Party
Related links:

Campaigners continue to demand Chorley A&E is fully reopened

Sainsbury's raise really a cut: fight for £10 with no strings!

Workplace news in brief

Strike continues: set dates for next national action

Determined UCU strikers: We're out to win!

NHS we're ready to fight

Tories scrap the NHS pay cap: now fight for real-terms pay rises!

"I've been placed in charge of wards without defibrillators"

Nurses express fury at the holding down of pay

Mini-strike wave continues and intensifies

Fujitsu strikes: Manchester and Warrington

For a fighting, democratic Labour Party

Social media - the potential and the limits

Swansea Labour council votes for cuts

School strikes against academy management

NHS pay: Reject the Tories' divide and rule offer

Hinkley workers win back unpaid wages after sit-in protest

Unite day of action against blacklisting

Socialist Party congress 2018