The Socialist 12 July 2017
This bosses' government must go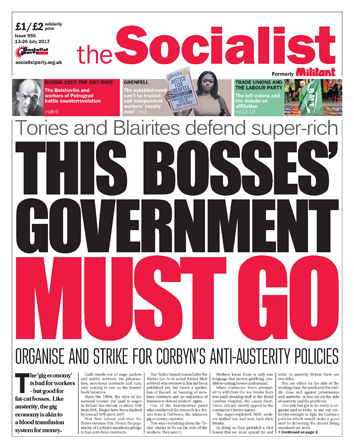 ---
This bosses' government must go
---
Grenfell stitch-up: unions should call independent inquiry
G20 betrays refugees created by its own policies
---
Striking Barts health workers show 'fighting trade unionism'
---
Vote for action to save Ford plant
Low-paid cabin crew protest during 16-day stoppage
Wales: DWP announces office closures and job losses
BMA doctor's union in shift to left at conference
Strike against driver-only operated trains continues
Durham TAs reject council's pay offer
---
The left unions and the Labour Party affiliation debate
---
July Days 1917: battles with counterrevolution
---
Lots of discussions at the Miners Gala on the way forward
The Socialist spring offensive
Southampton Labour must reverse council cuts
Waltham Forest - fighting school cuts
Fighting corporate takeover at London Pride
Chingford: Corbyn attacks pay freeze during tour
---
Huddersfield parties in the park to save hospital A&E
Leeds campaigns to save NHS on its 69th birthday
---
School students' remarkable tribute to workers' Spanish Civil War bravery
PO Box 24697, London, E11 1YD
020 8988 8777
editors@socialistparty.org.uk

Link to this page: http://www.socialistparty.org.uk/issue/956/25815
Home | The Socialist 12 July 2017 | Join the Socialist Party
Subscribe | Donate | Audio | PDF | ebook
Chingford: Corbyn attacks pay freeze during tour of marginals
Ian Pattison, Waltham Forest Socialist Party
Jeremy Corbyn has launched a 60-seat tour of the most marginal constituencies. Chingford, east London - once a safe Tory seat - was his stop on 6 June.
Up to 400 turned up at less than 24 hours' notice. Even more would have come if the venue was widely advertised in advance.
When Corbyn said he'd end the public sector pay freeze, it went down a storm. Locally, Barts NHS Trust workers are on strike demanding a pay rise.
Whipps Cross Hospital porters volunteered to speak to the crowd to appeal for their support. Unfortunately this offer wasn't taken up by the organisers.
The striking workers held up signs for Jeremy's entire speech asking him to back their campaign. Although he didn't refer to them in front of the assembled audience, he did tell them personally that he'd be in touch to back their strike.
Socialist Party placards backing Corbyn's policies were taken quickly. There were only enough for a fraction of the crowd. But scandalously, one of the organisers of the event went around telling people to put them down.
These undemocratic methods, normally associated with the right wing of the Labour Party, do not help to build the anti-austerity movement.
Despite this, 37 people bought copies of the Socialist. And four of them left their details to find out more about the Socialist Party. As workers tire of the Blairites, more and more demand their deselection.
---
This version of this article was first posted on the Socialist Party website on 10 July 2017 and may vary slightly from the version subsequently printed in The Socialist.
---
In this issue
---
What we think

This bosses' government must go
---
Socialist Party news and analysis

Grenfell stitch-up: unions should call independent inquiry

G20 betrays refugees created by its own policies
---
Socialist Party feature

Striking Barts health workers show 'fighting trade unionism'
---
Workplace news and analysis

Vote for action to save Ford plant

Low-paid cabin crew protest during 16-day stoppage

Wales: DWP announces office closures and job losses

BMA doctor's union in shift to left at conference

Strike against driver-only operated trains continues

Durham TAs reject council's pay offer
---
Socialist Party feature

The left unions and the Labour Party affiliation debate
---
Socialist history

July Days 1917: battles with counterrevolution
---
Socialist Party reports and campaigns

Lots of discussions at the Miners Gala on the way forward

The Socialist spring offensive

Southampton Labour must reverse council cuts

Waltham Forest - fighting school cuts

Fighting corporate takeover at London Pride

Chingford: Corbyn attacks pay freeze during tour
---
Save our NHS

Huddersfield parties in the park to save hospital A&E

Save Glenfield heart centre

Leeds campaigns to save NHS on its 69th birthday
---
Socialist readers' comments and reviews

School students' remarkable tribute to workers' Spanish Civil War bravery

The Socialist inbox
---
Home | The Socialist 12 July 2017 | Join the Socialist Party