The Socialist 12 July 2017
This bosses' government must go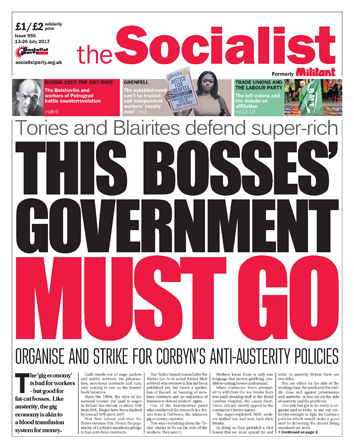 ---
This bosses' government must go
---
Grenfell stitch-up: unions should call independent inquiry
G20 betrays refugees created by its own policies
---
Striking Barts health workers show 'fighting trade unionism'
---
Vote for action to save Ford plant
Low-paid cabin crew protest during 16-day stoppage
Wales: DWP announces office closures and job losses
BMA doctor's union in shift to left at conference
Strike against driver-only operated trains continues
Durham TAs reject council's pay offer
---
The left unions and the Labour Party affiliation debate
---
July Days 1917: battles with counterrevolution
---
Lots of discussions at the Miners Gala on the way forward
The Socialist spring offensive
Southampton Labour must reverse council cuts
Waltham Forest - fighting school cuts
Fighting corporate takeover at London Pride
Chingford: Corbyn attacks pay freeze during tour
---
Huddersfield parties in the park to save hospital A&E
Leeds campaigns to save NHS on its 69th birthday
---
School students' remarkable tribute to workers' Spanish Civil War bravery
PO Box 24697, London, E11 1YD
020 8988 8777
editors@socialistparty.org.uk

Link to this page: http://www.socialistparty.org.uk/issue/956/25827
Home | The Socialist 12 July 2017 | Join the Socialist Party
Subscribe | Donate | Audio | PDF | ebook
Huddersfield parties in the park to save hospital A&E
The second annual Hands Off Huddersfield Royal Infirmary (HRI) 'Party in the Park' attracted thousands to Greenhead Park, Huddersfield on 24 June. It was a magnificent display of solidarity and helped raise funds for the campaign to keep Huddersfield's A&E department open.
After a short, silent tribute to those involved in the recent London and Manchester tragedies, where many NHS employees selflessly assisted the injured, a newly formed choir, "NHStival" sang its heart out to Coldplay's Fix You, an apt song for the NHS.
Eight rock bands encouraged the crowds to sing, chant and dance throughout the day. The crowds were also entertained with a funfair and outside sports activities.
Other campaign groups and charities were represented.
Adrian O'Malley, hospital porter and union representative and Socialist Party member, said the recent general election results had helped to slow down the Tory cuts, however, there is still a refusal to give NHS staff a decent pay rise.
Mike Forster, Huddersfield Socialist Party secretary and chair of Hands Off HRI, led an enthusiastic rally cry, almost as loud as the rock bands! "Whose NHS?" "Our NHS" the audience chanted back.
The event raised an estimated £4,000 which will go into a fighting fund to pay the legal costs of fighting the local Clinical Commissioning Group.
Huddersfield Socialist Party had its own stall and raised money towards the party's fighting fund, sold dozens of papers and badges, and filled up several petitions calling for full funding for the NHS and also for social housing in the wake of the Grenfell Tower fire.
Huddersfield Socialist Party member
---
In this issue
---
What we think

This bosses' government must go
---
Socialist Party news and analysis

Grenfell stitch-up: unions should call independent inquiry

G20 betrays refugees created by its own policies
---
Socialist Party feature

Striking Barts health workers show 'fighting trade unionism'
---
Workplace news and analysis

Vote for action to save Ford plant

Low-paid cabin crew protest during 16-day stoppage

Wales: DWP announces office closures and job losses

BMA doctor's union in shift to left at conference

Strike against driver-only operated trains continues

Durham TAs reject council's pay offer
---
Socialist Party feature

The left unions and the Labour Party affiliation debate
---
Socialist history

July Days 1917: battles with counterrevolution
---
Socialist Party reports and campaigns

Lots of discussions at the Miners Gala on the way forward

The Socialist spring offensive

Southampton Labour must reverse council cuts

Waltham Forest - fighting school cuts

Fighting corporate takeover at London Pride

Chingford: Corbyn attacks pay freeze during tour
---
Save our NHS

Huddersfield parties in the park to save hospital A&E

Save Glenfield heart centre

Leeds campaigns to save NHS on its 69th birthday
---
Socialist readers' comments and reviews

School students' remarkable tribute to workers' Spanish Civil War bravery

The Socialist inbox
---
Home | The Socialist 12 July 2017 | Join the Socialist Party
Related links:

Huddersfield A&E closure goes to judicial review

Huddersfield A&E closure referred to Jeremy Hunt

Kick out the Tories to save the NHS!

General election: what you thought about it

Huddersfield Socialist Party: What next after the general election?

Berlin hospital strike

Determined protest against Chatsworth Ward closure

Chatsworth workers and patients fight to save ward

Chatsworth ward campaigners demand answers

The Socialist inbox