The Socialist 12 July 2017
This bosses' government must go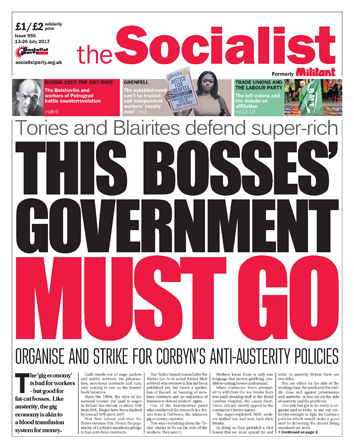 ---
This bosses' government must go
---
Grenfell stitch-up: unions should call independent inquiry
G20 betrays refugees created by its own policies
---
Striking Barts health workers show 'fighting trade unionism'
---
Vote for action to save Ford plant
Low-paid cabin crew protest during 16-day stoppage
Wales: DWP announces office closures and job losses
BMA doctor's union in shift to left at conference
Strike against driver-only operated trains continues
Durham TAs reject council's pay offer
---
The left unions and the Labour Party affiliation debate
---
July Days 1917: battles with counterrevolution
---
Lots of discussions at the Miners Gala on the way forward
The Socialist spring offensive
Southampton Labour must reverse council cuts
Waltham Forest - fighting school cuts
Fighting corporate takeover at London Pride
Chingford: Corbyn attacks pay freeze during tour
---
Huddersfield parties in the park to save hospital A&E
Leeds campaigns to save NHS on its 69th birthday
---
School students' remarkable tribute to workers' Spanish Civil War bravery
PO Box 24697, London, E11 1YD
020 8988 8777
editors@socialistparty.org.uk

Link to this page: http://www.socialistparty.org.uk/issue/956/25833
Home | The Socialist 12 July 2017 | Join the Socialist Party
Subscribe | Donate | Audio | PDF | ebook
Low-paid cabin crew protest in middle of 16-day stoppage
The National Shop Stewards Network (NSSN) and the Socialist Party joined the protest by striking mixed fleet cabin crew workers in Unite the Union outside Qatari Airways on 5 July, in the middle of their 16-day stoppage that kicked off a new wave of action.
Their employer, British Airways (BA), has been allowed by the Tory government to 'wet-lease' nine aircraft from the Qataris. This in effect legalises a scabbing operation by BA, which can use the aircraft and crew to get round what is becoming an increasingly solid strike by low-paid cabin crew.
It's ironic that the government's ally Saudi Arabia sees Qatar as a pariah but the Tories are more than happy to move heaven and earth to enable the company to strike-break. Unite has now launched legal action against the government for this decision.
The loud protest took place outside the foreboding high gates and fences of the airline offices in Earls Court and then moved onto the side of the busy road round the corner, where the strikers were met with huge cheers and beeps from the oncoming traffic.
The workers, who only earn a basic £12,000 a year, had negotiated an offer after taking 26 days of strike action this year.
However, in a vengeful act on top of the lost pay for strike action days, BA imposed sanctions on strikers of removing the bonus payments and staff travel concessions for a year.
These payments are worth hundreds of pounds and are a big part of how these workers bump up their low salaries. Scandalously, at the same time BA is paying this money as an extra bonus of at least £250 to those staff who are working normally. On top of this they are also paying those working up to £100 in travel money a day if they don't want to use their cars and £40 if they don't want to check in luggage for toiletries.
This is happening while the striking workers are forced to use a foodbank at their strike HQ near Heathrow. That is why the whole of the trade union movement must continue to support the workers, particularly as they will follow up this action with a 14-day strike.
Please attend the picket line next to Hatton Cross tube and bus station
Email messages of support to Matt.Smith@unitetheunion.org
Send donations to Unite Mixed Fleet, 33-37 Moreland St, Clerkenwell, London EC1V 8BB
---
In this issue
---
What we think

This bosses' government must go
---
Socialist Party news and analysis

Grenfell stitch-up: unions should call independent inquiry

G20 betrays refugees created by its own policies
---
Socialist Party feature

Striking Barts health workers show 'fighting trade unionism'
---
Workplace news and analysis

Vote for action to save Ford plant

Low-paid cabin crew protest during 16-day stoppage

Wales: DWP announces office closures and job losses

BMA doctor's union in shift to left at conference

Strike against driver-only operated trains continues

Durham TAs reject council's pay offer
---
Socialist Party feature

The left unions and the Labour Party affiliation debate
---
Socialist history

July Days 1917: battles with counterrevolution
---
Socialist Party reports and campaigns

Lots of discussions at the Miners Gala on the way forward

The Socialist spring offensive

Southampton Labour must reverse council cuts

Waltham Forest - fighting school cuts

Fighting corporate takeover at London Pride

Chingford: Corbyn attacks pay freeze during tour
---
Save our NHS

Huddersfield parties in the park to save hospital A&E

Save Glenfield heart centre

Leeds campaigns to save NHS on its 69th birthday
---
Socialist readers' comments and reviews

School students' remarkable tribute to workers' Spanish Civil War bravery

The Socialist inbox
---
Home | The Socialist 12 July 2017 | Join the Socialist Party
Related links:

BA poverty pay dispute enters new phase of action

Barts strike: Keep up the pressure on Serco and the trust!

Three London strikes coordinate demos

Bank of England fair pay strike

The Socialist inbox

Anti-fracking campaigners' legal fight

Demonstrators see off far-right in Keighley

Determined protest against Chatsworth Ward closure

McStrike against low pay

Young workers in unions earn 20% more

Low-paid work till lunch to make rent

Deal concludes Barts health strike - "We have raised our heads high"

London bus drivers' rally

Solidarity with Catalonia in the Spanish state