The Socialist 27 September 2017
Tories out! Corbyn in! - with socialist policies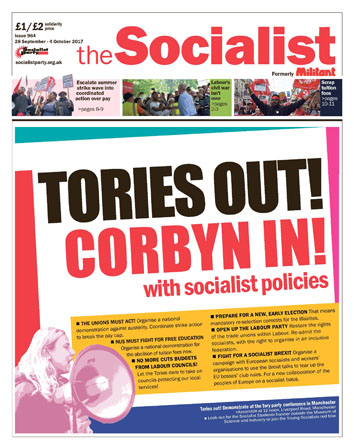 ---
Anti-austerity opposition needed to seize on Tories' weakness
---
Freshers week campaigning reports
---
Women's football - Sampson allegations
---
Gig economy exploiter Uber loses London licence
Travel chaos for Ryanair customers as airline cancels thousands of flights
One in four teenage girls depressed - crisis made worse by cuts
---
Bristol: demand for no-cuts budget grows
Salford: Labour mayor needs to stop all cuts
Ledbury tenants fight for decent homes
Hundreds march against Labour council's development plan
Stop the cuts - save our vital services
Lessons of October new edition out now!
---
Escalate summer strike wave into coordinated action to defeat the pay cap
Birmingham bin strike: council humiliated in court battle - but war isn't over yet
Food processing workers vote for action against miserly bosses
Usdaw elections announced - fight for a left leadership, vote for Amy Murphy
Surrey County Council staff on collision course over pay freeze
CWU strike ballot to win 'Four Pillars'
---
Strike against Madrid's 'state of emergency'!
German elections: rise of the far right and right-wing government will provoke resistance
PO Box 24697, London, E11 1YD
020 8988 8777
editors@socialistparty.org.uk

Link to this page: http://www.socialistparty.org.uk/issue/964/26193
Home | The Socialist 27 September 2017 | Join the Socialist Party
Subscribe | Donate | Audio | PDF | ebook
Escalate summer strike wave into coordinated action to defeat the pay cap
Rob Williams, Socialist Party industrial organiser
The demonstration outside the Tory party conference in Manchester on 1 October is the first main mobilisation since the TUC congress in mid-September. At the TUC, unions agreed to launch a campaign of demonstrations and industrial action to break the Tory public sector pay cap. Workers will be hoping that the Manchester protest is the launch pad for such a fight.
The summer has already seen a whole number of low-paid workers on strike - including at Barts NHS Trust, British Airways mixed fleet cabin crew, Bank of England, Argos, Mears, Birmingham bin workers and of course the historic McDonald's workers. These disputes and others represent the beginning of a revolt against the attack on workers' living standards by the employers and their Tory government that has caused a cut in incomes not seen since Victorian times.
In addition, the RMT transport union has continued and escalated its action against driver-only operated trains, which will see coordinated strikes at four train companies. Also, the Communication Workers Union (CWU) will announce the result of its strike ballot of 110,000 workers in Royal Mail on 3 October, the first national ballot under the new undemocratic voting thresholds of the Tory Trade Union Act.
Ten years since the financial crisis struck, followed by seven years of vicious austerity, workers have taken any opportunity to strike a blow against the capitalist establishment. The 45% vote for Scottish independence in 2014 and the Brexit vote in 2016 represented this mood.
As did the mass movement that propelled Jeremy Corbyn into the Labour leadership, taking full advantage of the rule changes that unintendedly opened up the election. This was repeated in Corbyn's reelection last year and most clearly by the performance of Labour under his leadership and anti-austerity manifesto in the general election, which shocked the Tories and denied a May a majority.
That election result has undoubtedly weakened the Tories and given a boost of confidence to workers that they can be defeated or at the very least, serous concessions can be won. But it would be a serious mistake of the union leaders to believe that the scrapping of the pay cap will just fall into their laps.
Neither is it the case that there is no need to fight because of the 'inevitability' that the Tories will implode and be replaced by a Jeremy Corbyn-led government. But this prospect unnerves the capitalist establishment, who are worried how far such a government could be pushed by an expectant working class.
While it's clear that the Tories are vacillating over public sector pay, with serious divisions opening up, they are very wary of how to proceed. A total capitulation would be a huge boost to workers' confidence and would demoralise the Tories. Alternatively, to do nothing could turn the growing anger into mass action.
During TUC congress, they announced pay increases for police and prison officers that breached the 1% pay cap but both were less than half the RPI inflation rate revealed on the same day.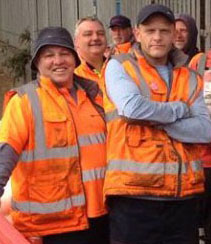 Birmingham bin strikers at the Digbeth picket
'Underserving'
It's clear from this however, that their approach will be to divide and rule by looking to scrap the cap for the 'deserving' public sector workers - police, prison officers, nurses, firefighters - rather than the 'underserving' civil servants and council workers. Union members across the public sector must fight to ensure that these divisive methods are defeated.
In any case, May and Hammond could reap the worst of all worlds for them - offering something that is totally inadequate and continues to anger workers but at the same time being enough to give workers confidence that it's possible to fight for more.
Workers may demand that the pay cap be lifted but they also know that prices are rising by nearly 4% and they want some of the losses that they have experienced over seven years of pay freeze to be recovered.
Civil service and local government unions are demanding a 5% pay rise while health unions want a minimum of the most recent 3.9% RPI rate. It is vital that unions are not limited by the verdict of pay review bodies, that in any case only cover about 45% of public sector workers.
But they also want any pay rises to come from new resources, not be paid for through the 'efficiency savings' of more job losses, privatisation or outsourcing.
This was reflected in the rejection by the Fire Brigades' Union (FBU) of a pay offer over the pay ceiling. There was also real anger by rank-and-file firefighters over the strings that opened the door to taking up some paramedic duties. The FBU should now put itself at the heart of united union action over pay.
TUC policy
The debate on public sector pay was one of the least controversial at TUC congress. All the motions were composited together, meaning that TUC policy now includes:
"To facilitate, organise and coordinate collective action and campaigns, including industrial action when required, on the part of affiliates to end public sector pay restraint across the UK... organise a national demonstration... take immediate steps to develop a coordinated strategy of opposition to the pay cap within the public sector, including the sharing and coordinating of bargaining timetables and pay demands, campaign activities, tactics, ballots and industrial action."
Of course, as the record of the TUC shows, left to themselves these words will remain on paper. Therefore, it is vital that union members immediately put pressure on their respective unions to demand that these instructions are carried out. If not, the left unions must act.
The TUC demonstration on 26 March 2011 brought up to 750,000 workers to London. It set the scene for the 30 June pension strike by civil servants' union PCS and the education unions NUT, ATL and UCU.
At that year's TUC congress, 29 public sector unions agreed to coordinate strike ballots which resulted in the massive two million strong 'N30' strike on 30 November 2011. It should have been the beginning of a decisive struggle against the austerity government of Cameron, Osborne and Clegg but it was halted weeks after by the TUC and conservative union leaders, only emboldening the Tories to roll out more of their cuts offensive. This cannot happen this time.
The public sector unions must now meet to coordinate industrial action ballots. In his union's fringe meeting at the TUC, PCS general secretary Mark Serwotka reminded delegates that this is exactly what happened in 2011 after that year's congress during the pensions struggle. He also promised that if the TUC didn't move to convene such a meeting, PCS would write to unions to try and bring them together.
PCS will launch a consultative pay ballot in early October. It is designed to seriously prepare the ground for a strike ballot in a few moths time. PCS sees it as an ideal opportunity to test the union's capability in overcoming the undemocratic voting thresholds in the Trade Union Act.
PCS understands that the unions can't be paralysed by this new Tory anti-union law. It is possible to get the votes to have national action but a massive campaign has to be conducted, just as is being done by the CWU in Royal Mail.
The other public sector unions (Unison, Unite, GMB and the new National Education Union) must now, as a minimum, use the PCS tactic and launch consultative ballots and not wait until the end of sham negotiations with the government and employers to determine whether to accept or reject another pay cut.
The fact that the TUC is now backing the unions' evening London demonstration on 17 October against the pay cap is a step forward and a start.
There is no either/or on strikes and marches. A national Saturday demonstration, called in the name of the TUC and the unions, can play a central role as part of such a campaign to win a positive strike vote.
Tory budget
Now that the Tory budget has been scheduled for 22 November, a demonstration called for the Saturday before could be huge, particularly if it was backed by Jeremy Corbyn and John McDonnell, even more if included in its demands was the abolition of tuition fees, which could attract the young people that were mobilised in such numbers in the election.
Corbyn's campaign gave this austerity generation hope but it also found an outlet for their rage at the daily experience of work, at poverty pay in zero-hour contract jobs.
But this reality is also a threat to the unions. In its post-TUC article the Financial Times conceded that: "Britain's trade unionists are in bullish mood...they believe that the political winds are beginning to blow their way... (with) the weakened Conservative government."
But the Financial Times sought comfort in the continued falling union membership, mainly due to deindustrialisation and the cuts to the public sector where union density has been greatest. The latest official figures released this week show that less than 17% of workers are employed in the public sector, the lowest share since 1947, the year before the NHS was founded.
The GMB estimates that almost a million public jobs have been lost since 2010 due to funding cuts, privatisation and outsourcing. There was nothing inevitable about this. In particular, the actions of union leaderships such as in the GMB along with those in Unison and the TUC in prematurely ending the pensions struggle opened the door to the full force of the Tory cuts, which have been dutifully passed on by Labour councils.
Disgracefully, this is still continuing, flying in the face of Jeremy Corbyn's anti-austerity leadership. Derby and Durham councils are looking to cut the wages of teaching assistants by 23% and Birmingham is trying to use the practices of the worst Tory or private sector employer to take up to £5,000 from bin workers' pay.
But all these workers have fought back over the last year. They are part and parcel of a new wave of workers' resistance which shows that if the unions fight together on public sector pay, they would get huge support from workers in the private sector and in fact inspire them to get organised in a union and take action themselves.
Pay isn't the only issue that is angering workers but it can be a lightning rod for all the other grievances that they have, particularly if the unions fight together.
Now is the time to put words into action, to name the date for a Saturday demonstration and to coordinate the strike ballots for the action that can scrap the pay cap for all and defeat the Tories.
---
In this issue
---
What we think

Anti-austerity opposition needed to seize on Tories' weakness
---
Socialist Party youth and students

Fight for free education

Freshers week campaigning reports
---
Sport

Women's football - Sampson allegations
---
Socialist Party news and analysis

Gig economy exploiter Uber loses London licence

Travel chaos for Ryanair customers as airline cancels thousands of flights

One in four teenage girls depressed - crisis made worse by cuts
---
Socialist Party reports and campaigns

Bristol: demand for no-cuts budget grows

Salford: Labour mayor needs to stop all cuts

Ledbury tenants fight for decent homes

Hundreds march against Labour council's development plan

Stop the cuts - save our vital services

Lessons of October new edition out now!
---
Socialist Party workplace news

Escalate summer strike wave into coordinated action to defeat the pay cap

Birmingham bin strike: council humiliated in court battle - but war isn't over yet

Food processing workers vote for action against miserly bosses

Usdaw elections announced - fight for a left leadership, vote for Amy Murphy

Surrey County Council staff on collision course over pay freeze

CWU strike ballot to win 'Four Pillars'
---
International socialist news and analysis

Strike against Madrid's 'state of emergency'!

German elections: rise of the far right and right-wing government will provoke resistance

French Labour reform protests
---
Home | The Socialist 27 September 2017 | Join the Socialist Party