The Socialist 4 October 2017
Solidarity with Catalonia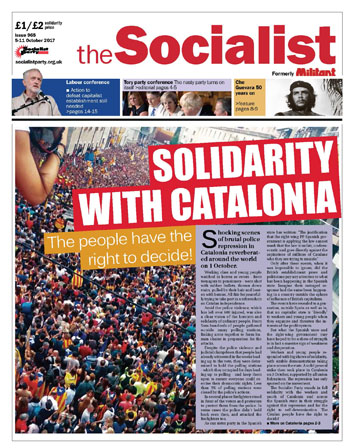 ---
Solidarity with Catalonia - the people have the right to decide
Exemplary resistance by the people of Catalonia
Eyewitness: Irish socialist MP participates in events
---
---
Royal Mail workers set for national strike action
Unison attacks Barts deal after failing to ballot their members for strike action
RMT strikes against removal of train guards spreads
University of Leeds workers walk out
ThyssenKrupp - Tata steel merger
---
Revolutionary socialist Che Guevara 50 years on
---
Labour Party conference: Action against establishment sabotage still needed
---
Monarch abdicates responsibility to workers
---
£11,000 raised in three weeks for fighting fund
Why I joined: I wanted to change things
Chatsworth ward campaign replies to Tory MP's intervention
Surveying Labour councillors - will they fight cuts?
Leeds Socialist Students marks 'International Safe Abortion Day'
Protest outside Ukip conference against German far-right speaker
PO Box 24697, London, E11 1YD
020 8988 8777
editors@socialistparty.org.uk

Link to this page: http://www.socialistparty.org.uk/issue/965/26216
Home | The Socialist 4 October 2017 | Join the Socialist Party
Subscribe | Donate | Audio | PDF | ebook
ThyssenKrupp - Tata Steel merger
Pensions, jobs and conditions cut but no guarantees for future!
Alec Thraves
While the signing of a 'memorandum of understanding' between Tata Steel and ThyssenKrupp was given a 'cautious' welcome by steel union leaders, there is still massive uncertainty over the future of the Port Talbot plant and others across the UK and Europe that will make up the new, merged company 'ThyssenKrupp/Tata Steel'.
4,000 job losses have been immediately announced, to be shared out by both partners, while the new company has stated that its production network would be reviewed in 2020 'with the aim of integrating and optimising the production strategy', which means in English, Dutch, Welsh or German: job losses and plant closures!
These concerns over job losses were highlighted when the steel unions at Port Talbot meekly called for assurances from Tata to stick to its promises of no compulsory redundancies for at least five years.
Meanwhile, the city of Bochum, in Germany's industrial heartland, witnessed more militant action when 7,000 ThyssenKrupp steel workers stopped production after the merger announcement and marched through the city in protest at the likelihood of future job losses.
Big business commentators are clear in reasserting the fundamental theme of the merger - to rationalise future steel operations! The Royal Bank of Canada for example, expects the merged company to reduce upstream steel production, with especially Port Talbot in the firing line and at least one of its blast furnaces shutting down.
Pension scheme
In addition, there is bitter resentment among many past and present workers about the closure of their British Steel Pension Scheme (BSPS) which has allowed this merger to proceed by offloading Tata's so-called 'pensions liability'.
That £15 billion 'liability' will now be paid for by the 130,000 members of the BSPS who have been conned out of their deserved pension rights and will each lose many thousands of pounds during their retirement.
Tata played on the threat of redundancies for its 8,200 UK employees and the closure of its Port Talbot plant in order to pressurise the workforce into accepting these devastating pension cuts.
Without a determined and fighting alternative from the leadership of the steel unions and the Welsh government, a majority of workers saw no alternative but to reluctantly concede to Tata's demands in order to try to save jobs.
Socialist Party members and National Shop Stewards Network (NSSN) supporters working in the Port Talbot plant argued from the outset that the demand for nationalisation of Tata steel, under democratic workers' control and management, was the only guarantee to secure their jobs and save the BSPS.
In April 2016, the NSSN organised a protest in Port Talbot calling for Tata UK to be nationalised, which attracted hundreds of local people and helped ensure that the idea of public ownership became a key demand in the campaign to save plants and jobs.
If this increasingly supported alternative - nationalisation - had been campaigned for by the trade union and Welsh Labour government leaders then steel workers would not be facing the prospect of this big business highway robbery of their pensions!
The merger is the beginning not the end of the struggle to retain steel production in Port Talbot and across Europe. A united struggle of all ThyssenKrupp/Tata Steel workers over coming years will be necessary to confront the inevitable attacks on jobs and conditions.
The demand for workers' unity and nationalisation must be to the fore in such a struggle.
---
This version of this article was first posted on the Socialist Party website on 28 September 2017 and may vary slightly from the version subsequently printed in The Socialist.
---
In this issue
---
Catalonia

Solidarity with Catalonia - the people have the right to decide

Exemplary resistance by the people of Catalonia

Eyewitness: Irish socialist MP participates in events
---
What we think

The Tories must be driven out
---
Socialist Party workplace news

Royal Mail workers set for national strike action

Unison attacks Barts deal after failing to ballot their members for strike action

RMT strikes against removal of train guards spreads

University of Leeds workers walk out

ThyssenKrupp - Tata steel merger
---
Che Guevara

Revolutionary socialist Che Guevara 50 years on
---
Labour Party conference

Labour Party conference: Action against establishment sabotage still needed
---
Socialist Party news and analysis

Capitalism and human progress

Monarch abdicates responsibility to workers

Bending the knee v Trump
---
Socialist Party reports and campaigns

Tories wreck our NHS

£11,000 raised in three weeks for fighting fund

Why I joined: I wanted to change things

Chatsworth ward campaign replies to Tory MP's intervention

Surveying Labour councillors - will they fight cuts?

Leeds Socialist Students marks 'International Safe Abortion Day'

Protest outside Ukip conference against German far-right speaker
---
Home | The Socialist 4 October 2017 | Join the Socialist Party