The Socialist 4 October 2017
Solidarity with Catalonia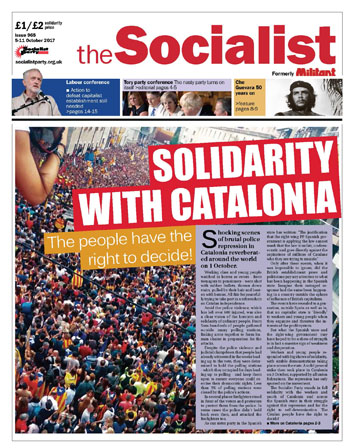 ---
Solidarity with Catalonia - the people have the right to decide
Exemplary resistance by the people of Catalonia
Eyewitness: Irish socialist MP participates in events
---
---
Royal Mail workers set for national strike action
Unison attacks Barts deal after failing to ballot their members for strike action
RMT strikes against removal of train guards spreads
University of Leeds workers walk out
ThyssenKrupp - Tata steel merger
---
Revolutionary socialist Che Guevara 50 years on
---
Labour Party conference: Action against establishment sabotage still needed
---
Monarch abdicates responsibility to workers
---
£11,000 raised in three weeks for fighting fund
Why I joined: I wanted to change things
Chatsworth ward campaign replies to Tory MP's intervention
Surveying Labour councillors - will they fight cuts?
Leeds Socialist Students marks 'International Safe Abortion Day'
Protest outside Ukip conference against German far-right speaker
PO Box 24697, London, E11 1YD
020 8988 8777
editors@socialistparty.org.uk

Link to this page: http://www.socialistparty.org.uk/issue/965/26235
Home | The Socialist 4 October 2017 | Join the Socialist Party
Subscribe | Donate | Audio | PDF | ebook
RMT strikes against removal of train guards spreads
Further rail strikes took place against driver-only operation across the country on 3 October. RMT members once again walked out on Southern, Merseyrail and Arriva Rail North plus on Greater Anglia for the first time against the removal of guards. And there looks set to be action on the same issue on South Western Railway where RMT members have voted 80% in favour of strike action.
RMT general secretary Mick Cash said RMT members "are standing absolutely rock solid and united" and "the public and workplace support... is nothing short of fantastic".
Determined
In Newcastle Socialist Party member Elaine Brunskill reports that the RMT Rail North guards on the picket line were getting a really good response from commuters who clearly understand the strike is about safety on the trains. The strikers are determined to ensure that safety is put before profit.
---
In this issue
---
Catalonia

Solidarity with Catalonia - the people have the right to decide

Exemplary resistance by the people of Catalonia

Eyewitness: Irish socialist MP participates in events
---
What we think

The Tories must be driven out
---
Socialist Party workplace news

Royal Mail workers set for national strike action

Unison attacks Barts deal after failing to ballot their members for strike action

RMT strikes against removal of train guards spreads

University of Leeds workers walk out

ThyssenKrupp - Tata steel merger
---
Che Guevara

Revolutionary socialist Che Guevara 50 years on
---
Labour Party conference

Labour Party conference: Action against establishment sabotage still needed
---
Socialist Party news and analysis

Capitalism and human progress

Monarch abdicates responsibility to workers

Bending the knee v Trump
---
Socialist Party reports and campaigns

Tories wreck our NHS

£11,000 raised in three weeks for fighting fund

Why I joined: I wanted to change things

Chatsworth ward campaign replies to Tory MP's intervention

Surveying Labour councillors - will they fight cuts?

Leeds Socialist Students marks 'International Safe Abortion Day'

Protest outside Ukip conference against German far-right speaker
---
Home | The Socialist 4 October 2017 | Join the Socialist Party