The Socialist 11 October 2017
Nasty party imploding...drive out the Tories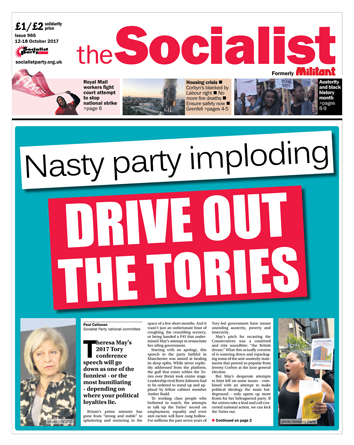 ---
Nasty party imploding...drive out the Tories
Major attacks 'Universal Credit', half a million more face poverty
IMF helps cause inequality it slams
NHS meltdown - fight the Tory cuts
Hundreds of torture victims wrongly detained
---
Catalonia: Workers can finish what Puigdemont won't
---
The fight against racial discrimination is tied to the fight to defeat capitalist austerity
---
Royal Mail workers fight court attempt to stop national strike
Boeing bust-up threatens thousands of skilled jobs
Who's watching who?: The fight for justice, trade union and democratic rights
---
Housing crisis: Corbyn's positive measures blanked by Labour's right
No more fire deaths - ensure safety now!
---
Don't wreck our rec! Campaigning to save green space in Standish
Carlisle NHS campaigners hand in petition to MP
Cardiff Socialist Students confront 'Parasite' Jacob Rees-Mogg
Manchester rally discussed unionisation and nationalisation
Join the Orgreave Halloween rally
---
Poverty, repression and fightback on the docks
Theresa May, Frida Kahlo and turning women into wares
PO Box 24697, London, E11 1YD
020 8988 8777
editors@socialistparty.org.uk

Link to this page: http://www.socialistparty.org.uk/issue/966/26270
Home | The Socialist 11 October 2017 | Join the Socialist Party
Subscribe | Donate | Audio | PDF | ebook
TV drama: The State
Shocking insight into Isis
Derek McMillan, Brighton Socialist Party
The brutal finale of the Channel 4 drama about Isis, 'The State', came as no surprise.
One major character watched her son kicking around the head of an enemy with other children as part of their training for Isis. On escaping to Britain, her son was put into care, and she was forced to spy for the security services.
Another main character refused to execute a man who had become his friend. The friend was executed and the ending gave a clear hint that his fate would be the same.
Although this is a harrowing series to watch, its excesses of violence are not fiction. They are based on the testimony of people who have fled Isis.
The writer, Peter Kosminsky, portrays the way the illusions sown among the dispossessed by Isis propaganda give way to the realities of the situation.
One character is a qualified doctor who goes to Syria to help, but in scenes which echo 'The Handmaid's Tale' she faces restrictions at every turn because "there is nothing you can do which the men can't do better." That is a statement from a female character who acts as an aunt to the new recruits and instructs them to rejoice when their loved ones die in battle.
The similarities with The Handmaid's Tale are striking. Religion is the pretext for controlling women in both. These women are encouraged to go to Syria to help out, but see other women and children treated as slaves.
The series does not emphasise the role played by Bush and Blair in creating the conditions for Isis to flourish. The slaughter of civilians played right into the hands of the right-wing religious fanatics who promoted jihad as a path to revenge.
Young recruits, and children as young as ten, were thrown into the front line. In the series and in the testimony of former Isis volunteers, they are used as cannon fodder just as if Isis leaders were World War One generals.
The phrase "Islamic State" is not used much. This is partly because of the media insistence that it be referred to as the "so-called Islamic state," which would sound odd in the mouths of volunteers. It is partly because the war is waged against Shia Muslims as much as anyone else.
The State series does not tell the whole story and does not claim to do so. It is nevertheless a shocking insight into the nature of an extremism which uses religion as a cloak.
---
In this issue
---
Socialist Party news and analysis

Nasty party imploding...drive out the Tories

Major attacks 'Universal Credit', half a million more face poverty

IMF helps cause inequality it slams

NHS meltdown - fight the Tory cuts

Them & Us
---
Catalonia

Catalonia: Workers can finish what Puigdemont won't
---
Black History Month 2017

The fight against racial discrimination is tied to the fight to defeat capitalist austerity
---
Socialist Party workplace news

Royal Mail workers fight court attempt to stop national strike

Boeing bust-up threatens thousands of skilled jobs

Who's watching who?: The fight for justice, trade union and democratic rights

Workplace news in brief
---
Housing crisis

Housing crisis: Corbyn's positive measures blanked by Labour's right

No more fire deaths - ensure safety now!
---
Socialist Party reports and campaigns

Don't wreck our rec! Campaigning to save green space in Standish

Carlisle NHS campaigners hand in petition to MP

Cardiff Socialist Students confront 'Parasite' Jacob Rees-Mogg

Manchester rally discussed unionisation and nationalisation

Join the Orgreave Halloween rally

Too much to cross the Mersey
---
Comment and reviews

Poverty, repression and fightback on the docks

Theresa May, Frida Kahlo and turning women into wares

Shocking insight into Isis

The Socialist Inbox
---
Home | The Socialist 11 October 2017 | Join the Socialist Party