The Socialist 11 October 2017
Nasty party imploding...drive out the Tories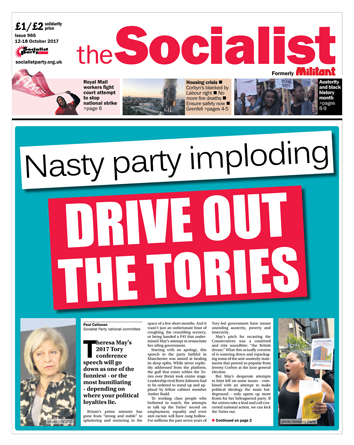 ---
Nasty party imploding...drive out the Tories
Major attacks 'Universal Credit', half a million more face poverty
IMF helps cause inequality it slams
NHS meltdown - fight the Tory cuts
Hundreds of torture victims wrongly detained
---
Catalonia: Workers can finish what Puigdemont won't
---
The fight against racial discrimination is tied to the fight to defeat capitalist austerity
---
Royal Mail workers fight court attempt to stop national strike
Boeing bust-up threatens thousands of skilled jobs
Who's watching who?: The fight for justice, trade union and democratic rights
---
Housing crisis: Corbyn's positive measures blanked by Labour's right
No more fire deaths - ensure safety now!
---
Don't wreck our rec! Campaigning to save green space in Standish
Carlisle NHS campaigners hand in petition to MP
Cardiff Socialist Students confront 'Parasite' Jacob Rees-Mogg
Manchester rally discussed unionisation and nationalisation
Join the Orgreave Halloween rally
---
Poverty, repression and fightback on the docks
Theresa May, Frida Kahlo and turning women into wares
PO Box 24697, London, E11 1YD
020 8988 8777
editors@socialistparty.org.uk

Link to this page: http://www.socialistparty.org.uk/issue/966/26279
Home | The Socialist 11 October 2017 | Join the Socialist Party
Subscribe | Donate | Audio | PDF | ebook
Manchester rally discussed unionisation and nationalisation
Tom Costello, Lancashire Socialist Party
Crowds poured into Manchester Cathedral on 2 October to see the shadow chancellor John McDonnell at a free event. The audience was first greeted by various trade union speakers, including representatives from the transport union RMT, Communication Workers Union and public sector union Unison giving their perspectives on ongoing industrial battles and the growing fight encapsulated in the march against Tory conference the previous day.
But perhaps the highlight of the early speakers was Shen Batmaz of the McDonald's strikers in the bakers' union BFAWU. Batmaz ended her address with some of the most striking words of the night: "Young people around the country are angry. They're ready to unionise. But they're waiting for the trade union movement to stop saying we're 'un-unionisable' and for them to help us in organising."
Following this, McDonnell took to the stage facing rounds of passionate applause from the attendees before delivering the anti-austerity message seen in Labour's election manifesto. The event transitioned to a one-on-one interview with Guardian journalist Gary Younge. They discussed issues such as renationalisation, fighting cuts to health and education, guaranteeing the rights of EU nationals to remain in the UK following the Brexit negotiations and banning fracking.
The event was rounded up with a very apt summary of what socialists should all stand for: "We don't believe in just instituting a few reforms here and there. We believe in changing the system so we will never again have to pay for the crisis that they created."
---
In this issue
---
Socialist Party news and analysis

Nasty party imploding...drive out the Tories

Major attacks 'Universal Credit', half a million more face poverty

IMF helps cause inequality it slams

NHS meltdown - fight the Tory cuts

Them & Us
---
Catalonia

Catalonia: Workers can finish what Puigdemont won't
---
Black History Month 2017

The fight against racial discrimination is tied to the fight to defeat capitalist austerity
---
Socialist Party workplace news

Royal Mail workers fight court attempt to stop national strike

Boeing bust-up threatens thousands of skilled jobs

Who's watching who?: The fight for justice, trade union and democratic rights

Workplace news in brief
---
Housing crisis

Housing crisis: Corbyn's positive measures blanked by Labour's right

No more fire deaths - ensure safety now!
---
Socialist Party reports and campaigns

Don't wreck our rec! Campaigning to save green space in Standish

Carlisle NHS campaigners hand in petition to MP

Cardiff Socialist Students confront 'Parasite' Jacob Rees-Mogg

Manchester rally discussed unionisation and nationalisation

Join the Orgreave Halloween rally

Too much to cross the Mersey
---
Comment and reviews

Poverty, repression and fightback on the docks

Theresa May, Frida Kahlo and turning women into wares

Shocking insight into Isis

The Socialist Inbox
---
Home | The Socialist 11 October 2017 | Join the Socialist Party