The Socialist 11 October 2017
Nasty party imploding...drive out the Tories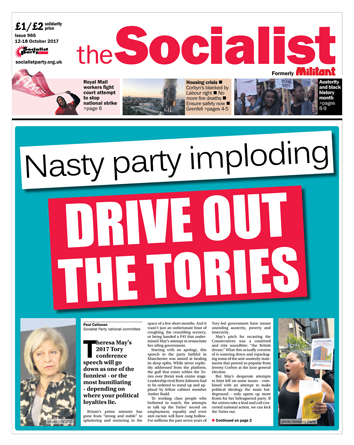 ---
Nasty party imploding...drive out the Tories
Major attacks 'Universal Credit', half a million more face poverty
IMF helps cause inequality it slams
NHS meltdown - fight the Tory cuts
Hundreds of torture victims wrongly detained
---
Catalonia: Workers can finish what Puigdemont won't
---
The fight against racial discrimination is tied to the fight to defeat capitalist austerity
---
Royal Mail workers fight court attempt to stop national strike
Boeing bust-up threatens thousands of skilled jobs
Who's watching who?: The fight for justice, trade union and democratic rights
---
Housing crisis: Corbyn's positive measures blanked by Labour's right
No more fire deaths - ensure safety now!
---
Don't wreck our rec! Campaigning to save green space in Standish
Carlisle NHS campaigners hand in petition to MP
Cardiff Socialist Students confront 'Parasite' Jacob Rees-Mogg
Manchester rally discussed unionisation and nationalisation
Join the Orgreave Halloween rally
---
Poverty, repression and fightback on the docks
Theresa May, Frida Kahlo and turning women into wares
PO Box 24697, London, E11 1YD
020 8988 8777
editors@socialistparty.org.uk

Link to this page: http://www.socialistparty.org.uk/issue/966/26284
Home | The Socialist 11 October 2017 | Join the Socialist Party
Subscribe | Donate | Audio | PDF | ebook
Nasty party imploding...drive out the Tories
Paul Callanan, Socialist Party national committee
Theresa May's 2017 Tory conference speech will go down as one of the funniest - or the most humiliating - depending on where your political loyalties lie.
Britain's prime minister has gone from "strong and stable" to spluttering and stuttering in the space of a few short months. And it wasn't just an unfortunate bout of coughing, the crumbling scenery, or being handed a P45 that undermined May's attempt to resuscitate her ailing government.
Starting with an apology, this speech to the party faithful in Manchester was aimed at healing its deep splits. While never explicitly addressed from the platform, the gulf that exists within the Tories over Brexit took centre stage. Leadership rival Boris Johnson had to be ordered to stand up and applaud by fellow cabinet member Amber Rudd.
To working class people who bothered to watch, the attempts to talk up the Tories' record on employment, equality and even anti-racism will have rung hollow. For millions the past seven years of Tory-led government have meant unending austerity, poverty and insecurity.
May's pitch for recasting the Conservatives was a contrived and trite soundbite: "the British dream." What this actually consists of is watering down and repackaging some of the anti-austerity statements that proved so popular from Jeremy Corbyn at the June general election.
But May's desperate attempts to feint left on some issues - combined with an attempt to make political ideology the main battleground - only opens up more fronts for her beleaguered party. If the unions take a lead and call concerted national action, we can kick the Tories out.
On higher education, we were promised - not the complete scrapping of fees and student debt - but that the proposed increase in fees would be frozen pending a review into student finance.
That might satisfy the Tory membership. But we're not sure it will go down well with those currently starting university, who stand to leave with debts of over £50,000.
On homes, May promised that government would "get back into the business of building houses." But her proposal to pump just £2 billion into building 'affordable' homes - which councils and housing associations must bid for - is a drop in the ocean. It will only build around 5,000 homes a year. Also bear in mind that 'affordable' means up to 80% of sky-high market rates.
May's call on developers to "do their duty" and build more, rather than hoarding and speculating on undeveloped land, means nothing. Under successive Tory and New Labour governments the developers have been allowed to run riot.
On schools, the NHS and taxes we were offered more of the same.
The 'free school' backdoor privatisation programme will be accelerated. The only mention of the NHS was May's hypocritical tributes to doctors and nurses - the end of marketisation will not even be countenanced. And on tax, she said Corbyn "wants to pile on taxes to business just when we need them to invest."
The real centrepiece of May's speech, and the conference as a whole, was an attempt to rouse her tired and divided party to "win the battle of ideas in a new generation all over again." (Read more in last issue's editorial - 'The nasty party turns on itself... but the Tories must be driven out' at socialistparty.org.uk.)
Markets
She made a rallying call for the Conservative Party to "defend free and open markets with all our might." This is an acknowledgment of the growing popularity of socialist ideas, particularly among those younger voters enthused by Jeremy Corbyn's anti-austerity Labour leadership.
So while trying to steal Corbyn's clothes, she made a passionate defence of markets, calling them "the greatest agent of collective human progress ever created."
In the past 30 years or so the Tories, and their New Labour echoes, have at times had to defend the neoliberal vision of totally untrammelled privatisation and market competition. But now the Tories find themselves having to defend the very idea of the market - the basis of capitalism - itself.
Earlier the same day, International Development Secretary Priti Patel went even further in her speech, attacking Corbyn's mild anti-austerity programme as a "vile brand of socialism."
In spite of May's claim that markets have pulled millions out of poverty, the reality of life for the vast majority of people on this planet says otherwise. Child poverty in Britain alone is the highest it's been since 2010, and globally eight people own as much as the poorest 50% of the world's population.
While huge steps forward are made in the development of new technology, it is used to make a tiny minority even richer through increasing casualisation and insecurity for workers. It's no wonder the free market model of production and distribution finds itself increasingly under attack.
The speech will be best remembered for comedian Simon Brodkin making it up to the stage and handing May a P45, saying "Boris asked me to give you this." Many will see this as another reflection of how weak May's leadership and the Tory government as a whole is. Anyone can now see that a serious, mass movement of workers and young people, including coordinated strikes, could topple this government.
The fact that the top of the Tory party now feels forced to fight on ideological terrain is a very welcome development. It opens up the opportunity to discuss genuine socialist ideas - and build the fight for real change in society, that could see the Tories and ruling class as a whole all handed their P45s.
---
In this issue
---
Socialist Party news and analysis

Nasty party imploding...drive out the Tories

Major attacks 'Universal Credit', half a million more face poverty

IMF helps cause inequality it slams

NHS meltdown - fight the Tory cuts

Them & Us
---
Catalonia

Catalonia: Workers can finish what Puigdemont won't
---
Black History Month 2017

The fight against racial discrimination is tied to the fight to defeat capitalist austerity
---
Socialist Party workplace news

Royal Mail workers fight court attempt to stop national strike

Boeing bust-up threatens thousands of skilled jobs

Who's watching who?: The fight for justice, trade union and democratic rights

Workplace news in brief
---
Housing crisis

Housing crisis: Corbyn's positive measures blanked by Labour's right

No more fire deaths - ensure safety now!
---
Socialist Party reports and campaigns

Don't wreck our rec! Campaigning to save green space in Standish

Carlisle NHS campaigners hand in petition to MP

Cardiff Socialist Students confront 'Parasite' Jacob Rees-Mogg

Manchester rally discussed unionisation and nationalisation

Join the Orgreave Halloween rally

Too much to cross the Mersey
---
Comment and reviews

Poverty, repression and fightback on the docks

Theresa May, Frida Kahlo and turning women into wares

Shocking insight into Isis

The Socialist Inbox
---
Home | The Socialist 11 October 2017 | Join the Socialist Party
Related links:

NHS pay: Reject the Tories' divide and rule offer

Hands off free school meals!

Bristol South Socialist Party: How can socialists take the fight against the Tories to the people of Bristol?

Socialist Party congress 2018

Profits up Wages down

Passing the council cuts test

Russia, spies and nerve agents

Italian elections create huge political shake-up

Zero new homes 'affordable' in Blairite Manchester

May's EU speech kicks the can down the road

The Socialist inbox

Closure of Nottingham unit shows dismantling of NHS

For a fighting, democratic Labour Party

Swansea Labour council votes for cuts

Social media - the potential and the limits

Them & us

Homes for All - Not billionaire profit!

Jeremy Corbyn and Brexit

Why I joined: 'The Socialist Party is at the forefront of defending Corbyn's anti-austerity leadership'

Spain: millions on streets against sexism and capitalist oppression

Trump's tax plan: Robin Hood in reverse

The Blairites are NHS privatisers - to save it means sacking them

15 years since the invasion of Iraq: what we said

Revolutionary physicist and champion of social causes

Lecturers strike around country in defence of pensions

Gripping spy thriller exposes hypocrisy of Falklands/Malvinas war

Whole lotta shakin' goin' on in DOO dispute

York Socialist Party: Situation of struggle in Ireland

School strikes against academy management

Cardiff Central Socialist Party: Socialism or anarchism?

US school shootings: student walkouts challenge establishment

Refugees march against racism and to demand rights

Determined UCU strikers: We're out to win!

Caerphilly & RCT Socialist Party: The fight against the poll tax

Strikers and parents rally again in Newham against academies

United States: young people demand change after latest mass shooting

Capitalists fear for their system at Davos

NHS: public health - not private profit

Cabinet chaos as shambolic reshuffle underlines Theresa May's impotence

Workplace news in brief

Continuing the fighting tradition of working class women

UCU strike: staff and students unite to continue pensions fight after magnificent 14 days of action

Woolwich ferry workers win automation campaign

Private profit out of our NHS

Majority of kids poor in some areas

Nationalise to save jobs at BAE Systems

Totnes MP uses coffin controversy to distract from brutal NHS cuts

What we saw

Bristol South Socialist Party: What is the socialist position on the Brexit negotiations?

Refugee Rights campaigners on the 17.3.18 anti-racism demo - pics

Tory infighting escalates - workers' action can oust them

NHS we're ready to fight

International Women's Day

Bristol South Socialist Party: Homelessness and the housing crisis

NHS: use the 3 February protests as a launch pad for a mass movement

Strike continues: set dates for next national action

Corbyn's left must seize the advantage in Labour's civil war

Blairite mayor faces open election after democratic 'irregularities' - fight for a no-cuts mayor

The Socialist Party is being evicted - we need you!

Refugee Rights to be launched in Manchester