The Socialist 11 October 2017
Nasty party imploding...drive out the Tories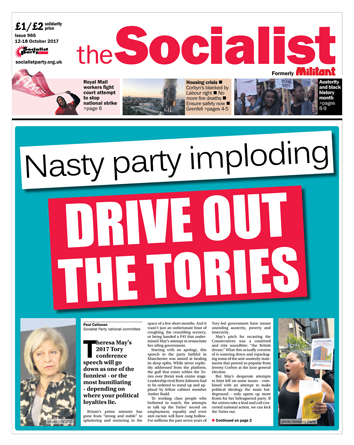 ---
Nasty party imploding...drive out the Tories
Major attacks 'Universal Credit', half a million more face poverty
IMF helps cause inequality it slams
NHS meltdown - fight the Tory cuts
Hundreds of torture victims wrongly detained
---
Catalonia: Workers can finish what Puigdemont won't
---
The fight against racial discrimination is tied to the fight to defeat capitalist austerity
---
Royal Mail workers fight court attempt to stop national strike
Boeing bust-up threatens thousands of skilled jobs
Who's watching who?: The fight for justice, trade union and democratic rights
---
Housing crisis: Corbyn's positive measures blanked by Labour's right
No more fire deaths - ensure safety now!
---
Don't wreck our rec! Campaigning to save green space in Standish
Carlisle NHS campaigners hand in petition to MP
Cardiff Socialist Students confront 'Parasite' Jacob Rees-Mogg
Manchester rally discussed unionisation and nationalisation
Join the Orgreave Halloween rally
---
Poverty, repression and fightback on the docks
Theresa May, Frida Kahlo and turning women into wares
PO Box 24697, London, E11 1YD
020 8988 8777
editors@socialistparty.org.uk

Link to this page: http://www.socialistparty.org.uk/issue/966/26330
Home | The Socialist 11 October 2017 | Join the Socialist Party
Subscribe | Donate | Audio | PDF | ebook
Hundreds of torture victims wrongly detained
Close detention centres now
The High Court has ruled against the Tories' imprisonment of hundreds of refugees fleeing torture.
The Tories' system limits the definition of torture to action by a state. But terrorist groups, people traffickers and other non-state forces also torture people.
Back in January, parliament's Public Accounts Committee warned that Syrian torture survivors were not receiving the necessary treatment.
Also that the £8,250 funding for each refugee - less in each subsequent year - was not enough to fund services.
Incarcerating desperate people escaping war and destitution - torture victims or not - is barbarism. Close the migrant internment camps! Reverse austerity and fund jobs, homes and services for all.
---
In this issue
---
Socialist Party news and analysis

Nasty party imploding...drive out the Tories

Major attacks 'Universal Credit', half a million more face poverty

IMF helps cause inequality it slams

NHS meltdown - fight the Tory cuts

Them & Us
---
Catalonia

Catalonia: Workers can finish what Puigdemont won't
---
Black History Month 2017

The fight against racial discrimination is tied to the fight to defeat capitalist austerity
---
Socialist Party workplace news

Royal Mail workers fight court attempt to stop national strike

Boeing bust-up threatens thousands of skilled jobs

Who's watching who?: The fight for justice, trade union and democratic rights

Workplace news in brief
---
Housing crisis

Housing crisis: Corbyn's positive measures blanked by Labour's right

No more fire deaths - ensure safety now!
---
Socialist Party reports and campaigns

Don't wreck our rec! Campaigning to save green space in Standish

Carlisle NHS campaigners hand in petition to MP

Cardiff Socialist Students confront 'Parasite' Jacob Rees-Mogg

Manchester rally discussed unionisation and nationalisation

Join the Orgreave Halloween rally

Too much to cross the Mersey
---
Comment and reviews

Poverty, repression and fightback on the docks

Theresa May, Frida Kahlo and turning women into wares

Shocking insight into Isis

The Socialist Inbox
---
Home | The Socialist 11 October 2017 | Join the Socialist Party