The Socialist 25 October 2017
Tories punish the poor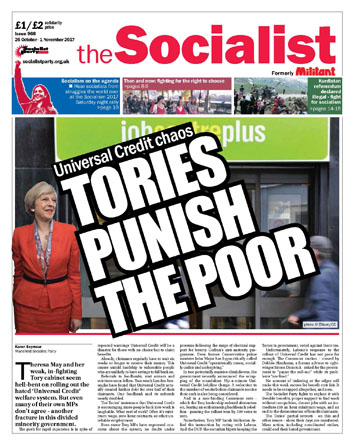 ---
Socialists must back Catalan struggle for self-determination
---
1967 Abortion Act reflected social changes
---
Kurdish referendum declared illegal
---
Universal Credit chaos: Tories punish the poor
Fearful Tories mull borrowing to build
Kids wait 18 months for mental healthcare
Profit-driven pesticide use now threatens life
Profiteering NHS counter-fraud firm in alleged case of... fraud
---
Aslef members must reject poor Southern Rail offer
Arriva North West bus drivers strike over pay
NSSN meeting brings together workers in struggle
---
Hear from socialists involved in struggles the world over at the Socialism 2017 Saturday rally
Angry east London residents organise against threat to leisure centre
Trade unionists march to defend 650 local jobs
Storm Brian cannot withstand working-class anger
---
Well-deserved ridicule of Stalinism is impressive, funny but flawed
Film - Dennis Skinner: Nature of the Beast
PO Box 24697, London, E11 1YD
020 8988 8777
editors@socialistparty.org.uk

Link to this page: http://www.socialistparty.org.uk/issue/968/26365
Home | The Socialist 25 October 2017 | Join the Socialist Party
Subscribe | Donate | Audio | PDF | ebook
The Socialist inbox
Do you have something to say?
Send your news, views and criticism in not more than 150 words to Socialist Postbox, PO Box 24697, London E11 1YD, phone 020 8988 8771 or email editors@socialistparty.org.uk.
We reserve the right to shorten and edit letters. Don't forget to give your name, address and phone number. Confidentiality will be respected if requested.
Views of letter writers do not necessarily match those of the Socialist Party.
---
>
Featured letter: obesity epidemic
The alarming spread of obesity was well highlighted by Stephanie Hammond in the last Socialist ('Obesity epidemic: end food market anarchy'). Her short article rightly blames the capitalist system - not individuals, as governments and establishment media do.
There wasn't space in her article, but other factors cause the obesity epidemic as well as poverty and inequality.
Obesity is becoming more common among better-off people in countries like China and India.
Most people now live in towns and cities. Giant agricultural, processing and supermarket companies control food production and distribution. Farmers taking fresh food to local markets are squeezed out.
These corporations maximise profits by creating demand for highly processed foods. Cheap ingredients - such as starch and fat - are turned into easily packaged and advertised products. High sugar, salt and additives make them palatable with longer shelf lives.
Most women, particularly in the more advanced economies, are now employed rather than spending all day as unpaid domestic workers, including preparing meals. Long hours have contributed to a rise in convenience foods and takeaways, often high in fat and sugar.
Many more jobs are now sitting down, as is travelling to school or work. Capitalism makes money from leisure too, encouraging us to sit with a screen or game box instead of getting exercise.
A socialist society would cut the working week, allowing everyone more time to exercise and to cook with fresh ingredients if they wish.
Good quality canteens, local cafes and restaurants could serve low-priced, healthy meals.
Big corporations would be nationalised, with food production and distribution democratically planned so that everyone could eat well and healthily.
Enough food can be produced to feed everyone on the planet well. Does that mean meat two or three times a day? Possibly once or twice a month, in my opinion - but that's another debate!
David Johnson
---
>
World shaken!
I've just heard the last episode of 'Ten Days That Shook the World' on Radio 4. If you want to listen to the whole series - I recommend you do - it's on iPlayer.
If you're not sure, listen to the last part first. You'll hear what a real workers' government does straight away - no messing.
Just a small point about the very last minute, which listening to BBC I was expecting. I read John Reed's book about a month ago. I'm sure I can't remember anything about Joe Stalin right at the end.
Andy Beadle, Lewisham, south London
---
>
Democracy de-not-cracy
Democracy at Labour Party conference still has a long way to go. The only way that a constituency Labour Party (CLP) was able to send a motion to this conference was either as a "contemporary" or as an "emergency."
An emergency motion had to be on a matter which had arisen since 21 September. A contemporary motion could only be submitted if the issue had not been not discussed by the national executive committee or the national policy forum!
It's not surprising the CLP motions chosen were not controversial and went through unanimously.
Pete Watson, Nottingham
Socialism 2017 (11 and 12 November, central London)
Discussions include: 'Labour and the trade unions'
---
>
Customer isn't right
Jobcentre attendees are not 'customers'. That is a Tory word.
Also I do not think it is a good thing that there is near full employment - as it's not true. Two million people on only 20 hours, for example, would be equivalent to one million unemployed.
Benefit sanctions now are more brutal and can stretch to three years. People on sanctions are removed from the figures, as are all trainees, volunteers etc.
I have looked for work or training and there is nothing, just agency jobs which either do not exist or are repeated ad infinitum.
In the present system jobs are the past. If you have not got in-demand skills, you've had it.
Mike, Southampton
---
>
Monarchy menace
Socialists were given a timely reminder of how the capitalist state uses the residue of the feudal past to protect its interests when under attack.
I refer to the wheeling out of King Felipe VI of Spain to oppose the movement of Catalans defending their democratic right to self-determination.
I believe that in his television address Felipe made no mention of the brutal way the police attacked voters at the polling booths and on the streets, leaving hundreds injured.
Behind the velvet glove lies the iron fist of the state - and ultimately, "special bodies of armed men" as Lenin pointed out in 'State and Revolution'.
Some regard the retention of the monarchy as a tourist attraction - harmless. However its role in the dismissal of the democratically elected 1975 Labour government of Australia, and the so-called 'royal prerogative' should be looked at with great suspicion.
Papers and correspondence relating to the action of the monarchy in Australian dismissal case are conveniently stored away until 2027! Socialists support the right to self-determination and are against state repression. Solidarity with the people of Catalonia!
Sean Brogan, Teignmouth
Discussions include: 'How can a Corbyn-led government avoid sabotage?'
---
In this issue
---
What we think

Socialists must back Catalan struggle for self-determination
---
Women

1967 Abortion Act reflected social changes
---
International socialist news and analysis

Kurdish referendum declared illegal
---
Socialist Party news and analysis

Universal Credit chaos: Tories punish the poor

Fearful Tories mull borrowing to build

Kids wait 18 months for mental healthcare

Profit-driven pesticide use now threatens life

Profiteering NHS counter-fraud firm in alleged case of... fraud

Them & us

What we saw: May on Facebook
---
Workplace news and analysis

Aslef members must reject poor Southern Rail offer

Arriva North West bus drivers strike over pay

NSSN meeting brings together workers in struggle

Manchester lecturers walk out
---
Socialist Party reports and campaigns

Hear from socialists involved in struggles the world over at the Socialism 2017 Saturday rally

Angry east London residents organise against threat to leisure centre

Trade unionists march to defend 650 local jobs

Bad Art's Leicester event

Storm Brian cannot withstand working-class anger
---
Socialist readers' comments and reviews

Well-deserved ridicule of Stalinism is impressive, funny but flawed

Film - Dennis Skinner: Nature of the Beast

New musical on life of Castro

The Socialist inbox
---
Home | The Socialist 25 October 2017 | Join the Socialist Party
Related links:

The Socialist Inbox

The Socialist Inbox

The Socialist Inbox

The Socialist inbox

The Socialist inbox

Royal wedding opulence... during longest pay squeeze in 200 years

Catalonia: thousands on the streets

1917revolution.org website to launch

Birmingham Central Socialist Party: Lenin's book 'State and Revolution'

Powerful defence of the welfare state

Venezuela: How can reaction and imperialism be defeated?

Caerphilly Socialist Party: How capitalism is poisoning our food

Birmingham South East Socialist Party: How would food production change under socialism?

Ladywood Primary school strike

Catalonia: 'Diada' 2018 an immense show of strength for republic

The renewed relevance of Engels' classic Socialism: Utopian and Scientific

Powerful picture of the Port Talbot steel workers' struggle