The Socialist 1 November 2017
Robber bosses own $6trn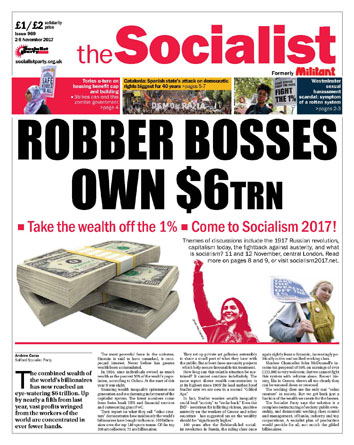 ---
Westminster sexual harassment scandal: symptom of a rotten system
---
Catalonia: Rajoy's furious response to proclamation of Republic
---
Socialism 2017: ideas to change the world
---
Fight for free education: join the budget day protests!
Tories u-turn on social housing benefit cap and borrowing to build
Unions must fight workplace mental health crisis
No to 'Carebnb' privatisation of hospital beds
---
Coordinated strike action on five rail networks against driver-only operation
Arriva bus workers' dispute continues
PCS pay cap ballot closes soon
North east England blacklisting conference success
---
Teachers, students and parents demand an end to the schools funding crisis
The "club no-one wants to be part of" - march by families of those killed in police custody
Derby: expenses for councillors, cuts for everyone else
Health campaign groups come together in Barnsley to protest closures and downgrades in the NHS
Anger over plan to build housing on Yorkshire flood plain
---
New play celebrates Grunwick strike
Skipton show proves draw of socialist art
PO Box 24697, London, E11 1YD
020 8988 8777
editors@socialistparty.org.uk

Link to this page: http://www.socialistparty.org.uk/issue/969/26379
Home | The Socialist 1 November 2017 | Join the Socialist Party
Subscribe | Donate | Audio | PDF | ebook
Arriva bus workers' dispute continues
Coordinate the action with rail strike
Hugh Caffrey, North West Socialist Party regional organiser
The bus drivers' strike at Arriva remained completely solid on the third day of action on 30 October. Big turnouts by Unite members on pickets across the region defied the management's increased attempts to encourage scabbing.
The company's real agenda is clear from their new pay 'offer' - it's worth less in April to July next year than a previous offer! The new offer is of £12.04 an hour backdated to April 2017 and £12.10 from January next year, until the deal would expire in July.
This compared to a previous offer of £12.32 from April next year.
A 3% rise and then a levelling up of the lower-paid Greater Manchester and Cheshire areas, to the Merseyside rate, is what Unite wants and can be won.
A Unite member said that Arriva is immensely profitable and that its British operations are sending £26 million a year to Germany.
There is no shortage of cash for higher wages (and lower fares), and further industrial action can force the company to cough up.
We need the buses restored to public ownership so that profits are no longer siphoned off and stashed away, but reinvested in improving the service.
Understandably some drivers will be looking at the run-up to Christmas, and worrying about the cost of sustained strike action. But so will Arriva! Solid action has already inflicted big losses on the company. Stagecoach backed down in the face of strike action.
Drivers at the Firstbus Manchester garage, also in Unite, are on strike every Monday in November.
Unite has announced further strike action at Arriva, on Mondays through to Christmas. One additional strike day has been added, on 8 November when the RMT rail union strikes on Arriva Rail North and Merseyrail.
Unite and the RMT are both confronting Arriva and coordinated action can strike a serious blow.
Linking the disputes is an obvious tactic. An RMT members' meeting on Merseyside resolved to organise a public lobby of the transport committee to demand they keep guards on Merseyrail.
This is on 7 December, 1-2pm at the Cunard Buildings in Liverpool. Having coordinated industrial action, the two unions should come together to mobilise in force for joint mass action including lobbies and demonstrations to tap into the huge public support.
---
This version of this article was first posted on the Socialist Party website on 31 October 2017 and may vary slightly from the version subsequently printed in The Socialist.
---
In this issue
---
What we think

Westminster sexual harassment scandal: symptom of a rotten system
---
International socialist news and analysis

Catalonia: Rajoy's furious response to proclamation of Republic
---
Socialism 2017

Socialism 2017: ideas to change the world
---
Socialist Party news and analysis

Robber bosses own $6trn

Fight for free education: join the budget day protests!

Tories u-turn on social housing benefit cap and borrowing to build

Unions must fight workplace mental health crisis

No to 'Carebnb' privatisation of hospital beds

Them and us

What we saw
---
Workplace news and analysis

Coordinated strike action on five rail networks against driver-only operation

Arriva bus workers' dispute continues

PCS pay cap ballot closes soon

North east England blacklisting conference success
---
Socialist Party reports and campaigns

Teachers, students and parents demand an end to the schools funding crisis

The "club no-one wants to be part of" - march by families of those killed in police custody

Derby: expenses for councillors, cuts for everyone else

Health campaign groups come together in Barnsley to protest closures and downgrades in the NHS

Anger over plan to build housing on Yorkshire flood plain
---
Socialist readers' comments and reviews

New play celebrates Grunwick strike

Skipton show proves draw of socialist art

The Socialist inbox
---
Home | The Socialist 1 November 2017 | Join the Socialist Party