The Socialist 1 November 2017
Robber bosses own $6trn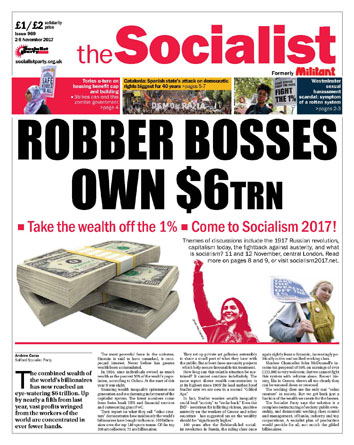 ---
Westminster sexual harassment scandal: symptom of a rotten system
---
Catalonia: Rajoy's furious response to proclamation of Republic
---
Socialism 2017: ideas to change the world
---
Fight for free education: join the budget day protests!
Tories u-turn on social housing benefit cap and borrowing to build
Unions must fight workplace mental health crisis
No to 'Carebnb' privatisation of hospital beds
---
Coordinated strike action on five rail networks against driver-only operation
Arriva bus workers' dispute continues
PCS pay cap ballot closes soon
North east England blacklisting conference success
---
Teachers, students and parents demand an end to the schools funding crisis
The "club no-one wants to be part of" - march by families of those killed in police custody
Derby: expenses for councillors, cuts for everyone else
Health campaign groups come together in Barnsley to protest closures and downgrades in the NHS
Anger over plan to build housing on Yorkshire flood plain
---
New play celebrates Grunwick strike
Skipton show proves draw of socialist art
PO Box 24697, London, E11 1YD
020 8988 8777
editors@socialistparty.org.uk

Link to this page: http://www.socialistparty.org.uk/issue/969/26384
Home | The Socialist 1 November 2017 | Join the Socialist Party
Subscribe | Donate | Audio | PDF | ebook
Them and us
£250k for sexist charity...
The Tories are still going to hand a quarter of a million quid to anti-abortion charity 'Life'.
Who will pay for 'Life' to attack women's right to choose? Women. The gift comes from the Tories' tampon tax, which defines essential sanitary products as 'luxury' goods subject to VAT.
The Socialist reported in April that some young women have skipped school because they can't afford sanitary protection. That's when May's anti-choice handout first came to light.
Capitalist 'feminists' are nothing of the sort. It's no good to women having a woman attacking your rights. Kick out the Tories and their Tampon tax. Fight for free abortion on demand. Only socialist feminism can end misogyny.
... refuge cuts for us
Meanwhile, one east London council has halved its funding for women's refuges since 2010.
Newham in east London, run by the Labour right, provides just more than the legal minimum refuge spaces. And even Newham's spend is 40% higher than neighbouring Barking and Dagenham, also under Blairite control.
In fact, London boroughs as a whole have cut refuge spending by up to three quarters, according to the Newham Recorder and the Bureau for Investigative Journalism.
The Socialist says: reverse the refuge cuts! Defend and extend vital women's services.
Socialism 2017 (11 and 12 November, central London)
Discussions include: women and the fightback - 1917 revolution, 1967 abortion, 2017 against austerity
---
>
Big pharma's bucks...
Giant drugs firms are suing the health service over plans to ration expensive medicines. NHS England wants to limit prescriptions of drugs costing over £20 million a year.
The 'Association of the British Pharmaceutical Industry' says this will "delay access to cost-effective medicines." What they mean is it will eat into their obscene extortion of the NHS.
But NHS bosses are set on passing these costs onto patients through rationing, not dealing with the problem at source.
We say: nationalise the big drugs companies. Pay compensation only on the basis of proven need. Use the bosses' profit margin for cheaper prices and more research.
... docs beg for drugs
Meanwhile, doctors have to write begging letters just to get routine treatments for patients.
GPs and consultants wrote almost 50% more exceptional requests for surgery or medicine in 2016-17 than 2013-14. The rise from 50,188 to 73,927 emerged in Freedom of Information requests by the British Medical Journal.
Minor skin problems were the most common complaints. But mental health problems, cataracts, joint surgery and carpal tunnel also made the top ten.
Health workers will do anything to help their patients. End the madness of forcing them to compete for ever-shrinking resources. The junior doctors showed the way: a coordinated strike of health workers could topple the teetering Tories.
Socialism 2017 (11 and 12 November, central London)
Discussions include: can NHS privatisation be stopped before it's too late?
---
In this issue
---
What we think

Westminster sexual harassment scandal: symptom of a rotten system
---
International socialist news and analysis

Catalonia: Rajoy's furious response to proclamation of Republic
---
Socialism 2017

Socialism 2017: ideas to change the world
---
Socialist Party news and analysis

Robber bosses own $6trn

Fight for free education: join the budget day protests!

Tories u-turn on social housing benefit cap and borrowing to build

Unions must fight workplace mental health crisis

No to 'Carebnb' privatisation of hospital beds

Them and us

What we saw
---
Workplace news and analysis

Coordinated strike action on five rail networks against driver-only operation

Arriva bus workers' dispute continues

PCS pay cap ballot closes soon

North east England blacklisting conference success
---
Socialist Party reports and campaigns

Teachers, students and parents demand an end to the schools funding crisis

The "club no-one wants to be part of" - march by families of those killed in police custody

Derby: expenses for councillors, cuts for everyone else

Health campaign groups come together in Barnsley to protest closures and downgrades in the NHS

Anger over plan to build housing on Yorkshire flood plain
---
Socialist readers' comments and reviews

New play celebrates Grunwick strike

Skipton show proves draw of socialist art

The Socialist inbox
---
Home | The Socialist 1 November 2017 | Join the Socialist Party