The Socialist 1 November 2017
Robber bosses own $6trn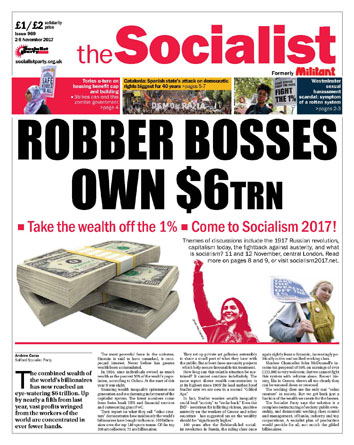 ---
Westminster sexual harassment scandal: symptom of a rotten system
---
Catalonia: Rajoy's furious response to proclamation of Republic
---
Socialism 2017: ideas to change the world
---
Fight for free education: join the budget day protests!
Tories u-turn on social housing benefit cap and borrowing to build
Unions must fight workplace mental health crisis
No to 'Carebnb' privatisation of hospital beds
---
Coordinated strike action on five rail networks against driver-only operation
Arriva bus workers' dispute continues
PCS pay cap ballot closes soon
North east England blacklisting conference success
---
Teachers, students and parents demand an end to the schools funding crisis
The "club no-one wants to be part of" - march by families of those killed in police custody
Derby: expenses for councillors, cuts for everyone else
Health campaign groups come together in Barnsley to protest closures and downgrades in the NHS
Anger over plan to build housing on Yorkshire flood plain
---
New play celebrates Grunwick strike
Skipton show proves draw of socialist art
PO Box 24697, London, E11 1YD
020 8988 8777
editors@socialistparty.org.uk

Link to this page: http://www.socialistparty.org.uk/issue/969/26388
Home | The Socialist 1 November 2017 | Join the Socialist Party
Subscribe | Donate | Audio | PDF | ebook
Coordinated strike action on five rail networks against driver-only operation
Socialist Party RMT members
Rail workers' union RMT has announced coordinated strikes on five different networks to defeat the threat of driver-only operation (DOO).
Workers will walk out on Southern, South Western Railway and Greater Anglia for 48 hours from 8 November and will be joined by those on Merseyrail and Arriva Rail North for 24 hours on the same date.
The RMT has been in dispute with Southern for over 18 months now with strike action spreading to Merseyrail, Arriva Rail North and most recently Greater Anglia. South Western Railway will be taking action for the first time.
Train drivers' union Aslef has held talks with Southern and is currently balloting members on a deal to end the dispute there. Though Aslef rejects DOO, the deal would accept the argument for train guards becoming non-safety critical and for trains to run without them under various operational circumstances.
The result will be known on 8 November - the same day as the RMT strikes. Aslef members on Southern should reject this deal. If they do DOO extension will suffer a fatal setback.
It's clear the government is using Southern as its battering ram to begin the final destruction of the guard grade on Britain's railways. Any settlement which allows a passenger train to run without the second member of staff - under any circumstances - will open up a breach in the battle to retain a safety-critical second member of staff on trains.
The Socialist Party supports the RMT's strike action. DOO should be totally eliminated from the railway, not extended.
Socialism 2017 (11 and 12 November, central London)
Discussions include: Labour and the trade unions
---
In this issue
---
What we think

Westminster sexual harassment scandal: symptom of a rotten system
---
International socialist news and analysis

Catalonia: Rajoy's furious response to proclamation of Republic
---
Socialism 2017

Socialism 2017: ideas to change the world
---
Socialist Party news and analysis

Robber bosses own $6trn

Fight for free education: join the budget day protests!

Tories u-turn on social housing benefit cap and borrowing to build

Unions must fight workplace mental health crisis

No to 'Carebnb' privatisation of hospital beds

Them and us

What we saw
---
Workplace news and analysis

Coordinated strike action on five rail networks against driver-only operation

Arriva bus workers' dispute continues

PCS pay cap ballot closes soon

North east England blacklisting conference success
---
Socialist Party reports and campaigns

Teachers, students and parents demand an end to the schools funding crisis

The "club no-one wants to be part of" - march by families of those killed in police custody

Derby: expenses for councillors, cuts for everyone else

Health campaign groups come together in Barnsley to protest closures and downgrades in the NHS

Anger over plan to build housing on Yorkshire flood plain
---
Socialist readers' comments and reviews

New play celebrates Grunwick strike

Skipton show proves draw of socialist art

The Socialist inbox
---
Home | The Socialist 1 November 2017 | Join the Socialist Party