The Socialist 1 November 2017
Robber bosses own $6trn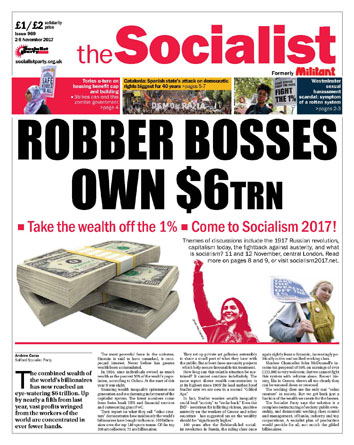 ---
Westminster sexual harassment scandal: symptom of a rotten system
---
Catalonia: Rajoy's furious response to proclamation of Republic
---
Socialism 2017: ideas to change the world
---
Fight for free education: join the budget day protests!
Tories u-turn on social housing benefit cap and borrowing to build
Unions must fight workplace mental health crisis
No to 'Carebnb' privatisation of hospital beds
---
Coordinated strike action on five rail networks against driver-only operation
Arriva bus workers' dispute continues
PCS pay cap ballot closes soon
North east England blacklisting conference success
---
Teachers, students and parents demand an end to the schools funding crisis
The "club no-one wants to be part of" - march by families of those killed in police custody
Derby: expenses for councillors, cuts for everyone else
Health campaign groups come together in Barnsley to protest closures and downgrades in the NHS
Anger over plan to build housing on Yorkshire flood plain
---
New play celebrates Grunwick strike
Skipton show proves draw of socialist art
PO Box 24697, London, E11 1YD
020 8988 8777
editors@socialistparty.org.uk

Link to this page: http://www.socialistparty.org.uk/issue/969/26389
Home | The Socialist 1 November 2017 | Join the Socialist Party
Subscribe | Donate | Audio | PDF | ebook
North east England blacklisting conference success
Historic Wallsend, with its strong traditions of trade union militancy in mining and ship building, was the scene for an excellent conference of regional and national anti-blacklisting activists on 28 October. Supported by the National Education Union, general union Unite, and public services union Unison, it brought together activists and campaigners who've fought bitter battles against bosses and even some union officials who break the law to prevent trade unionists from being hired. Tony Seaman was elected this year to Unite's executive committee. He explained that he was unable to secure work in his home area of Teesside for 28 months as a result of construction firms seeking to prevent him fighting for compliance with sectoral agreements.
National Shop Stewards Network (NSSN) and Socialist Party activists from Unite and the RMT supported the meeting and made contributions from the floor.
William Jarrett, Newcastle Socialist Party
Socialism 2017 (11 and 12 November, central London)
Discussions include: what is the socialist approach to the state?
---
In this issue
---
What we think

Westminster sexual harassment scandal: symptom of a rotten system
---
International socialist news and analysis

Catalonia: Rajoy's furious response to proclamation of Republic
---
Socialism 2017

Socialism 2017: ideas to change the world
---
Socialist Party news and analysis

Robber bosses own $6trn

Fight for free education: join the budget day protests!

Tories u-turn on social housing benefit cap and borrowing to build

Unions must fight workplace mental health crisis

No to 'Carebnb' privatisation of hospital beds

Them and us

What we saw
---
Workplace news and analysis

Coordinated strike action on five rail networks against driver-only operation

Arriva bus workers' dispute continues

PCS pay cap ballot closes soon

North east England blacklisting conference success
---
Socialist Party reports and campaigns

Teachers, students and parents demand an end to the schools funding crisis

The "club no-one wants to be part of" - march by families of those killed in police custody

Derby: expenses for councillors, cuts for everyone else

Health campaign groups come together in Barnsley to protest closures and downgrades in the NHS

Anger over plan to build housing on Yorkshire flood plain
---
Socialist readers' comments and reviews

New play celebrates Grunwick strike

Skipton show proves draw of socialist art

The Socialist inbox
---
Home | The Socialist 1 November 2017 | Join the Socialist Party