The Socialist 1 November 2017
Robber bosses own $6trn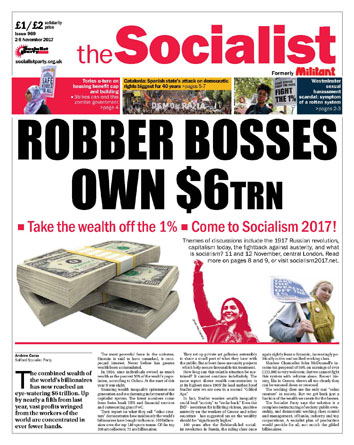 ---
Westminster sexual harassment scandal: symptom of a rotten system
---
Catalonia: Rajoy's furious response to proclamation of Republic
---
Socialism 2017: ideas to change the world
---
Fight for free education: join the budget day protests!
Tories u-turn on social housing benefit cap and borrowing to build
Unions must fight workplace mental health crisis
No to 'Carebnb' privatisation of hospital beds
---
Coordinated strike action on five rail networks against driver-only operation
Arriva bus workers' dispute continues
PCS pay cap ballot closes soon
North east England blacklisting conference success
---
Teachers, students and parents demand an end to the schools funding crisis
The "club no-one wants to be part of" - march by families of those killed in police custody
Derby: expenses for councillors, cuts for everyone else
Health campaign groups come together in Barnsley to protest closures and downgrades in the NHS
Anger over plan to build housing on Yorkshire flood plain
---
New play celebrates Grunwick strike
Skipton show proves draw of socialist art
PO Box 24697, London, E11 1YD
020 8988 8777
editors@socialistparty.org.uk

Link to this page: http://www.socialistparty.org.uk/issue/969/26391
Home | The Socialist 1 November 2017 | Join the Socialist Party
Subscribe | Donate | Audio | PDF | ebook
Teachers, students and parents demand an end to the schools funding crisis
Southampton headteacher and NEU member
Over 1,000 teachers, staff, parents and students put the question to MPs on 24 October: "What are you going to do to end the school funding crisis?"
Schools are facing further cuts due to a change in the government funding formula. But what came across at the National Education Union (NEU) rally was the severity of the crisis right now - a combined attack on schools of underfunding, a squeeze on teachers' pay, draconian testing regimes, a narrow curriculum and privatisation through academies and free schools.
This financial squeeze means that schools are shedding staff, both teachers and teaching assistants, with growing class sizes and no-one to teach subjects such as music, IT and other core subjects. As older more 'expensive' teachers are pushed out or jump under the calamitous pressure of a huge workload and squeezed pay, schools are finding it hard to recruit and retain younger and less experienced staff.
To cheers, John McDonnell gave his and Jeremy Corbyn's commitment: "If Labour had won in June we would have ended school cuts and introduced free school meals. Restored education maintenance allowance for sixth form students. Lifted public sector pay for all. Scrapped tuition fees and restored grants. To provide education from the cradle to the grave, free at the point of need."
His speech was followed by a standing ovation from most sections of the hall. It was a glimpse of the mood of anger across the country and the potential for a fighting campaign linked to Corbyn's manifesto, in mobilising a mass campaign that could force an early general election.
Given the enthusiasm towards John McDonnell's speech, imagine the impact if he was to call on every Labour council to use its powers to fund schools using 'licensed budget deficits', which an incoming Labour government would reimburse. It would rally teachers and parents to build a mass movement to back Labour councils, with demonstrations and strike action to back their stand.
This was what was missing from the lobby. Rather than a launch pad for such an offensive, the opportunity to spell out what needs to be done was missed.
Such is the severity of the schools crisis, battles at a local level are inevitable. The left of the NEU and Unison, alongside other unions, must push a clear strategy forward to ensure these battles are not left isolated but are linked together in a country-wide movement alongside others entering the struggle against this weak, divided and hated Tory government.
Socialism 2017 (11 and 12 November, central London)
Discussions include: local government - the next scene of the anti-austerity battle?
---
In this issue
---
What we think

Westminster sexual harassment scandal: symptom of a rotten system
---
International socialist news and analysis

Catalonia: Rajoy's furious response to proclamation of Republic
---
Socialism 2017

Socialism 2017: ideas to change the world
---
Socialist Party news and analysis

Robber bosses own $6trn

Fight for free education: join the budget day protests!

Tories u-turn on social housing benefit cap and borrowing to build

Unions must fight workplace mental health crisis

No to 'Carebnb' privatisation of hospital beds

Them and us

What we saw
---
Workplace news and analysis

Coordinated strike action on five rail networks against driver-only operation

Arriva bus workers' dispute continues

PCS pay cap ballot closes soon

North east England blacklisting conference success
---
Socialist Party reports and campaigns

Teachers, students and parents demand an end to the schools funding crisis

The "club no-one wants to be part of" - march by families of those killed in police custody

Derby: expenses for councillors, cuts for everyone else

Health campaign groups come together in Barnsley to protest closures and downgrades in the NHS

Anger over plan to build housing on Yorkshire flood plain
---
Socialist readers' comments and reviews

New play celebrates Grunwick strike

Skipton show proves draw of socialist art

The Socialist inbox
---
Home | The Socialist 1 November 2017 | Join the Socialist Party