The Socialist 29 November 2017
Make the Tories history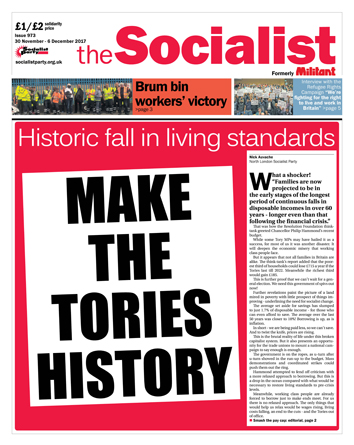 ---
After the budget - unions must launch pay fight
---
Tory housing policy: build zilch, hike prices
---
Socialist Students day of action demands free education
---
We're fighting for the right to live and work in Britain
---
North West: drivers and housing workers escalate strike wave
Kirklees bin workers ballot for strike over schedule and bullying
Brighton Uni lecturers strike against job cuts
DWP to outsource more work to Capita
PCS union says no to pay misery
---
Save Glenfield Children's Heart Centre! Save our NHS!
'Hands around HRI' to save Huddersfield A&E
Tyneside to protest against A&E and walk-in cuts
---
Bristol libraries safe - for now - as council caves to pressure
Osborne evades Carlisle socialists
New ebook: Liverpool A City That Dared To Fight
---
Amber warning lights flash on British economy
PO Box 24697, London, E11 1YD
020 8988 8777
editors@socialistparty.org.uk

Link to this page: http://www.socialistparty.org.uk/issue/973/26529
Home | The Socialist 29 November 2017 | Join the Socialist Party
Subscribe | Donate | Audio | PDF | ebook
North West: drivers and housing workers escalate strike wave
Becci Heagney, Manchester Socialist Party
Workers' disputes currently taking place in the north west, particularly in Manchester, are becoming increasingly bitter.
Mears housing workers are a couple of weeks into their programme of 49 days of strike action and the company is attempting to show strength through denying that the solid action is having an effect.
It is being forced to use sub-contractors in order to make sure that work is done and is not informing tenants that the strike is taking place. This is unsustainable and costly for Mears.
Workers are holding picket lines morning and afternoon four days a week and are preparing to step up the pressure on Manchester city councillors and Greater Manchester metro-mayor Andy Burnham.
They have support from workers employed directly by the council who are refusing to cross picket lines in some cases.
Meanwhile First bus drivers in Rusholme, having walked out every Monday since the beginning of October are now escalating their action to every Monday, Wednesday and Friday.
This is to show that they are serious and to force the company into negotiations but also to make it harder for First to 'bus' in scab drivers - managers from elsewhere who are being put up for the night in hotels in Manchester.
There are also rumours that other First depots in Manchester are preparing to ballot over issues like holiday pay.
At the same time, Arriva North West bus drivers - striking in Wythenshawe in Manchester but also at ten other depots across the region - have announced a massive escalation of strike action in December.
They, similarly to First, have been striking every Monday but now will strike on 4,7,12,13,14,20,21,22 and 23 December.
Unite the union correctly described pay talks with Arriva as an 'insult' after it offered an increase of 1p an hour!
The Socialist Party in Manchester is hosting a solidarity meeting on Tuesday 5th December, at 7pm, in the Britons Protection pub, Great Bridgewater Street, M1 5LE.
We have invited speakers from all of the disputes, as well as the union members themselves, to build support for their individual campaigns but also to help build unity and coordination between the multiple strikes taking place across the city.
---
This version of this article was first posted on the Socialist Party website on 24 November 2017 and may vary slightly from the version subsequently printed in The Socialist.
---
In this issue
---
What we think

After the budget - unions must launch pay fight
---
Socialist Party news and analysis

Make the Tories history

Tory housing policy: build zilch, hike prices

Them & us
---
Socialist Students

Socialist Students day of action demands free education
---
Refugees

We're fighting for the right to live and work in Britain
---
Workplace news and analysis

Birmingham bin workers win!

North West: drivers and housing workers escalate strike wave

Kirklees bin workers ballot for strike over schedule and bullying

Brighton Uni lecturers strike against job cuts

DWP to outsource more work to Capita

PCS union says no to pay misery
---
NHS

Save Glenfield Children's Heart Centre! Save our NHS!

'Hands around HRI' to save Huddersfield A&E

Tyneside to protest against A&E and walk-in cuts
---
Socialist Party reports and campaigns

Bristol libraries safe - for now - as council caves to pressure

Osborne evades Carlisle socialists

New ebook: Liverpool A City That Dared To Fight
---
Economy

Amber warning lights flash on British economy
---
Home | The Socialist 29 November 2017 | Join the Socialist Party