The Socialist 29 November 2017
Make the Tories history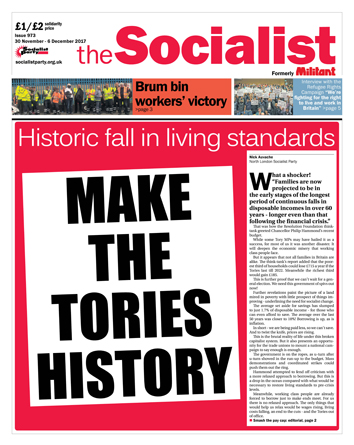 ---
After the budget - unions must launch pay fight
---
Tory housing policy: build zilch, hike prices
---
Socialist Students day of action demands free education
---
We're fighting for the right to live and work in Britain
---
North West: drivers and housing workers escalate strike wave
Kirklees bin workers ballot for strike over schedule and bullying
Brighton Uni lecturers strike against job cuts
DWP to outsource more work to Capita
PCS union says no to pay misery
---
Save Glenfield Children's Heart Centre! Save our NHS!
'Hands around HRI' to save Huddersfield A&E
Tyneside to protest against A&E and walk-in cuts
---
Bristol libraries safe - for now - as council caves to pressure
Osborne evades Carlisle socialists
New ebook: Liverpool A City That Dared To Fight
---
Amber warning lights flash on British economy
PO Box 24697, London, E11 1YD
020 8988 8777
editors@socialistparty.org.uk

Link to this page: http://www.socialistparty.org.uk/issue/973/26539
Home | The Socialist 29 November 2017 | Join the Socialist Party
Subscribe | Donate | Audio | PDF | ebook
PCS union says no to pay misery
Marion Lloyd, chair, PCS Left Unity (personal capacity)
It will take a determined, united campaign from all public sector workers to break the government's refusal to fund decent pay levels for public sector workers.
Earlier this year, civil service union PCS put its pay demands to the government:
end the pay cap now
fund above-inflation increases of 5% or £1,200, whichever is greater
for a living minimum hourly wage of £10 for all, including government contract workers
The negative response to this claim from the government led PCS to renew calls at the 2017 TUC congress for coordinated industrial action across the public sector.
It led also to a PCS consultative ballot asking members to reaffirm opposition to the pay cap and indicate support for strike action.
Members gave a massive boost to the union's pay campaign with 98.9% voting to scrap the pay cap and 79.2% supporting industrial action. With a 48.8% turnout, PCS is on course to win a statutory ballot for action.
Other public sector unions are considering their position, with a number proposing to hold similar consultative ballots. This is to be welcomed - and they need to get on with it.
United, coordinated action on pay, culminating in a mass demonstration early in the new year, could pave the way to ending public sector pay misery.
---
In this issue
---
What we think

After the budget - unions must launch pay fight
---
Socialist Party news and analysis

Make the Tories history

Tory housing policy: build zilch, hike prices

Them & us
---
Socialist Students

Socialist Students day of action demands free education
---
Refugees

We're fighting for the right to live and work in Britain
---
Workplace news and analysis

Birmingham bin workers win!

North West: drivers and housing workers escalate strike wave

Kirklees bin workers ballot for strike over schedule and bullying

Brighton Uni lecturers strike against job cuts

DWP to outsource more work to Capita

PCS union says no to pay misery
---
NHS

Save Glenfield Children's Heart Centre! Save our NHS!

'Hands around HRI' to save Huddersfield A&E

Tyneside to protest against A&E and walk-in cuts
---
Socialist Party reports and campaigns

Bristol libraries safe - for now - as council caves to pressure

Osborne evades Carlisle socialists

New ebook: Liverpool A City That Dared To Fight
---
Economy

Amber warning lights flash on British economy
---
Home | The Socialist 29 November 2017 | Join the Socialist Party