The Socialist 29 November 2017
Make the Tories history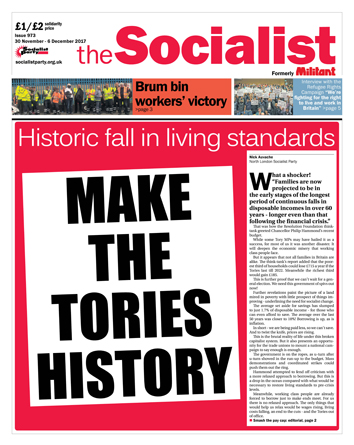 ---
After the budget - unions must launch pay fight
---
Tory housing policy: build zilch, hike prices
---
Socialist Students day of action demands free education
---
We're fighting for the right to live and work in Britain
---
North West: drivers and housing workers escalate strike wave
Kirklees bin workers ballot for strike over schedule and bullying
Brighton Uni lecturers strike against job cuts
DWP to outsource more work to Capita
PCS union says no to pay misery
---
Save Glenfield Children's Heart Centre! Save our NHS!
'Hands around HRI' to save Huddersfield A&E
Tyneside to protest against A&E and walk-in cuts
---
Bristol libraries safe - for now - as council caves to pressure
Osborne evades Carlisle socialists
New ebook: Liverpool A City That Dared To Fight
---
Amber warning lights flash on British economy
PO Box 24697, London, E11 1YD
020 8988 8777
editors@socialistparty.org.uk

Link to this page: http://www.socialistparty.org.uk/issue/973/26540
Home | The Socialist 29 November 2017 | Join the Socialist Party
Subscribe | Donate | Audio | PDF | ebook
Bristol libraries safe - for now - as council caves to pressure
Tom Baldwin, Bristol Socialist Party
Library campaigners in Bristol are celebrating - the service has been granted a temporary reprieve from cuts.
Bristol's Labour mayor Marvin Rees had proposed closing 17 libraries, more than half of all in the city. The council cabinet was due to decide which would face the chop next month.
But following an outcry from the public, it has been forced to delay the decision by at least four months.
The future of Bristol's libraries is far from guaranteed. Other options under consideration including libraries sharing sites with other services, which could still mean cuts.
But this setback for the cuts programme is very significant. The rethink was triggered by a small rebellion of Labour councillors who voted for a Lib Dem motion on libraries, against their party group and mayor.
This follows growing pressure from below in the Labour Party. The cracks are beginning to show in the council's assertion that it has no choice. Members are looking for alternatives.
The party's 'local campaign forum' recently voted to demand the mayor use reserves and borrowing to stop cuts. The Bristol and District Anti-Cuts Alliance has been invited to put this case to Labour branches. Now it seems that pressure is reflected by some councillors too.
Anti-cuts campaigners will not be taking anything for granted. We will keep up the pressure to make this stay of execution permanent, and to stop all cuts to jobs and services.
---
In this issue
---
What we think

After the budget - unions must launch pay fight
---
Socialist Party news and analysis

Make the Tories history

Tory housing policy: build zilch, hike prices

Them & us
---
Socialist Students

Socialist Students day of action demands free education
---
Refugees

We're fighting for the right to live and work in Britain
---
Workplace news and analysis

Birmingham bin workers win!

North West: drivers and housing workers escalate strike wave

Kirklees bin workers ballot for strike over schedule and bullying

Brighton Uni lecturers strike against job cuts

DWP to outsource more work to Capita

PCS union says no to pay misery
---
NHS

Save Glenfield Children's Heart Centre! Save our NHS!

'Hands around HRI' to save Huddersfield A&E

Tyneside to protest against A&E and walk-in cuts
---
Socialist Party reports and campaigns

Bristol libraries safe - for now - as council caves to pressure

Osborne evades Carlisle socialists

New ebook: Liverpool A City That Dared To Fight
---
Economy

Amber warning lights flash on British economy
---
Home | The Socialist 29 November 2017 | Join the Socialist Party