The Socialist 29 November 2017
Make the Tories history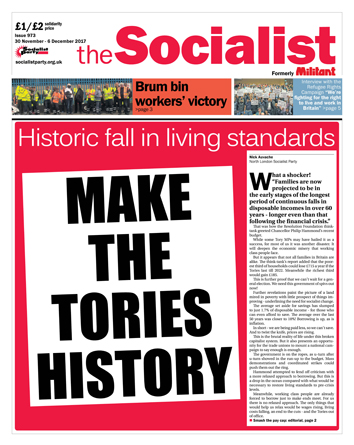 ---
After the budget - unions must launch pay fight
---
Tory housing policy: build zilch, hike prices
---
Socialist Students day of action demands free education
---
We're fighting for the right to live and work in Britain
---
North West: drivers and housing workers escalate strike wave
Kirklees bin workers ballot for strike over schedule and bullying
Brighton Uni lecturers strike against job cuts
DWP to outsource more work to Capita
PCS union says no to pay misery
---
Save Glenfield Children's Heart Centre! Save our NHS!
'Hands around HRI' to save Huddersfield A&E
Tyneside to protest against A&E and walk-in cuts
---
Bristol libraries safe - for now - as council caves to pressure
Osborne evades Carlisle socialists
New ebook: Liverpool A City That Dared To Fight
---
Amber warning lights flash on British economy
PO Box 24697, London, E11 1YD
020 8988 8777
editors@socialistparty.org.uk

Link to this page: http://www.socialistparty.org.uk/issue/973/26546
Home | The Socialist 29 November 2017 | Join the Socialist Party
Subscribe | Donate | Audio | PDF | ebook
New ebook - Liverpool: A City That Dared to Fight
The chronicle of the Liverpool City Council 1983-87 is now available on Kindle! The council said no to Thatcher's vicious cuts, and taking a fighting stance won major improvements for working-class people.
The strategy and stance of Liverpool Labour, and the Militant supporters within that, are essential reading today for all those looking to build an anti-austerity fightback today.
After Corbyn's election, the legacy of the Liverpool Council 1983-87 is often referenced, but the real lessons are rarely drawn out.
What does a fighting Labour Party look like? Can councils stand up against central government dictats? Liverpool: A City That Dared to Fight offers affirmative answers to both of these, and sets out a clear record of the struggles of the eighties.
Socialist Books is proud to publish this ebook edition, and we hope that in doing so we hope that we make those key lessons more readily available.
Liverpool: A City That Dared to Fight joins our growing collection of titles on Kindle, which also include The Rise of Militant and its sequel From Militant to the Socialist Party, and Leon Trotsky's Lessons of October.
We hope to add more titles soon, in ebook and in paperback editions. Check back on our website, or fill in the form on the left at the Socialist Books website to sign up to our mailing list to get occasional Socialist Books updates.
---
In this issue
---
What we think

After the budget - unions must launch pay fight
---
Socialist Party news and analysis

Make the Tories history

Tory housing policy: build zilch, hike prices

Them & us
---
Socialist Students

Socialist Students day of action demands free education
---
Refugees

We're fighting for the right to live and work in Britain
---
Workplace news and analysis

Birmingham bin workers win!

North West: drivers and housing workers escalate strike wave

Kirklees bin workers ballot for strike over schedule and bullying

Brighton Uni lecturers strike against job cuts

DWP to outsource more work to Capita

PCS union says no to pay misery
---
NHS

Save Glenfield Children's Heart Centre! Save our NHS!

'Hands around HRI' to save Huddersfield A&E

Tyneside to protest against A&E and walk-in cuts
---
Socialist Party reports and campaigns

Bristol libraries safe - for now - as council caves to pressure

Osborne evades Carlisle socialists

New ebook: Liverpool A City That Dared To Fight
---
Economy

Amber warning lights flash on British economy
---
Home | The Socialist 29 November 2017 | Join the Socialist Party