The Socialist 6 December 2017
NHS campaigns stop closures!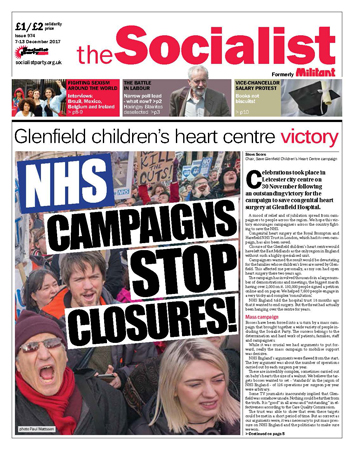 ---
Glenfield victory shows people power can save our NHS
Tyneside walk-in closures postponed after rally
---
Rough sleeping crisis: make homes, not arrests
Royal wedding exposes them-and-us visa system
RBS to sack 1,000: nationalise the banks
Branson sues NHS: kick out the profiteers
---
Fighting sexism, violence and capitalism - an international struggle
---
Corbyn's Labour can defeat Tories with socialist programme
Labour council Blairites deselected
---
Demonstrations by uni students and staff greet Bath vice-chancellor resignation
Liverpool John Moores Uni landslide for Socialist Students
TUSC conference to debate 2018 elections
Plans to launch no-cuts campaign at Kirklees College
Coventry Socialist sales hit 1,000
Waltham Forest Universal Credit protest
Court maintains injunction against fracking protesters
---
Dramatic retelling of Grunwick strike hits all the right notes
Blairite horror and Labour's divisions graphically exposed
Comment: Socialism and truth about Zane
---
PCS Left Unity celebrates 40th anniversary at annual conference
Brutal rail privateer Abellio takes over Midlands rail services
School staff strike against privatisation
Driving examiners walkout hits first day of new test
BT pensions review - oppose the attacks on the pension schemes
Arriva bus strikers stand firm
---
Irish capitalist state: rotten to the core
Mobilise to stop bigoted billionaire Donald Trump's state visit to Britain
Trump's tax plan: Robin Hood in reverse
PO Box 24697, London, E11 1YD
020 8988 8777
editors@socialistparty.org.uk

Link to this page: http://www.socialistparty.org.uk/issue/974/26577
Home | The Socialist 6 December 2017 | Join the Socialist Party
Subscribe | Donate | Audio | PDF | ebook
East Coast rescued from private failure AGAIN
Biggest hike in fares for five years
Transport workers under attack
Nationalise rail now
Steve Cawley, Peterborough Socialist Party
For the third time the government is having to save the East Coast Main Line railway from private sector failure. Virgin Trains will stop running the line three years early, in 2020.
First Sea Containers Ltd, then National Express and now Richard Branson. But last time it was publicly owned, the line returned over £1 billion to the public coffers.
Shares in Stagecoach - which runs the line in partnership with Virgin - jumped 13% when the government made the franchise termination announcement. Future payments due to the government from the private operators will be cancelled.
Their profits don't just come from subsidy payments. Track access fees paid by train operators actually fell between 2004 and 2012, for example.
Transport union RMT is balloting members on the line for strike action over Virgin Trains' attacks on conditions and pay. Meanwhile, rail bosses across the country want to cut costs and increase profits by extending 'driver-only operation' - removing the guards' safety-critical function controlling train doors.
Many of us have witnessed or heard of accidents with doors trapping clothing or bags and trains starting to move off. This happened to my partner a few years back on a local Cambridgeshire train. She was lucky that other passengers shouted too, and the driver then stopped.
And rail fares are set for the biggest hike in five years - an average of 3.4% from 2 January, according to the Rail Delivery Group. This increase is well above most commuters' stagnating wages.
Jeremy Corbyn has promised to bring the railways back into public ownership, which is very good. But passengers and rail workers can't just wait for the private franchises to run out, as Corbyn has floated.
The attacks are happening now. And apart from the possible extension of contracts into the dim and distant future, there's also the possibility that bosses may sell or spirit away assets in preparation.
A commitment to public ownership used to be on every Labour Party membership card, pre-Blair. We need to nationalise the whole rail network as a priority - with compensation paid only on the basis of proven need. This need would not apply to billionaires and big companies, whatever the European Court of Justice might say!
---
In this issue
---
NHS

Glenfield victory shows people power can save our NHS

Tyneside walk-in closures postponed after rally
---
Socialist Party news and analysis

Nationalise rail now

End Tory war on poor

Rough sleeping crisis: make homes, not arrests

Royal wedding exposes them-and-us visa system

RBS to sack 1,000: nationalise the banks

Branson sues NHS: kick out the profiteers
---
Women

Fighting sexism, violence and capitalism - an international struggle
---
What we think

Corbyn's Labour can defeat Tories with socialist programme

Labour council Blairites deselected
---
Socialist Students

Demonstrations by uni students and staff greet Bath vice-chancellor resignation

Liverpool John Moores Uni landslide for Socialist Students

TUSC conference to debate 2018 elections

Plans to launch no-cuts campaign at Kirklees College

Coventry Socialist sales hit 1,000

Waltham Forest Universal Credit protest

Court maintains injunction against fracking protesters
---
Socialist readers' comments and reviews

Dramatic retelling of Grunwick strike hits all the right notes

Blairite horror and Labour's divisions graphically exposed

Comment: Socialism and truth about Zane

The Socialist Inbox
---
Workplace news and analysis

PCS Left Unity celebrates 40th anniversary at annual conference

Brutal rail privateer Abellio takes over Midlands rail services

School staff strike against privatisation

Driving examiners walkout hits first day of new test

BT pensions review - oppose the attacks on the pension schemes

Arriva bus strikers stand firm
---
International socialist news and analysis

Irish capitalist state: rotten to the core

Mobilise to stop bigoted billionaire Donald Trump's state visit to Britain

Trump's tax plan: Robin Hood in reverse
---
Home | The Socialist 6 December 2017 | Join the Socialist Party