The Socialist 6 December 2017
NHS campaigns stop closures!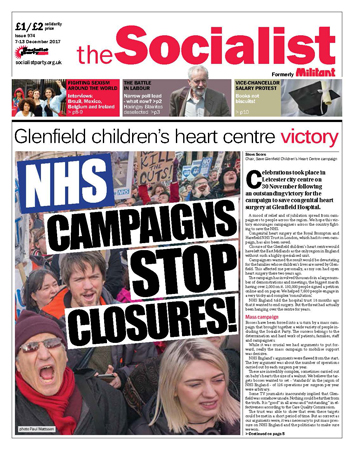 ---
Glenfield victory shows people power can save our NHS
Tyneside walk-in closures postponed after rally
---
Rough sleeping crisis: make homes, not arrests
Royal wedding exposes them-and-us visa system
RBS to sack 1,000: nationalise the banks
Branson sues NHS: kick out the profiteers
---
Fighting sexism, violence and capitalism - an international struggle
---
Corbyn's Labour can defeat Tories with socialist programme
Labour council Blairites deselected
---
Demonstrations by uni students and staff greet Bath vice-chancellor resignation
Liverpool John Moores Uni landslide for Socialist Students
TUSC conference to debate 2018 elections
Plans to launch no-cuts campaign at Kirklees College
Coventry Socialist sales hit 1,000
Waltham Forest Universal Credit protest
Court maintains injunction against fracking protesters
---
Dramatic retelling of Grunwick strike hits all the right notes
Blairite horror and Labour's divisions graphically exposed
Comment: Socialism and truth about Zane
---
PCS Left Unity celebrates 40th anniversary at annual conference
Brutal rail privateer Abellio takes over Midlands rail services
School staff strike against privatisation
Driving examiners walkout hits first day of new test
BT pensions review - oppose the attacks on the pension schemes
Arriva bus strikers stand firm
---
Irish capitalist state: rotten to the core
Mobilise to stop bigoted billionaire Donald Trump's state visit to Britain
Trump's tax plan: Robin Hood in reverse
PO Box 24697, London, E11 1YD
020 8988 8777
editors@socialistparty.org.uk

Link to this page: http://www.socialistparty.org.uk/issue/974/26578
Home | The Socialist 6 December 2017 | Join the Socialist Party
Subscribe | Donate | Audio | PDF | ebook
PCS Left Unity celebrates 40th anniversary at annual conference
Socialist Party members continue to play a key role
Socialist Party member in PCS
Set up 40 years ago, PCS Left Unity remains the best example of a trade union united front. The core of the most active reps in the union are members of Left Unity.
On the back of the tremendous national consultative ballot on pay, the conference agreed an emergency motion committing Left Unity members to make links with left groupings in other trade unions to build unity and joint campaigns on pay.
Further, the conference agreed the need to apply pressure on other unions to meet with each other to coordinate campaigns and action.
PCS is currently playing a key role in progressing this agenda within the 'public sector liaison committee'.
Unfortunately the Socialist Workers Party was arguing for another motion calling for the union to immediately look to ballot as soon as possible in the new year to 'help put pressure on the government'.
This reckless position won no support from delegates who understood the need to get behind a serious strategy put forward by Socialist Party members.
The motion sets out steps on building up the head of steam required to break the cap and fight for extra investment in pay to begin to reverse the effects of years of pay restraint on working class people.
Strikes
The conference also heard about the number of disputes taking place across the union over the course of the year.
There was strike action by members in the Department for Transport taking place 4 and 5 December and a number of job centres took strike action this year against office closures.
A solidarity message was sent to a transgender worker sacked by the V&A museum after it failed to protect against transphobic abuse.
Despite job losses and cuts to facility time, the conference was well attended with left-wing trade unionists from across the union.
Around a third of attendees were Socialist Party members, including guest speaker Chris Baugh, assistant general secretary.
Also Janice Godrich, president, John McInally, national executive committee member, and Fran Heathcote, vice president, spoke in the debate on pay. Many other people from the Socialist Party spoke at the conference.
Other debates included the need for an independent public enquiry into state interference, exposed in cabinet papers released last year showing the scale of their involvement in blocking the election of Militant (later Socialist Party) supporter John Macreadie as general secretary of the union in 1986.
PCS Left Unity also reaffirmed its support for extending the election of senior full time officers in the union, to look at extending elections further and for the implementation of existing PCS policy on elections of full time officials.
In closing the conference, Left Unity national chair and Socialist Party member Marion Lloyd sent delegates away feeling positive and determined that 2018 will see massive gains for our class.
PCS will continue to play a key role in building the movement necessary to defeat the government and bring about socialist change.
---
In this issue
---
NHS

Glenfield victory shows people power can save our NHS

Tyneside walk-in closures postponed after rally
---
Socialist Party news and analysis

Nationalise rail now

End Tory war on poor

Rough sleeping crisis: make homes, not arrests

Royal wedding exposes them-and-us visa system

RBS to sack 1,000: nationalise the banks

Branson sues NHS: kick out the profiteers
---
Women

Fighting sexism, violence and capitalism - an international struggle
---
What we think

Corbyn's Labour can defeat Tories with socialist programme

Labour council Blairites deselected
---
Socialist Students

Demonstrations by uni students and staff greet Bath vice-chancellor resignation

Liverpool John Moores Uni landslide for Socialist Students

TUSC conference to debate 2018 elections

Plans to launch no-cuts campaign at Kirklees College

Coventry Socialist sales hit 1,000

Waltham Forest Universal Credit protest

Court maintains injunction against fracking protesters
---
Socialist readers' comments and reviews

Dramatic retelling of Grunwick strike hits all the right notes

Blairite horror and Labour's divisions graphically exposed

Comment: Socialism and truth about Zane

The Socialist Inbox
---
Workplace news and analysis

PCS Left Unity celebrates 40th anniversary at annual conference

Brutal rail privateer Abellio takes over Midlands rail services

School staff strike against privatisation

Driving examiners walkout hits first day of new test

BT pensions review - oppose the attacks on the pension schemes

Arriva bus strikers stand firm
---
International socialist news and analysis

Irish capitalist state: rotten to the core

Mobilise to stop bigoted billionaire Donald Trump's state visit to Britain

Trump's tax plan: Robin Hood in reverse
---
Home | The Socialist 6 December 2017 | Join the Socialist Party