The Socialist 6 December 2017
NHS campaigns stop closures!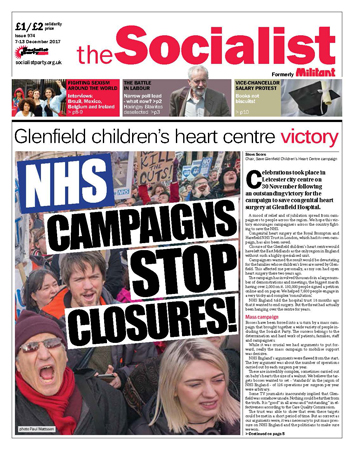 ---
Glenfield victory shows people power can save our NHS
Tyneside walk-in closures postponed after rally
---
Rough sleeping crisis: make homes, not arrests
Royal wedding exposes them-and-us visa system
RBS to sack 1,000: nationalise the banks
Branson sues NHS: kick out the profiteers
---
Fighting sexism, violence and capitalism - an international struggle
---
Corbyn's Labour can defeat Tories with socialist programme
Labour council Blairites deselected
---
Demonstrations by uni students and staff greet Bath vice-chancellor resignation
Liverpool John Moores Uni landslide for Socialist Students
TUSC conference to debate 2018 elections
Plans to launch no-cuts campaign at Kirklees College
Coventry Socialist sales hit 1,000
Waltham Forest Universal Credit protest
Court maintains injunction against fracking protesters
---
Dramatic retelling of Grunwick strike hits all the right notes
Blairite horror and Labour's divisions graphically exposed
Comment: Socialism and truth about Zane
---
PCS Left Unity celebrates 40th anniversary at annual conference
Brutal rail privateer Abellio takes over Midlands rail services
School staff strike against privatisation
Driving examiners walkout hits first day of new test
BT pensions review - oppose the attacks on the pension schemes
Arriva bus strikers stand firm
---
Irish capitalist state: rotten to the core
Mobilise to stop bigoted billionaire Donald Trump's state visit to Britain
Trump's tax plan: Robin Hood in reverse
PO Box 24697, London, E11 1YD
020 8988 8777
editors@socialistparty.org.uk

Link to this page: http://www.socialistparty.org.uk/issue/974/26580
Home | The Socialist 6 December 2017 | Join the Socialist Party
Subscribe | Donate | Audio | PDF | ebook
BT pensions review - oppose the attacks on the pension schemes
Socialist Party members in the CWU
A 60-day consultation is taking place to make changes to several BT pension schemes. The company proposes that, for managers, the defined-benefit BT pensions scheme is closed to future benefits and they revert to the 'money purchase BT retirement savings scheme'.
The proposal for team members is they pay more in for less when they retire and that pension rises no longer keep up with the retail price index (RPI).
Instead, this is to be reduced to the lower consumer prices index (CPI). Or these two schemes could close.
Furthermore, in a cut to workers' deferred pay, those benefits already built up or for retired workers will have their income cut to the lower CPI measure.
In a further twist, the company proposes that they revert to the legal minimum rise allowed in law for increases to keep pace with the cost of living, 2.5%.
And the lump sum for service would be removed after April 2018.
Clearly, the proposal that managers as a group see their access closed is an attempt to divide the workforce.
This must be opposed and joint campaigning by trade unions the Communication Workers' Union (CWU) and Prospect should be initiated.
Correctly, the CWU is advising members to reject all the options presented by the company. The union points out that BT made over £7.5 billion in profit last year and paid out more than £1 billion in dividends to shareholders.
Branch meetings are now being planned as part of the campaign of opposition.
Socialists in the CWU demand:
The CWU telecoms campaign is coordinated with the CWU postal workers campaign. For a joint post and telecoms campaign to defend pensions
The CWU telecoms campaign coordinate action with the managers' union Prospect. No separate deals
That the money purchase BT retirement savings scheme is incorporated into the defined benefit BT pensions scheme
The privatisation of Royal Mail and telecoms has led to major shareholders sucking the lifeblood out of both companies at the expense of the workforce. It is CWU policy that both Royal Mail and BT should be renationalised
---
In this issue
---
NHS

Glenfield victory shows people power can save our NHS

Tyneside walk-in closures postponed after rally
---
Socialist Party news and analysis

Nationalise rail now

End Tory war on poor

Rough sleeping crisis: make homes, not arrests

Royal wedding exposes them-and-us visa system

RBS to sack 1,000: nationalise the banks

Branson sues NHS: kick out the profiteers
---
Women

Fighting sexism, violence and capitalism - an international struggle
---
What we think

Corbyn's Labour can defeat Tories with socialist programme

Labour council Blairites deselected
---
Socialist Students

Demonstrations by uni students and staff greet Bath vice-chancellor resignation

Liverpool John Moores Uni landslide for Socialist Students

TUSC conference to debate 2018 elections

Plans to launch no-cuts campaign at Kirklees College

Coventry Socialist sales hit 1,000

Waltham Forest Universal Credit protest

Court maintains injunction against fracking protesters
---
Socialist readers' comments and reviews

Dramatic retelling of Grunwick strike hits all the right notes

Blairite horror and Labour's divisions graphically exposed

Comment: Socialism and truth about Zane

The Socialist Inbox
---
Workplace news and analysis

PCS Left Unity celebrates 40th anniversary at annual conference

Brutal rail privateer Abellio takes over Midlands rail services

School staff strike against privatisation

Driving examiners walkout hits first day of new test

BT pensions review - oppose the attacks on the pension schemes

Arriva bus strikers stand firm
---
International socialist news and analysis

Irish capitalist state: rotten to the core

Mobilise to stop bigoted billionaire Donald Trump's state visit to Britain

Trump's tax plan: Robin Hood in reverse
---
Home | The Socialist 6 December 2017 | Join the Socialist Party