The Socialist 6 December 2017
NHS campaigns stop closures!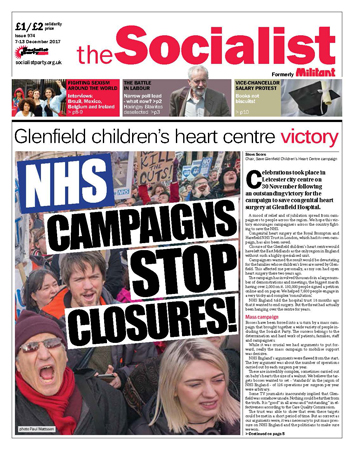 ---
Glenfield victory shows people power can save our NHS
Tyneside walk-in closures postponed after rally
---
Rough sleeping crisis: make homes, not arrests
Royal wedding exposes them-and-us visa system
RBS to sack 1,000: nationalise the banks
Branson sues NHS: kick out the profiteers
---
Fighting sexism, violence and capitalism - an international struggle
---
Corbyn's Labour can defeat Tories with socialist programme
Labour council Blairites deselected
---
Demonstrations by uni students and staff greet Bath vice-chancellor resignation
Liverpool John Moores Uni landslide for Socialist Students
TUSC conference to debate 2018 elections
Plans to launch no-cuts campaign at Kirklees College
Coventry Socialist sales hit 1,000
Waltham Forest Universal Credit protest
Court maintains injunction against fracking protesters
---
Dramatic retelling of Grunwick strike hits all the right notes
Blairite horror and Labour's divisions graphically exposed
Comment: Socialism and truth about Zane
---
PCS Left Unity celebrates 40th anniversary at annual conference
Brutal rail privateer Abellio takes over Midlands rail services
School staff strike against privatisation
Driving examiners walkout hits first day of new test
BT pensions review - oppose the attacks on the pension schemes
Arriva bus strikers stand firm
---
Irish capitalist state: rotten to the core
Mobilise to stop bigoted billionaire Donald Trump's state visit to Britain
Trump's tax plan: Robin Hood in reverse
PO Box 24697, London, E11 1YD
020 8988 8777
editors@socialistparty.org.uk

Link to this page: http://www.socialistparty.org.uk/issue/974/26593
Home | The Socialist 6 December 2017 | Join the Socialist Party
Subscribe | Donate | Audio | PDF | ebook
Liverpool John Moores Uni landslide for Socialist Students
LJMU Socialist Students
Liverpool John Moores University (LJMU) Socialist Students member David Hitchmough topped the poll for National Union of Students (NUS) conference delegates, winning 121 first preference votes ahead of two-dozen other candidates.
David says: "It's fantastic to be elected as NUS delegate for the second time! To achieve the highest number of votes this year, a year which has seen the largest number of votes cast overall and 24 candidates running, is a big achievement and shows that students are connecting with socialism.
"We distributed hundreds of leaflets, put up dozens of posters, and were in this election as throughout the year, the only actively campaigning group on campus."
We had hoped the newly formed Labour Students society at LJMU would support David, as they portray themselves as Corbyn supporters.
We were willing to run a broader 'left' campaign alongside others, and when David proposed this to a meeting of Labour society members this was agreed.
However, a Blairite clique within the society then stood a candidate against us anyway, and when manifestos were published another two candidates also declared themselves to be Labour Party members. The left in the Labour society should draw the appropriate conclusions.
Our leaflet outlined our demands: "Education should be free. All students should receive grants which are sufficient to live on.
"Students should not suffer crippling debts! I stand for a democratic campaigning student union, which fights for all students.
"I stand for affordable rents for all students, including caps on what halls and landlords can charge.
"I support Jeremy Corbyn and I want to see him as prime minister. Elect me to support Jeremy Corbyn at NUS conference."
LJMU Socialist Students will continue to campaign on these policies, and step up our campaign stalls and recruitment.
Next term we will be taking initiatives in the run-up to NUS conference and the policies David will be putting forward.
We urge everyone who voted for David to get actively involved in the society and help us build a strong socialist force across the campuses.
---
In this issue
---
NHS

Glenfield victory shows people power can save our NHS

Tyneside walk-in closures postponed after rally
---
Socialist Party news and analysis

Nationalise rail now

End Tory war on poor

Rough sleeping crisis: make homes, not arrests

Royal wedding exposes them-and-us visa system

RBS to sack 1,000: nationalise the banks

Branson sues NHS: kick out the profiteers
---
Women

Fighting sexism, violence and capitalism - an international struggle
---
What we think

Corbyn's Labour can defeat Tories with socialist programme

Labour council Blairites deselected
---
Socialist Students

Demonstrations by uni students and staff greet Bath vice-chancellor resignation

Liverpool John Moores Uni landslide for Socialist Students

TUSC conference to debate 2018 elections

Plans to launch no-cuts campaign at Kirklees College

Coventry Socialist sales hit 1,000

Waltham Forest Universal Credit protest

Court maintains injunction against fracking protesters
---
Socialist readers' comments and reviews

Dramatic retelling of Grunwick strike hits all the right notes

Blairite horror and Labour's divisions graphically exposed

Comment: Socialism and truth about Zane

The Socialist Inbox
---
Workplace news and analysis

PCS Left Unity celebrates 40th anniversary at annual conference

Brutal rail privateer Abellio takes over Midlands rail services

School staff strike against privatisation

Driving examiners walkout hits first day of new test

BT pensions review - oppose the attacks on the pension schemes

Arriva bus strikers stand firm
---
International socialist news and analysis

Irish capitalist state: rotten to the core

Mobilise to stop bigoted billionaire Donald Trump's state visit to Britain

Trump's tax plan: Robin Hood in reverse
---
Home | The Socialist 6 December 2017 | Join the Socialist Party