The Socialist 6 December 2017
NHS campaigns stop closures!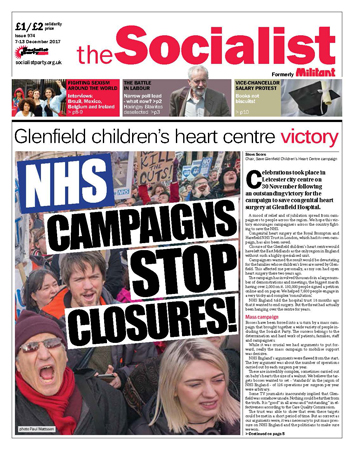 ---
Glenfield victory shows people power can save our NHS
Tyneside walk-in closures postponed after rally
---
Rough sleeping crisis: make homes, not arrests
Royal wedding exposes them-and-us visa system
RBS to sack 1,000: nationalise the banks
Branson sues NHS: kick out the profiteers
---
Fighting sexism, violence and capitalism - an international struggle
---
Corbyn's Labour can defeat Tories with socialist programme
Labour council Blairites deselected
---
Demonstrations by uni students and staff greet Bath vice-chancellor resignation
Liverpool John Moores Uni landslide for Socialist Students
TUSC conference to debate 2018 elections
Plans to launch no-cuts campaign at Kirklees College
Coventry Socialist sales hit 1,000
Waltham Forest Universal Credit protest
Court maintains injunction against fracking protesters
---
Dramatic retelling of Grunwick strike hits all the right notes
Blairite horror and Labour's divisions graphically exposed
Comment: Socialism and truth about Zane
---
PCS Left Unity celebrates 40th anniversary at annual conference
Brutal rail privateer Abellio takes over Midlands rail services
School staff strike against privatisation
Driving examiners walkout hits first day of new test
BT pensions review - oppose the attacks on the pension schemes
Arriva bus strikers stand firm
---
Irish capitalist state: rotten to the core
Mobilise to stop bigoted billionaire Donald Trump's state visit to Britain
Trump's tax plan: Robin Hood in reverse
PO Box 24697, London, E11 1YD
020 8988 8777
editors@socialistparty.org.uk

Link to this page: http://www.socialistparty.org.uk/issue/974/26594
Home | The Socialist 6 December 2017 | Join the Socialist Party
Subscribe | Donate | Audio | PDF | ebook
TUSC conference to debate 2018 elections
The Trade Unionist and Socialist Coalition (TUSC) is holding its 2018 national conference on 10 February.
The main session will be under the heading: 'Building support for Jeremy Corbyn's anti-cuts policies in the 2018 local elections'.
This will include the controversial question of whether or not socialist anti-austerity candidates should stand next May.
The current position of TUSC remains as it has been since September 2015, when a new and welcome political situation was opened up by Jeremy Corbyn's Labour leadership election victory.
His defeat of the Blairites on an anti-austerity message completely changed things compared to the first five years of TUSC's existence, when Labour was essentially just a 'Tory-lite' party.
Responding to the new situation TUSC's policy since then has been to not field candidates in local elections against Labour councillors who are willing to vote against cuts in the council chamber.
Politicians of whatever party who support austerity, however, are another matter and TUSC has been prepared to contest local elections against right-wing Labour councillors carrying out Tory cuts. But should that be reviewed for next year's poll?
The conference will be an opportunity for all TUSC supporters to debate this matter out.
To inform the debate the TUSC steering committee is conducting a survey on how far local Labour councillors are preparing to back Jeremy's anti-cuts position in the 2018-19 council budget-setting process and, in those councils where they are taking place, next year's elections.
The survey covers questions on Labour councillors' budget proposals for 2018-19, what manifesto pledges local Labour parties will campaign on, and whether or not right-wing Blairite councillors are being replaced by Jeremy Corbyn supporters.
A full report will be published for the conference but some preliminary results are now available on the TUSC website.
The conference will close with an open forum session on 'TUSC and the Brexit negotiations', following the TUSC campaign in the EU referendum for a Leave vote, dealing with the issues that are posed.
---
In this issue
---
NHS

Glenfield victory shows people power can save our NHS

Tyneside walk-in closures postponed after rally
---
Socialist Party news and analysis

Nationalise rail now

End Tory war on poor

Rough sleeping crisis: make homes, not arrests

Royal wedding exposes them-and-us visa system

RBS to sack 1,000: nationalise the banks

Branson sues NHS: kick out the profiteers
---
Women

Fighting sexism, violence and capitalism - an international struggle
---
What we think

Corbyn's Labour can defeat Tories with socialist programme

Labour council Blairites deselected
---
Socialist Students

Demonstrations by uni students and staff greet Bath vice-chancellor resignation

Liverpool John Moores Uni landslide for Socialist Students

TUSC conference to debate 2018 elections

Plans to launch no-cuts campaign at Kirklees College

Coventry Socialist sales hit 1,000

Waltham Forest Universal Credit protest

Court maintains injunction against fracking protesters
---
Socialist readers' comments and reviews

Dramatic retelling of Grunwick strike hits all the right notes

Blairite horror and Labour's divisions graphically exposed

Comment: Socialism and truth about Zane

The Socialist Inbox
---
Workplace news and analysis

PCS Left Unity celebrates 40th anniversary at annual conference

Brutal rail privateer Abellio takes over Midlands rail services

School staff strike against privatisation

Driving examiners walkout hits first day of new test

BT pensions review - oppose the attacks on the pension schemes

Arriva bus strikers stand firm
---
International socialist news and analysis

Irish capitalist state: rotten to the core

Mobilise to stop bigoted billionaire Donald Trump's state visit to Britain

Trump's tax plan: Robin Hood in reverse
---
Home | The Socialist 6 December 2017 | Join the Socialist Party