The Socialist 6 December 2017
NHS campaigns stop closures!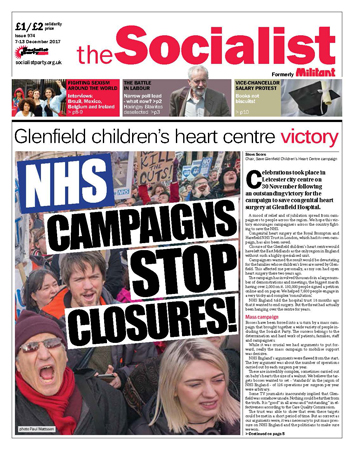 ---
Glenfield victory shows people power can save our NHS
Tyneside walk-in closures postponed after rally
---
Rough sleeping crisis: make homes, not arrests
Royal wedding exposes them-and-us visa system
RBS to sack 1,000: nationalise the banks
Branson sues NHS: kick out the profiteers
---
Fighting sexism, violence and capitalism - an international struggle
---
Corbyn's Labour can defeat Tories with socialist programme
Labour council Blairites deselected
---
Demonstrations by uni students and staff greet Bath vice-chancellor resignation
Liverpool John Moores Uni landslide for Socialist Students
TUSC conference to debate 2018 elections
Plans to launch no-cuts campaign at Kirklees College
Coventry Socialist sales hit 1,000
Waltham Forest Universal Credit protest
Court maintains injunction against fracking protesters
---
Dramatic retelling of Grunwick strike hits all the right notes
Blairite horror and Labour's divisions graphically exposed
Comment: Socialism and truth about Zane
---
PCS Left Unity celebrates 40th anniversary at annual conference
Brutal rail privateer Abellio takes over Midlands rail services
School staff strike against privatisation
Driving examiners walkout hits first day of new test
BT pensions review - oppose the attacks on the pension schemes
Arriva bus strikers stand firm
---
Irish capitalist state: rotten to the core
Mobilise to stop bigoted billionaire Donald Trump's state visit to Britain
Trump's tax plan: Robin Hood in reverse
PO Box 24697, London, E11 1YD
020 8988 8777
editors@socialistparty.org.uk

Link to this page: http://www.socialistparty.org.uk/issue/974/26596
Home | The Socialist 6 December 2017 | Join the Socialist Party
Subscribe | Donate | Audio | PDF | ebook
Documentary: Labour - the Summer that Changed Everything
Blairite horror and Labour's divisions graphically exposed
Dave Reid, Socialist Party Wales
Until the recently renewed attacks on Momentum, it all appeared to be sweetness and light in Labour.
The daily Blairite attacks on Corbyn have receded. Jeremy Corbyn and John McDonnell seem to believe the parliamentary Labour Party is behind them.
But David Modell's fly-on-the-wall documentary following four Labour candidates through the general election campaign should act as a reminder of just how deep-seated Blairite opposition to Corbyn is.
During the campaign, they all expect Corbyn-led Labour to get hammered, and Theresa May to achieve an unassailable position. Some fervently hope she succeeds.
One of the most dramatic TV moments this year was the 8 June exit poll that correctly predicted gains for Labour and losses for the Tories. This is the documentary's climax.
In particular, Stephen Kinnock - MP for Aberafon and latest product of the millionaire Kinnock dynasty - looks aghast.
His eyes are frozen in horror and amazement as the implications of this huge moral victory for Corbyn sink in.
You need to remind yourself that he is not a Tory, but a Labour MP. And that he has been re-elected - with an increased majority courtesy of the Corbyn surge. The narrator gets it right. "He is thinking that the Corbyn-free future he has been dreaming of might never actually come."
The shock and disappointment in Kinnock's eyes as he learns Labour has not been hammered is the most eloquent description of how Labour remains two parties in one.
Kinnock's party, New Labour, wanted the Tories to win so Corbynista Labour could be defeated.
But the film also shows how the right wing has got over the shock and regrouped. In the immediate aftermath many of the Corbyn backstabbers have recovered their poise and publicly turned into Corbyn back-slappers.
Tom Watson, alleged author of the 'Project Anaconda' strategy - to squeeze the life out of Corbyn's leadership - wraps his arms around a surprised Jeremy Corbyn in an apparently joyous hug.
But that hug is a metaphor for the right wing trying to wrap Corbyn up for now, and prepare to strike late.
At Labour Party conference, left-wing journalist Owen Jones - who made prophecies of doom if Corbyn continued as leader - is back on the stage at Momentum's 'World Transformed' event.
Unfortunately the Momentum leadership, and Corbyn's advisors, have apparently been seduced by the parliamentary Labour Party's sham surrender.
Corbyn's supporters must press home their advantage to demand democratic rights including mandatory reselection of Labour MPs.
This excellent documentary did, however, miss some important issues. It never showed, for example, the turning point in the election, which was the launch of the radical manifesto that marked a break from the old politics as usual.
Until then, the press campaign, unanswered up to that point, had an effect in turning some working class supporters against Corbyn.
Nevertheless, it demonstrates the chasm between Corbyn's supporters and most Labour MPs, exposing the utopian idea that the Blairites can ever be won over to supporting Corbyn or his policies.
---
In this issue
---
NHS

Glenfield victory shows people power can save our NHS

Tyneside walk-in closures postponed after rally
---
Socialist Party news and analysis

Nationalise rail now

End Tory war on poor

Rough sleeping crisis: make homes, not arrests

Royal wedding exposes them-and-us visa system

RBS to sack 1,000: nationalise the banks

Branson sues NHS: kick out the profiteers
---
Women

Fighting sexism, violence and capitalism - an international struggle
---
What we think

Corbyn's Labour can defeat Tories with socialist programme

Labour council Blairites deselected
---
Socialist Students

Demonstrations by uni students and staff greet Bath vice-chancellor resignation

Liverpool John Moores Uni landslide for Socialist Students

TUSC conference to debate 2018 elections

Plans to launch no-cuts campaign at Kirklees College

Coventry Socialist sales hit 1,000

Waltham Forest Universal Credit protest

Court maintains injunction against fracking protesters
---
Socialist readers' comments and reviews

Dramatic retelling of Grunwick strike hits all the right notes

Blairite horror and Labour's divisions graphically exposed

Comment: Socialism and truth about Zane

The Socialist Inbox
---
Workplace news and analysis

PCS Left Unity celebrates 40th anniversary at annual conference

Brutal rail privateer Abellio takes over Midlands rail services

School staff strike against privatisation

Driving examiners walkout hits first day of new test

BT pensions review - oppose the attacks on the pension schemes

Arriva bus strikers stand firm
---
International socialist news and analysis

Irish capitalist state: rotten to the core

Mobilise to stop bigoted billionaire Donald Trump's state visit to Britain

Trump's tax plan: Robin Hood in reverse
---
Home | The Socialist 6 December 2017 | Join the Socialist Party