The Socialist 6 December 2017
NHS campaigns stop closures!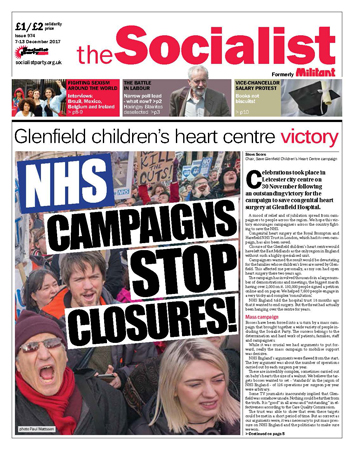 ---
Glenfield victory shows people power can save our NHS
Tyneside walk-in closures postponed after rally
---
Rough sleeping crisis: make homes, not arrests
Royal wedding exposes them-and-us visa system
RBS to sack 1,000: nationalise the banks
Branson sues NHS: kick out the profiteers
---
Fighting sexism, violence and capitalism - an international struggle
---
Corbyn's Labour can defeat Tories with socialist programme
Labour council Blairites deselected
---
Demonstrations by uni students and staff greet Bath vice-chancellor resignation
Liverpool John Moores Uni landslide for Socialist Students
TUSC conference to debate 2018 elections
Plans to launch no-cuts campaign at Kirklees College
Coventry Socialist sales hit 1,000
Waltham Forest Universal Credit protest
Court maintains injunction against fracking protesters
---
Dramatic retelling of Grunwick strike hits all the right notes
Blairite horror and Labour's divisions graphically exposed
Comment: Socialism and truth about Zane
---
PCS Left Unity celebrates 40th anniversary at annual conference
Brutal rail privateer Abellio takes over Midlands rail services
School staff strike against privatisation
Driving examiners walkout hits first day of new test
BT pensions review - oppose the attacks on the pension schemes
Arriva bus strikers stand firm
---
Irish capitalist state: rotten to the core
Mobilise to stop bigoted billionaire Donald Trump's state visit to Britain
Trump's tax plan: Robin Hood in reverse
PO Box 24697, London, E11 1YD
020 8988 8777
editors@socialistparty.org.uk

Link to this page: http://www.socialistparty.org.uk/issue/974/26598
Home | The Socialist 6 December 2017 | Join the Socialist Party
Subscribe | Donate | Audio | PDF | ebook
The Socialist Inbox
Featured letter: housing safety
Terrifying fire in my block underlines need for sprinklers
After the Grenfell disaster, landlords, the government and councils still refuse to install sprinklers.
I've had two hours' sleep. Last night was the most frightening of my life.
My mam went live on Facebook saying there was a fire in her block, Cruddas Park House, and she didn't know what to do.
My six-year-old daughter was with her, on the 16th floor with the corridor full of thick smoke.
She wet her draught excluder to try to seal the door. The fire was on the 14th floor.
People who were able got out and went down the stairs. Many just had to wait in their flats and hope for the best, mobility problems stopping them from leaving.
I waited on the ground floor, just terrified. You could smell smoke down there and people were being treated for smoke inhalation.
The fire was put out but this could have been so much worse. Some smoke alarms went off but lots of people outside said their floors were full of smoke and no fire alarms were going off. Firefighters on the ground agreed that these blocks need sprinklers.
What about next time? What if it's worse?
Those people can't get out and there aren't enough firefighters to evacuate even a fraction of the people in those blocks.
We still don't know what the insulation is made of either because 'Your Homes Newcastle' won't publish the results. I'm tired of fighting. When will they just do the right thing?
Standing down there waiting to hear that the fire was out and my mam and little girl were safe was just unimaginable.
---
>
Doctors devastated
I recently logged on to my local GP's website to book an appointment. To my surprise I found a very honest account of the devastating cuts to the NHS which have left my local surgery in crisis.
The open letter, drafted by the lead GP, stated "the effects of political and economic problems in recent years, especially the recession, have been impossible to avoid, though we have tried, and have had a huge impact on our NHS.
"There has been a constant reduction in our finances and resources, combined with an increase in demand and expectation, which has placed an unbearable workload and pressure on general practice. We are simply no longer able to provide the service that we used to.
"At Bath Lodge Practice, we have lost funding, staff, and high morale. Our recent Care Quality Commission inspection and review found us to be lacking in a number of areas.
To date, all of the previous doctors, including our long-serving partners, have now left the practice. Their departure reflects the alarming shortage of GPs across the country."
This situation is all too familiar to us. But it does take a lot for any organisation to admit openly it is unable to provide adequate services.
Last year the British Red Cross declared a "humanitarian crisis" in our hospitals due to pressure on NHS services. 'Black alerts', which mean hospitals cannot guarantee patient safety, were a familiar state throughout that winter. This year, NHS bosses have already stated it could be the worst ever.
With winter quickly approaching, who will suffer due to austerity this year? Who can take the slack? Who is going to step in and defend our NHS?
We cannot wait. Our services are in dire need of funds and resources right now.
Rebecca Gardner, Southampton
---
>
Tax tricksters
So, tax 'evasion' is illegal, but tax 'avoidance' and other evasive measures are legal.
Well, that would be the case. It's their kind who implement the rules and regulations. These greedy, grasping, parasitic companies and individuals who want to take, take, take, and put nothing back.
A Corbyn-led Labour government must take that wealth into public ownership. After all it's the working public who creates that wealth.
Why should people take cuts and austerity while this lot pilfer wealth from the country?
Bill Buchanan, Nottingham
---
In this issue
---
NHS

Glenfield victory shows people power can save our NHS

Tyneside walk-in closures postponed after rally
---
Socialist Party news and analysis

Nationalise rail now

End Tory war on poor

Rough sleeping crisis: make homes, not arrests

Royal wedding exposes them-and-us visa system

RBS to sack 1,000: nationalise the banks

Branson sues NHS: kick out the profiteers
---
Women

Fighting sexism, violence and capitalism - an international struggle
---
What we think

Corbyn's Labour can defeat Tories with socialist programme

Labour council Blairites deselected
---
Socialist Students

Demonstrations by uni students and staff greet Bath vice-chancellor resignation

Liverpool John Moores Uni landslide for Socialist Students

TUSC conference to debate 2018 elections

Plans to launch no-cuts campaign at Kirklees College

Coventry Socialist sales hit 1,000

Waltham Forest Universal Credit protest

Court maintains injunction against fracking protesters
---
Socialist readers' comments and reviews

Dramatic retelling of Grunwick strike hits all the right notes

Blairite horror and Labour's divisions graphically exposed

Comment: Socialism and truth about Zane

The Socialist Inbox
---
Workplace news and analysis

PCS Left Unity celebrates 40th anniversary at annual conference

Brutal rail privateer Abellio takes over Midlands rail services

School staff strike against privatisation

Driving examiners walkout hits first day of new test

BT pensions review - oppose the attacks on the pension schemes

Arriva bus strikers stand firm
---
International socialist news and analysis

Irish capitalist state: rotten to the core

Mobilise to stop bigoted billionaire Donald Trump's state visit to Britain

Trump's tax plan: Robin Hood in reverse
---
Home | The Socialist 6 December 2017 | Join the Socialist Party