The Socialist 13 December 2017
Save our NHS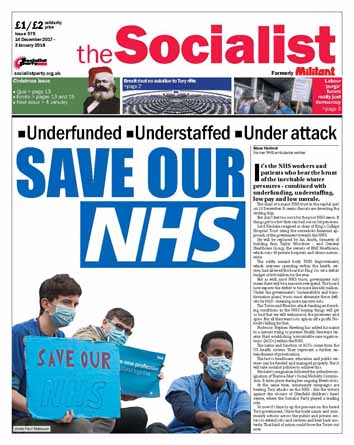 ---
Brexit deal no solution to Tory rifts
Labour 'purge' furore really just democracy
---
A world in crisis, ripe for revolution
Trump's incendiary Jerusalem statement reignites Israeli-Palestinian conflict
110 years ago: massacre at Santa Maria school in Chile - commemorate 21 December 1907
---
Two in five 'right to buy' homes now for let
Retail sector crunch: nationalise to save jobs
Uni market 'failure', two-year degrees - end cuts, scrap fees!
---
Local government pay: fight for the 5% claim, fully funded
Unite day of action against blacklisting
Anti-DOO lobby of Liverpool's transport committee
---
Tory plan to hold dinner at coal mining museum defeated
Totnes MP uses coffin controversy to distract from brutal NHS cuts
South London health bosses' cover-up
Movement growing against fracking giant Ineos
Six months on - still no justice for Grenfell
Bradford campaign to save children's services launched
Tamil Solidarity and Refugee Rights activists meeting
---
PO Box 24697, London, E11 1YD
020 8988 8777
editors@socialistparty.org.uk

Link to this page: http://www.socialistparty.org.uk/issue/975/26602
Home | The Socialist 13 December 2017 | Join the Socialist Party
Subscribe | Donate | Audio | PDF | ebook
Strikers rally in Liverpool
Roger Bannister
Workers on strike in three separate disputes held a joint rally in Liverpool city centre on Monday 4 December, bringing together members of four different trade unions.
RMT members employed by Merseyrail, in a protracted strike to retain the guards on the local trains, joined PCS members in dispute about health and safety for DVLS staff with the proposed changes to the Driving Test, and Unite and GMB members employed by the Arriva bus company, who are striking for a decent pay award.
The rally, characterised by an optimism based on determination, was addressed by speakers from each affected union explaining the details of their respective disputes and emphasising the need for broader solidarity across all trade unions.
Tony Mulhearn, one of the Liverpool councillors who won additional finances for Liverpool in the 1980s by refusing to implement cuts, and supporting what was at that time an 'illegal' deficit budget, was also invited to address the strikers.
It is now important that the national union leaderships take note of the success of this local initiative and discuss future joint action, joint protests and lobbying activities.
On 7 December a lobby of the local Transport Committee, convened by the Labour Metro Mayor of the Liverpool City Region, Steve Rotheram, has been called to support the case of the Merseyrail guards.
Throughout his election campaign in April and May, Rotheram clumsily sidestepped the issue of retaining the guards on the Merseyrail network, but now he is in power, with responsibility for public transport in the City Region, the chickens have come home to roost!
The leaders of the TUC and most of the main trade unions appear to be responding to the latest round of Tory anti-trade union legislation by assuming that the game is up as far as strikes are concerned. The mood of Merseyside's strikers shows that the opposite is the case.
---
This version of this article was first posted on the Socialist Party website on 6 December 2017 and may vary slightly from the version subsequently printed in The Socialist.
---
In this issue
---
What we think

Brexit deal no solution to Tory rifts

Labour 'purge' furore really just democracy
---
International socialist news and analysis

A world in crisis, ripe for revolution

Trump's incendiary Jerusalem statement reignites Israeli-Palestinian conflict

110 years ago: massacre at Santa Maria school in Chile - commemorate 21 December 1907
---
Socialist Party news and analysis

Save our NHS

Two in five 'right to buy' homes now for let

Retail sector crunch: nationalise to save jobs

Uni market 'failure', two-year degrees - end cuts, scrap fees!

Them & Us
---
Socialist Party workplace news

Local government pay: fight for the 5% claim, fully funded

Strikers rally in Liverpool

Unite day of action against blacklisting

Brighton victory

Anti-DOO lobby of Liverpool's transport committee

Teachers strike in Sheffield

Newham anti-academies strikes
---
Socialist Party reports and campaigns

Tory plan to hold dinner at coal mining museum defeated

Totnes MP uses coffin controversy to distract from brutal NHS cuts

South London health bosses' cover-up

Movement growing against fracking giant Ineos

Six months on - still no justice for Grenfell

Bradford campaign to save children's services launched

Tamil Solidarity and Refugee Rights activists meeting
---
Christmas Quiz

The Socialist's 2017 quiz
---
Home | The Socialist 13 December 2017 | Join the Socialist Party