The Socialist 13 December 2017
Save our NHS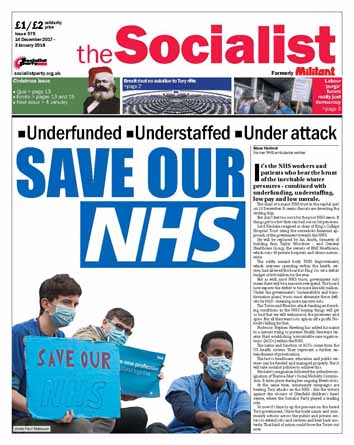 ---
Brexit deal no solution to Tory rifts
Labour 'purge' furore really just democracy
---
A world in crisis, ripe for revolution
Trump's incendiary Jerusalem statement reignites Israeli-Palestinian conflict
110 years ago: massacre at Santa Maria school in Chile - commemorate 21 December 1907
---
Two in five 'right to buy' homes now for let
Retail sector crunch: nationalise to save jobs
Uni market 'failure', two-year degrees - end cuts, scrap fees!
---
Local government pay: fight for the 5% claim, fully funded
Unite day of action against blacklisting
Anti-DOO lobby of Liverpool's transport committee
---
Tory plan to hold dinner at coal mining museum defeated
Totnes MP uses coffin controversy to distract from brutal NHS cuts
South London health bosses' cover-up
Movement growing against fracking giant Ineos
Six months on - still no justice for Grenfell
Bradford campaign to save children's services launched
Tamil Solidarity and Refugee Rights activists meeting
---
PO Box 24697, London, E11 1YD
020 8988 8777
editors@socialistparty.org.uk

Link to this page: http://www.socialistparty.org.uk/issue/975/26604
Home | The Socialist 13 December 2017 | Join the Socialist Party
Subscribe | Donate | Audio | PDF | ebook
Anti-DOO lobby of Liverpool's transport committee
Today, 7th December, a lobby gathered at the Cunard Buildings, Mann Island, ahead of a meeting of Liverpool's Transport Committee.
The lobby, which was called for by the RMT, was to display to the councillors on the committee the overwhelming public support in favour of guards remaining on the trains.
The committee has a majority of Labour councillors who have the power to settle the Merseyrail 'driver only operation' (DOO) dispute if they so wish.
A statement from the RMT read: "The RMT believes that in the interests of public safety we need to keep the guards on our trains."
The RMT is firmly against the planned driver-only operation, in the interests of the public and workers' safety.
The lobby was held before the meeting took place and was attended by over 40 people including RMT members and supporters.
Michael Long, Liverpool Socialist Party
---
This version of this article was first posted on the Socialist Party website on 7 December 2017 and may vary slightly from the version subsequently printed in The Socialist.
---
In this issue
---
What we think

Brexit deal no solution to Tory rifts

Labour 'purge' furore really just democracy
---
International socialist news and analysis

A world in crisis, ripe for revolution

Trump's incendiary Jerusalem statement reignites Israeli-Palestinian conflict

110 years ago: massacre at Santa Maria school in Chile - commemorate 21 December 1907
---
Socialist Party news and analysis

Save our NHS

Two in five 'right to buy' homes now for let

Retail sector crunch: nationalise to save jobs

Uni market 'failure', two-year degrees - end cuts, scrap fees!

Them & Us
---
Socialist Party workplace news

Local government pay: fight for the 5% claim, fully funded

Strikers rally in Liverpool

Unite day of action against blacklisting

Brighton victory

Anti-DOO lobby of Liverpool's transport committee

Teachers strike in Sheffield

Newham anti-academies strikes
---
Socialist Party reports and campaigns

Tory plan to hold dinner at coal mining museum defeated

Totnes MP uses coffin controversy to distract from brutal NHS cuts

South London health bosses' cover-up

Movement growing against fracking giant Ineos

Six months on - still no justice for Grenfell

Bradford campaign to save children's services launched

Tamil Solidarity and Refugee Rights activists meeting
---
Christmas Quiz

The Socialist's 2017 quiz
---
Home | The Socialist 13 December 2017 | Join the Socialist Party