The Socialist 13 December 2017
Save our NHS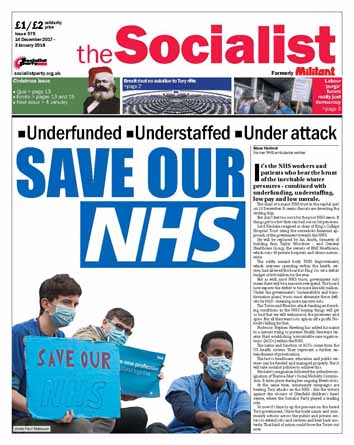 ---
Brexit deal no solution to Tory rifts
Labour 'purge' furore really just democracy
---
A world in crisis, ripe for revolution
Trump's incendiary Jerusalem statement reignites Israeli-Palestinian conflict
110 years ago: massacre at Santa Maria school in Chile - commemorate 21 December 1907
---
Two in five 'right to buy' homes now for let
Retail sector crunch: nationalise to save jobs
Uni market 'failure', two-year degrees - end cuts, scrap fees!
---
Local government pay: fight for the 5% claim, fully funded
Unite day of action against blacklisting
Anti-DOO lobby of Liverpool's transport committee
---
Tory plan to hold dinner at coal mining museum defeated
Totnes MP uses coffin controversy to distract from brutal NHS cuts
South London health bosses' cover-up
Movement growing against fracking giant Ineos
Six months on - still no justice for Grenfell
Bradford campaign to save children's services launched
Tamil Solidarity and Refugee Rights activists meeting
---
PO Box 24697, London, E11 1YD
020 8988 8777
editors@socialistparty.org.uk

Link to this page: http://www.socialistparty.org.uk/issue/975/26610
Home | The Socialist 13 December 2017 | Join the Socialist Party
Subscribe | Donate | Audio | PDF | ebook
Uni market 'failure', two-year degrees - end cuts, scrap fees!
Hannah Davis, Birmingham Socialist Students
Less than a third of higher education students think their course offers value for money according to the National Audit Office. Its chief says universities would be accused of "mis-selling" if they were banks. This comes as no surprise!
University fees are skyrocketing, leaving students with debts at an eye-watering average of £50,000. In the meantime, course quality gets left behind as universities splurge.
There are pointless vanity projects like the University of Birmingham's Dubai campus. Or bumping up the already overflowing wallets of fat-cat vice-chancellors like David Eastwood - who 'earned' £426,000 this year, plus a university-funded mansion and chauffeur.
As if this wasn't enough, the Tories are now pushing on their plans to introduce intensive two-year undergraduate degrees - costing £11,000 a year.
These courses come with reduced holiday periods, meaning many students won't have time to earn as they study. Because the Blairites and Tories replaced free education and maintenance grants with fees and loans, work has become essential for many students to get by.
How will students find time for this on an intensive course - with even higher annual fees? It is obvious this is a move to pander to the greed-driven elite, not to benefit students.
The Tories claim students will save in the long-run because the overall fee is smaller and we can enter the workplace faster. They assume we are walking out of university and straight into a well-paid graduate job. In fact we are falling head-first into the gig economy.
Staff will also have to work extra hours, yet there is no offer of a pay increase to make up for this. In reality, this means pay is being cut.
Socialist Students called on Labour's shadow education secretary Angela Rayner to move a free education amendment to the last budget. This would have been an opportunity to mobilise students and push for the scrapping of fees. It was missed.
Socialist Students demands student fees and debt be scrapped, education cuts and sell-offs reversed, and a living grant for all introduced. We also fully support the members of lecturers' union UCU who are balloting for strike action against attacks on their pensions.
---
In this issue
---
What we think

Brexit deal no solution to Tory rifts

Labour 'purge' furore really just democracy
---
International socialist news and analysis

A world in crisis, ripe for revolution

Trump's incendiary Jerusalem statement reignites Israeli-Palestinian conflict

110 years ago: massacre at Santa Maria school in Chile - commemorate 21 December 1907
---
Socialist Party news and analysis

Save our NHS

Two in five 'right to buy' homes now for let

Retail sector crunch: nationalise to save jobs

Uni market 'failure', two-year degrees - end cuts, scrap fees!

Them & Us
---
Socialist Party workplace news

Local government pay: fight for the 5% claim, fully funded

Strikers rally in Liverpool

Unite day of action against blacklisting

Brighton victory

Anti-DOO lobby of Liverpool's transport committee

Teachers strike in Sheffield

Newham anti-academies strikes
---
Socialist Party reports and campaigns

Tory plan to hold dinner at coal mining museum defeated

Totnes MP uses coffin controversy to distract from brutal NHS cuts

South London health bosses' cover-up

Movement growing against fracking giant Ineos

Six months on - still no justice for Grenfell

Bradford campaign to save children's services launched

Tamil Solidarity and Refugee Rights activists meeting
---
Christmas Quiz

The Socialist's 2017 quiz
---
Home | The Socialist 13 December 2017 | Join the Socialist Party