The Socialist 13 December 2017
Save our NHS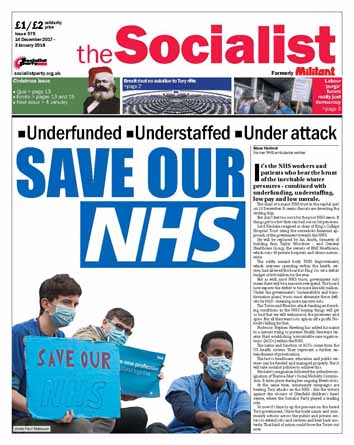 ---
Brexit deal no solution to Tory rifts
Labour 'purge' furore really just democracy
---
A world in crisis, ripe for revolution
Trump's incendiary Jerusalem statement reignites Israeli-Palestinian conflict
110 years ago: massacre at Santa Maria school in Chile - commemorate 21 December 1907
---
Two in five 'right to buy' homes now for let
Retail sector crunch: nationalise to save jobs
Uni market 'failure', two-year degrees - end cuts, scrap fees!
---
Local government pay: fight for the 5% claim, fully funded
Unite day of action against blacklisting
Anti-DOO lobby of Liverpool's transport committee
---
Tory plan to hold dinner at coal mining museum defeated
Totnes MP uses coffin controversy to distract from brutal NHS cuts
South London health bosses' cover-up
Movement growing against fracking giant Ineos
Six months on - still no justice for Grenfell
Bradford campaign to save children's services launched
Tamil Solidarity and Refugee Rights activists meeting
---
PO Box 24697, London, E11 1YD
020 8988 8777
editors@socialistparty.org.uk

Link to this page: http://www.socialistparty.org.uk/issue/975/26611
Home | The Socialist 13 December 2017 | Join the Socialist Party
Subscribe | Donate | Audio | PDF | ebook
Two in five 'right to buy' homes now for let
Scrap Thatcher's right to buy
Build council homes now
James Howlett, Southampton Socialist Students
Over 40% of ex-council houses sold under Thatcher's 'right to buy' scheme are now part of the private rental sector, according to Inside Housing.
Right to buy allows council tenants to buy the house they live in at a large discount, starting at 35%. Nearly two million homes have been sold under the scheme since 1980.
When my parents announced we would be purchasing the house we were living in back in the early 2000s, I thought it sounded like a great idea. Who wouldn't want to own the place they lived in?
No longer was owning your house just for the wealthy. Now working class people could become homeowners. Well, fast forward to 2017 and you will find me and my brother still living at home with our parents.
With the average house price more than tripling in 20 years, more and more people are living with their parents well into their 20s - almost 3.4 million 20 to 34-year-olds in fact!
The thought of owning our own homes is nothing but a pipe dream now. So much for the "independence" and "self-reliance" Tory cabinet minister Michael Heseltine spouted it would bring back in 1990.
Under right to buy, house building - especially council house building - has slowed to a crawl. That has lifting house prices far above my generation's reach, and pushed rent to incredible heights too.
It's not surprising that speculators have latched onto this opportunity for extracting further profit from something as fundamental as the shelter we need for survival.
But it doesn't have to be this way. The Socialist Party demands the neoliberal right to buy scheme be abolished. In its place we need a mass programme of council house building.
Corbyn should instruct Labour councils to start building council homes now, and promise to reimburse them from government. Rents - not benefits - should be capped. We want genuinely affordable homes for all.
---
In this issue
---
What we think

Brexit deal no solution to Tory rifts

Labour 'purge' furore really just democracy
---
International socialist news and analysis

A world in crisis, ripe for revolution

Trump's incendiary Jerusalem statement reignites Israeli-Palestinian conflict

110 years ago: massacre at Santa Maria school in Chile - commemorate 21 December 1907
---
Socialist Party news and analysis

Save our NHS

Two in five 'right to buy' homes now for let

Retail sector crunch: nationalise to save jobs

Uni market 'failure', two-year degrees - end cuts, scrap fees!

Them & Us
---
Socialist Party workplace news

Local government pay: fight for the 5% claim, fully funded

Strikers rally in Liverpool

Unite day of action against blacklisting

Brighton victory

Anti-DOO lobby of Liverpool's transport committee

Teachers strike in Sheffield

Newham anti-academies strikes
---
Socialist Party reports and campaigns

Tory plan to hold dinner at coal mining museum defeated

Totnes MP uses coffin controversy to distract from brutal NHS cuts

South London health bosses' cover-up

Movement growing against fracking giant Ineos

Six months on - still no justice for Grenfell

Bradford campaign to save children's services launched

Tamil Solidarity and Refugee Rights activists meeting
---
Christmas Quiz

The Socialist's 2017 quiz
---
Home | The Socialist 13 December 2017 | Join the Socialist Party