The Socialist 13 December 2017
Save our NHS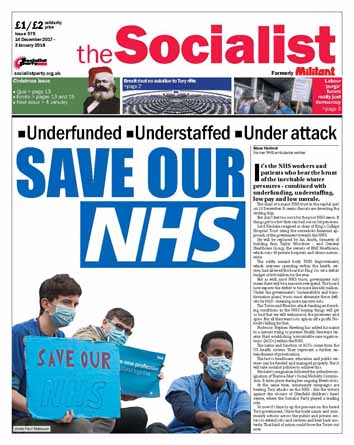 ---
Brexit deal no solution to Tory rifts
Labour 'purge' furore really just democracy
---
A world in crisis, ripe for revolution
Trump's incendiary Jerusalem statement reignites Israeli-Palestinian conflict
110 years ago: massacre at Santa Maria school in Chile - commemorate 21 December 1907
---
Two in five 'right to buy' homes now for let
Retail sector crunch: nationalise to save jobs
Uni market 'failure', two-year degrees - end cuts, scrap fees!
---
Local government pay: fight for the 5% claim, fully funded
Unite day of action against blacklisting
Anti-DOO lobby of Liverpool's transport committee
---
Tory plan to hold dinner at coal mining museum defeated
Totnes MP uses coffin controversy to distract from brutal NHS cuts
South London health bosses' cover-up
Movement growing against fracking giant Ineos
Six months on - still no justice for Grenfell
Bradford campaign to save children's services launched
Tamil Solidarity and Refugee Rights activists meeting
---
PO Box 24697, London, E11 1YD
020 8988 8777
editors@socialistparty.org.uk

Link to this page: http://www.socialistparty.org.uk/issue/975/26613
Home | The Socialist 13 December 2017 | Join the Socialist Party
Subscribe | Donate | Audio | PDF | ebook
Unite day of action against blacklisting
London
Hundreds of construction workers took part in the national day of action against blacklisting on 6 December called by Unite the Union. Protests took place across the country, including lobbies of parliaments in Westminster and Edinburgh.
Workers are determined to show that blacklisting still exists despite the tremendous victory 19 months ago when eight building companies paid an estimated £75 million in compensation to blacklisted workers. One of the companies is Skanska and London workers and supporters kicked off the day with a protest outside their HQ in the City of London, which then moved into their foyer!
As Skanska managers started to panic, phoning the police, Dave Smith from the Blacklist Support Group explained that Unite has discovered evidence that points to current systematic blacklisting of workers for the crime of being trade unionists or even just pressing for safe working practices.
Rob Williams, chair of the National Shop Stewards Network (NSSN), brought solidarity: "Six years ago, the magnificent struggle by construction workers that defeated the 'Besna contract' that would have cut wages by 35% has given workers confidence to fight and brought a new generation into activity."
---
>
Brighton
Being on the blacklist has meant workers being met with significant hardship when trying to find work.
It has "destroyed people's livelihoods", said Unite members protesting at Balfour Beatty's construction site at the University of Sussex. Local students joined the protest in solidarity with the affected workers.
The Consulting Association, which carried out the blacklisting, has a longstanding history with files being kept for over 50 years, and is supported by major construction companies such as Balfour Beatty and Sir Robert McAlpine.
Unite is calling for a full public inquiry into blacklisting, new laws to make blacklisting a criminal offence, and public procurement rules to prevent blacklisting companies from bidding for public sector contracts.
Connor Rosoman, University of Sussex Socialist Students
---
>
Leeds
"End the blacklist, jail the criminals" rang the chant of one construction worker taking part in Unite's Leeds protest.
Socialist Party members and NSSN supporters joined Unite members on a highly visible protest, with leaflets about the campaign been eagerly snapped up by commuters coming out of the nearby train station.
Iain Dalton, Leeds Socialist Party
---
In this issue
---
What we think

Brexit deal no solution to Tory rifts

Labour 'purge' furore really just democracy
---
International socialist news and analysis

A world in crisis, ripe for revolution

Trump's incendiary Jerusalem statement reignites Israeli-Palestinian conflict

110 years ago: massacre at Santa Maria school in Chile - commemorate 21 December 1907
---
Socialist Party news and analysis

Save our NHS

Two in five 'right to buy' homes now for let

Retail sector crunch: nationalise to save jobs

Uni market 'failure', two-year degrees - end cuts, scrap fees!

Them & Us
---
Socialist Party workplace news

Local government pay: fight for the 5% claim, fully funded

Strikers rally in Liverpool

Unite day of action against blacklisting

Brighton victory

Anti-DOO lobby of Liverpool's transport committee

Teachers strike in Sheffield

Newham anti-academies strikes
---
Socialist Party reports and campaigns

Tory plan to hold dinner at coal mining museum defeated

Totnes MP uses coffin controversy to distract from brutal NHS cuts

South London health bosses' cover-up

Movement growing against fracking giant Ineos

Six months on - still no justice for Grenfell

Bradford campaign to save children's services launched

Tamil Solidarity and Refugee Rights activists meeting
---
Christmas Quiz

The Socialist's 2017 quiz
---
Home | The Socialist 13 December 2017 | Join the Socialist Party