The Socialist 13 December 2017
Save our NHS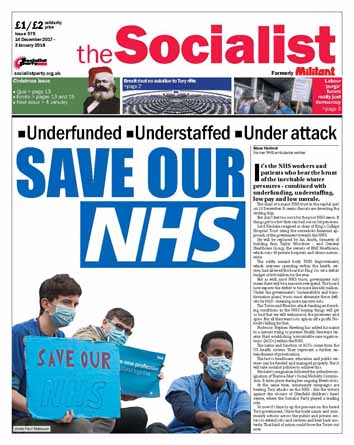 ---
Brexit deal no solution to Tory rifts
Labour 'purge' furore really just democracy
---
A world in crisis, ripe for revolution
Trump's incendiary Jerusalem statement reignites Israeli-Palestinian conflict
110 years ago: massacre at Santa Maria school in Chile - commemorate 21 December 1907
---
Two in five 'right to buy' homes now for let
Retail sector crunch: nationalise to save jobs
Uni market 'failure', two-year degrees - end cuts, scrap fees!
---
Local government pay: fight for the 5% claim, fully funded
Unite day of action against blacklisting
Anti-DOO lobby of Liverpool's transport committee
---
Tory plan to hold dinner at coal mining museum defeated
Totnes MP uses coffin controversy to distract from brutal NHS cuts
South London health bosses' cover-up
Movement growing against fracking giant Ineos
Six months on - still no justice for Grenfell
Bradford campaign to save children's services launched
Tamil Solidarity and Refugee Rights activists meeting
---
PO Box 24697, London, E11 1YD
020 8988 8777
editors@socialistparty.org.uk

Link to this page: http://www.socialistparty.org.uk/issue/975/26617
Home | The Socialist 13 December 2017 | Join the Socialist Party
Subscribe | Donate | Audio | PDF | ebook
Tory plan to hold dinner at coal mining museum defeated
Iain Dalton, Leeds Socialist Party
Local residents and ex-mining families were outraged when news came through that Dewsbury Conservative Association was intending to have their annual dinner at the National Coal Mining Museum at the former Caphouse colliery in Overton near Wakefield.
It was planned for 10 March, just days after the anniversary of the end of the 1984-5 miners' strike. Given the role of the Tory party under Thatcher in running down the mines and forcing the 1984-85 dispute in order to break the power of the miners - then the most combative and best organised union - many local people saw this as an insult to the whole point of a museum commemorating the industry.
But also, the last deep coal mine in Britain at Kellingley on the other side of Wakefield, closed by the Tory-led coalition, is a more recent reminder of the contempt the Tories hold the industry in. They are prepared to bring coal in from places such as China to fuel local power stations.
In a matter of days almost 2,000 people joined a Facebook group set up to protest the event and e-mail and ring the museum demanding they withdraw the event.
At first museum management put up a defiant statement that they would be going ahead as they had to be 'politically neutral'! But just a day later they were forced to cancel the event after the catering company withdrew.
This is a victory for local working class communities and groups such as the Orgreave Truth and Justice Campaign which had planned to picket the dinner if it went ahead.
But it also raises questions around why the museum management thought accepting the booking was a good idea.
---
In this issue
---
What we think

Brexit deal no solution to Tory rifts

Labour 'purge' furore really just democracy
---
International socialist news and analysis

A world in crisis, ripe for revolution

Trump's incendiary Jerusalem statement reignites Israeli-Palestinian conflict

110 years ago: massacre at Santa Maria school in Chile - commemorate 21 December 1907
---
Socialist Party news and analysis

Save our NHS

Two in five 'right to buy' homes now for let

Retail sector crunch: nationalise to save jobs

Uni market 'failure', two-year degrees - end cuts, scrap fees!

Them & Us
---
Socialist Party workplace news

Local government pay: fight for the 5% claim, fully funded

Strikers rally in Liverpool

Unite day of action against blacklisting

Brighton victory

Anti-DOO lobby of Liverpool's transport committee

Teachers strike in Sheffield

Newham anti-academies strikes
---
Socialist Party reports and campaigns

Tory plan to hold dinner at coal mining museum defeated

Totnes MP uses coffin controversy to distract from brutal NHS cuts

South London health bosses' cover-up

Movement growing against fracking giant Ineos

Six months on - still no justice for Grenfell

Bradford campaign to save children's services launched

Tamil Solidarity and Refugee Rights activists meeting
---
Christmas Quiz

The Socialist's 2017 quiz
---
Home | The Socialist 13 December 2017 | Join the Socialist Party