The Socialist 13 December 2017
Save our NHS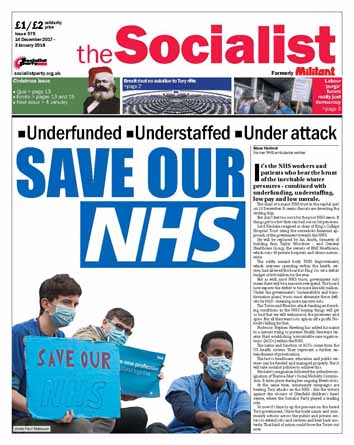 ---
Brexit deal no solution to Tory rifts
Labour 'purge' furore really just democracy
---
A world in crisis, ripe for revolution
Trump's incendiary Jerusalem statement reignites Israeli-Palestinian conflict
110 years ago: massacre at Santa Maria school in Chile - commemorate 21 December 1907
---
Two in five 'right to buy' homes now for let
Retail sector crunch: nationalise to save jobs
Uni market 'failure', two-year degrees - end cuts, scrap fees!
---
Local government pay: fight for the 5% claim, fully funded
Unite day of action against blacklisting
Anti-DOO lobby of Liverpool's transport committee
---
Tory plan to hold dinner at coal mining museum defeated
Totnes MP uses coffin controversy to distract from brutal NHS cuts
South London health bosses' cover-up
Movement growing against fracking giant Ineos
Six months on - still no justice for Grenfell
Bradford campaign to save children's services launched
Tamil Solidarity and Refugee Rights activists meeting
---
PO Box 24697, London, E11 1YD
020 8988 8777
editors@socialistparty.org.uk

Link to this page: http://www.socialistparty.org.uk/issue/975/26618
Home | The Socialist 13 December 2017 | Join the Socialist Party
Subscribe | Donate | Audio | PDF | ebook
Totnes MP uses coffin controversy to distract from brutal NHS cuts
Alex Moore, Torbay and South Devon Socialist Party and chair Save Our Hospital Services South Devon (personal capacity)
A 300-strong march against cuts and privatisation of the NHS in the small town of Totnes on 2 December was organised by South Devon Save Our Hospital Services (SOHS) - launched by Torbay and South Devon Socialist Party - and supported by Totnes Labour Party.
Devon clinical commissioning group (CCG) is required to make a further £400 million cut to NHS services under a 'capped expenditure programme'. This is on top of the £100 million in 2017, which has already seen the closure of four community hospitals. We invited our MP Sarah Wollaston to receive our 3,000-strong petition but she declined, agreeing instead to meet me at her surgery on 8 December.
On the march a mock coffin bearing the slogan "120,000 deaths linked to Tory austerity" was left outside the Conservative Party office by protesters. Sarah Wollaston reacted by evoking the murder of Labour MP Jo Cox and accusing the organisers of threatening a woman and her family by sending her a coffin.
This was widely reported in the press and on regional TV and resulted in some real threats and abuse being sent to a female Labour Party member. It has also been met with some anger and frustration that the serious questions over the NHS had been deflected.
On 8 December SOHS organised a small lobby outside the Conservative club. Along with Totnes Labour we refuted Sarah Wollaston's allegations and publicised ten questions about threats to local hospitals and services which I collated to raise with the MP.
I took the petition and questions in to the meeting. I suggested to Sarah Wollaston that, given the controversy over the mock coffin, I would just give her the petition and questions and she could respond in her own time.
The threat to our district hospital, Torbay, is very real. On the same day I went to see Sarah Wollaston the Health Service Journal reported that Torbay and South Devon Foundation Trust is offering up to £100 million (funded by the sale of its capital assets) to a private company to "help finance its future clinical model".
The report goes on to say similar schemes in the North West were scrapped over "the preferred bidder's link to... Grenfell Tower".
---
In this issue
---
What we think

Brexit deal no solution to Tory rifts

Labour 'purge' furore really just democracy
---
International socialist news and analysis

A world in crisis, ripe for revolution

Trump's incendiary Jerusalem statement reignites Israeli-Palestinian conflict

110 years ago: massacre at Santa Maria school in Chile - commemorate 21 December 1907
---
Socialist Party news and analysis

Save our NHS

Two in five 'right to buy' homes now for let

Retail sector crunch: nationalise to save jobs

Uni market 'failure', two-year degrees - end cuts, scrap fees!

Them & Us
---
Socialist Party workplace news

Local government pay: fight for the 5% claim, fully funded

Strikers rally in Liverpool

Unite day of action against blacklisting

Brighton victory

Anti-DOO lobby of Liverpool's transport committee

Teachers strike in Sheffield

Newham anti-academies strikes
---
Socialist Party reports and campaigns

Tory plan to hold dinner at coal mining museum defeated

Totnes MP uses coffin controversy to distract from brutal NHS cuts

South London health bosses' cover-up

Movement growing against fracking giant Ineos

Six months on - still no justice for Grenfell

Bradford campaign to save children's services launched

Tamil Solidarity and Refugee Rights activists meeting
---
Christmas Quiz

The Socialist's 2017 quiz
---
Home | The Socialist 13 December 2017 | Join the Socialist Party