The Socialist 3 January 2018
Widening wealth gap, increase in poverty┬ůmake the fat cats pay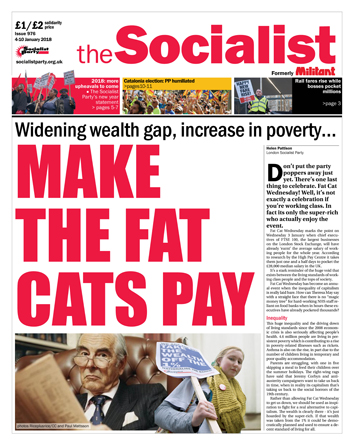 ---
---
Tory prescription for mental illness: stress and bureaucracy
---
Widening wealth gap, increase in poverty...make the fat cats pay
Mobilise against rip-off executive pay
Rail: fares up, bosses' pay up - delays and cancellations up
Thousands live in tents and sheds - seize empty homes
Heart unit rescued by campaigning saves baby with pioneering surgery
NHS in winter crisis as Branson creams off ú1bn
---
Blairite council 'all ears' to rich property developers
Stop the rotten redevelopment plan, demand residents
Housing victory for Sussex students
Leeds: temporary reprieve for playing fields
Bradford protest against children's service cuts
Trade Unionist and Socialist Coalition conference
---
Equal sick pay rights for staff at Charlton Park Academy
Newham: school strike solid against academy
---
Catalan elections: PP humiliated
PO Box 1398, Enfield EN1 9GT
020 8988 8777
editors@socialistparty.org.uk

Link to this page: http://www.socialistparty.org.uk/issue/976/26632
Home | The Socialist 3 January 2018 | Join the Socialist Party
Subscribe | Donate | Audio | PDF | ebook
Leeds: community opposition wins temporary reprieve for playing fields
Iain Dalton, Chair, Save Fearnville Fields campaign
Community opposition, mobilised through the Save Fearnville Fields campaign, has forced a reprieve. The council has suspended until the New Year the seeking of permission to build a new 'free school' academy on the King George V playing fields.
Despite the council's own consultation showing 69% opposition from respondents, council officers were recommending to push ahead with proposals.
But since the consultation closed, the campaign's online petition has collected around 1,500 signatures opposing them.
With the support of Councillor Catherine Dobson of the 'East Leeds Independents', we took a deputation to Leeds council's 'Inner East Community Committee'.
Our local Corbynista MP, Richard Burgon, has written two open letters to council leader Judith Blake opposing the proposals. He states in his most recent one: "On this occasion I believe this proposal is wrong and the officers are wrong."
This, together with the pressure from below, has meant that the other five local Labour councillors are opposing the proposals. The pressure has forced the council to delay the decision until the New Year.
But we know we cannot rest on our laurels. We need to keep up the pressure to force the council to drop the proposal to build on the fields once and for all.
We're planning a big public meeting in January to help push forward the campaign and elect a formal steering committee, and we'll be holding a demonstration on the fields if the council won't back down.
---
This version of this article was first posted on the Socialist Party website on 21 December 2017 and may vary slightly from the version subsequently printed in The Socialist.
---
In this issue
---
New Year statement

2018: more upheavals loom
---
Socialist Party comments and reviews

Tory prescription for mental illness: stress and bureaucracy

The Socialist inbox
---
Socialist Party news and analysis

Widening wealth gap, increase in poverty...make the fat cats pay

Mobilise against rip-off executive pay

Rail: fares up, bosses' pay up - delays and cancellations up

Thousands live in tents and sheds - seize empty homes

Heart unit rescued by campaigning saves baby with pioneering surgery

NHS in winter crisis as Branson creams off ú1bn
---
Socialist Party reports and campaigns

Blairite council 'all ears' to rich property developers

Stop the rotten redevelopment plan, demand residents

Housing victory for Sussex students

Leeds: temporary reprieve for playing fields

Bradford protest against children's service cuts

Trade Unionist and Socialist Coalition conference
---
Socialist Party workplace news

Equal sick pay rights for staff at Charlton Park Academy

Newham: school strike solid against academy

Fire service victory

Leeds college pay protests
---
International socialist news and analysis

Catalan elections: PP humiliated
---
Home | The Socialist 3 January 2018 | Join the Socialist Party