The Socialist 3 January 2018
Widening wealth gap, increase in poverty¬Ömake the fat cats pay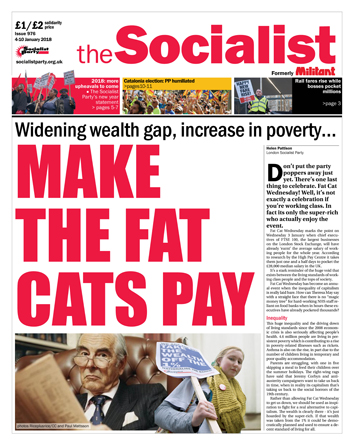 ---
---
Tory prescription for mental illness: stress and bureaucracy
---
Widening wealth gap, increase in poverty...make the fat cats pay
Mobilise against rip-off executive pay
Rail: fares up, bosses' pay up - delays and cancellations up
Thousands live in tents and sheds - seize empty homes
Heart unit rescued by campaigning saves baby with pioneering surgery
NHS in winter crisis as Branson creams off £1bn
---
Blairite council 'all ears' to rich property developers
Stop the rotten redevelopment plan, demand residents
Housing victory for Sussex students
Leeds: temporary reprieve for playing fields
Bradford protest against children's service cuts
Trade Unionist and Socialist Coalition conference
---
Equal sick pay rights for staff at Charlton Park Academy
Newham: school strike solid against academy
---
Catalan elections: PP humiliated
PO Box 24697, London, E11 1YD
020 8988 8777
editors@socialistparty.org.uk

Link to this page: http://www.socialistparty.org.uk/issue/976/26640
Home | The Socialist 3 January 2018 | Join the Socialist Party
Subscribe | Donate | Audio | PDF | ebook
Widening wealth gap, increase in poverty... Make the fat cats pay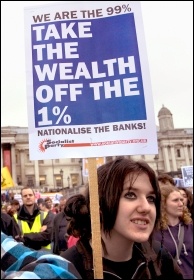 We are the 99% - Take the wealth off the 1% Socialist Party placard, photo Paul Mattsson (Click to enlarge)
Helen Pattison, London Socialist Party
Don't put the party poppers away just yet. There's one last thing to celebrate. Fat Cat Thursday! Well, it's not exactly a celebration if you're working class. In fact its only the super-rich who actually enjoy the event.
Fat Cat Wednesday marks the point on Thursday 4 January when chief executives of FTSE 100, the largest businesses on the London Stock Exchange, will have already 'earnt' the average salary of working people for the whole year. According to research by the High Pay Centre it takes them less than a week to pocket £28,000 median salary in the UK.
It's a stark reminder of the huge void that exists between the living standards of working class people and the tops of society.
Fat Cat Thursday has become an annual event when the inequality of capitalism is really laid bare. How can Theresa May say with a straight face that there is no "magic money tree" for hard-working NHS staff reliant on food banks when in hours these executives have already pocketed thousands?
Inequality
This huge inequality and the driving down of living standards since the 2008 economic crisis is also seriously affecting people's health. 4.6 million people are living in persistent poverty which is contributing to a rise in poverty-related illnesses such as rickets. Asthma is also on the rise, in part due to the number of children living in temporary and poor quality accommodation.
Parents are struggling, with one in five skipping a meal to feed their children over the summer holidays. The right-wing rags have said that Jeremy Corbyn and anti-austerity campaigners want to take us back in time, when in reality its capitalism that's taking us back to the social horrors of the 19th century.
Rather than allowing Fat Cat Thursday to get us down, we should be used as inspiration to fight for a real alternative to capitalism. The wealth is clearly there - it's just hoarded by the super-rich. If that wealth was taken from the 1% it could be democratically planned and used to ensure a decent standard of living for all.
---
In this issue
---
New Year statement

2018: more upheavals loom
---
Socialist Party comments and reviews

Tory prescription for mental illness: stress and bureaucracy

The Socialist inbox
---
Socialist Party news and analysis

Widening wealth gap, increase in poverty...make the fat cats pay

Mobilise against rip-off executive pay

Rail: fares up, bosses' pay up - delays and cancellations up

Thousands live in tents and sheds - seize empty homes

Heart unit rescued by campaigning saves baby with pioneering surgery

NHS in winter crisis as Branson creams off £1bn
---
Socialist Party reports and campaigns

Blairite council 'all ears' to rich property developers

Stop the rotten redevelopment plan, demand residents

Housing victory for Sussex students

Leeds: temporary reprieve for playing fields

Bradford protest against children's service cuts

Trade Unionist and Socialist Coalition conference
---
Socialist Party workplace news

Equal sick pay rights for staff at Charlton Park Academy

Newham: school strike solid against academy

Fire service victory

Leeds college pay protests
---
International socialist news and analysis

Catalan elections: PP humiliated
---
Home | The Socialist 3 January 2018 | Join the Socialist Party
Related links:

Portsmouth Socialist Party: How can the NHS be defended from the Tories?

Turn Carillion crisis into movement against privatisation and capitalism

Rail: fares up, bosses' pay up - delays and cancellations up

Defuse the consumer debt time bomb: nationalise the banks!

The Socialist inbox

The have-yachts and the have-nots

Fighting the great tax robbery: taxes and regulation or socialist nationalisation?

Them & Us

Capitalists fear for their system at Davos

Them & us

'Paradise' for billionaires - austerity for us

Them & us

Profits up Wages down

NHS pay: Reject the Tories' divide and rule offer

Spain: millions on streets against sexism and capitalist oppression

15 years since the invasion of Iraq: what we said

West Virginia teachers' strike victory

Them & Us

Refugees march against racism and to demand rights

Majority of kids poor in some areas

Italian elections create huge political shake-up

Capita in crisis: bring all outsourcers back in-house