The Socialist 3 January 2018
Widening wealth gap, increase in poverty¬Ömake the fat cats pay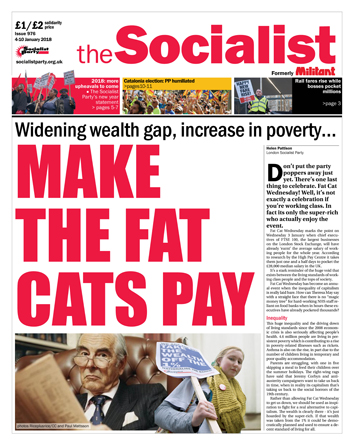 ---
---
Tory prescription for mental illness: stress and bureaucracy
---
Widening wealth gap, increase in poverty...make the fat cats pay
Mobilise against rip-off executive pay
Rail: fares up, bosses' pay up - delays and cancellations up
Thousands live in tents and sheds - seize empty homes
Heart unit rescued by campaigning saves baby with pioneering surgery
NHS in winter crisis as Branson creams off £1bn
---
Blairite council 'all ears' to rich property developers
Stop the rotten redevelopment plan, demand residents
Housing victory for Sussex students
Leeds: temporary reprieve for playing fields
Bradford protest against children's service cuts
Trade Unionist and Socialist Coalition conference
---
Equal sick pay rights for staff at Charlton Park Academy
Newham: school strike solid against academy
---
Catalan elections: PP humiliated
PO Box 24697, London, E11 1YD
020 8988 8777
editors@socialistparty.org.uk

Link to this page: http://www.socialistparty.org.uk/issue/976/26641
Home | The Socialist 3 January 2018 | Join the Socialist Party
Subscribe | Donate | Audio | PDF | ebook
Rail: fares up, bosses' pay up - delays and cancellations up
Nationalise rail now!
Paul Callanan, Greenwich and Bexley Socialist Party
Rail companies are ringing in the new year by inflicting yet more misery on long-suffering commuters. Fares have gone up another 3.4%. With wages only up by 2.5% this means travel continues to get more costly for workers.
Commuters in Britain now pay up to five times as much of our wages in fares as our fellow workers in other parts of Europe, according the TUC. Since the Tories came to power in 2010 season ticket prices have jumped 32%, Labour has found.
The government and rail bosses claim the increases are to cover the costs of huge rail infrastructure and improvement projects, as well as operating costs.
So, money well spent? No. 48% of all trains were late or cancelled in the five weeks up to Christmas, the Sunday Times found.
Bosses are also attempting to cut costs by removing safety-critical duties from train guards in favour of 'driver-only operation'. As well as trains being late and overcrowded, passengers are asked to pay for a service that is unsafe and inaccessible.
Seen in this light anyone would say that the government's transport policies have been an abject failure. Anyone except the fat cats who run Britain's railways.
Like Rupert Soames, chief executive of Serco, which runs the Caledonian Sleeper and part-runs Merseyrail. Soames stands to get a staggering £5.4 million if he meets performance targets.
Or Martin Griffiths, boss of Stagecoach, operator of East Midlands and partner of Virgin's East Coast and West Coast lines. He is due a huge pay-out of £2.5 million.
The bosses claim that 97% of fares are reinvested - that just 3% is profit.
Of course, parts of that 'reinvestment' go on leasing trains from private companies and paying interest on debts - making profits for other bosses. And the chief execs' massive handouts count as staffing costs.
But even if the majority of the money goes on maintenance and improvement, why should passengers and railway workers have to foot the bill for decades of underinvestment?
The railways should be nationalised, in full and immediately, with compensation paid to shareholders only on the basis of proven need. Only by taking rail out of the hands of greedy bosses can we end the great British train robbery.
On the basis of public ownership and democratic planning, state subsidies could guarantee cheap fares, good wages and decent service - not prop up 3% profit margins and executive excess for companies competing to run rail into the ground.
---
In this issue
---
New Year statement

2018: more upheavals loom
---
Socialist Party comments and reviews

Tory prescription for mental illness: stress and bureaucracy

The Socialist inbox
---
Socialist Party news and analysis

Widening wealth gap, increase in poverty...make the fat cats pay

Mobilise against rip-off executive pay

Rail: fares up, bosses' pay up - delays and cancellations up

Thousands live in tents and sheds - seize empty homes

Heart unit rescued by campaigning saves baby with pioneering surgery

NHS in winter crisis as Branson creams off £1bn
---
Socialist Party reports and campaigns

Blairite council 'all ears' to rich property developers

Stop the rotten redevelopment plan, demand residents

Housing victory for Sussex students

Leeds: temporary reprieve for playing fields

Bradford protest against children's service cuts

Trade Unionist and Socialist Coalition conference
---
Socialist Party workplace news

Equal sick pay rights for staff at Charlton Park Academy

Newham: school strike solid against academy

Fire service victory

Leeds college pay protests
---
International socialist news and analysis

Catalan elections: PP humiliated
---
Home | The Socialist 3 January 2018 | Join the Socialist Party
Related links:

Nationalise rail now

What we saw

How the Single Market blocks socialist policies

RMT condemns Welsh government rail privatisation

Nationalise rail now!

Hackney school cleaners strike

Salford Socialist Party: Pay Up Now - Public sector workers need a pay rise!

Strike wins biggest pay rise in ten years

Them & Us

RMT strikes against driver-only operation continue

RMT rail members buoyed by coordinated action

Strike against driver-only operation on five rail networks

Retail sector crunch: nationalise to save jobs

RBS to sack 1,000: nationalise the banks

Anti-DOO lobby of Liverpool's transport committee

Ferrybridge: Workers down tools over unpaid wages

Two in five 'right to buy' homes now for let

Salford Socialist Party: Britain in 2018

Strikers rally in Liverpool

Anger at bus service cuts in Sheffield

NHS in winter crisis as Branson creams off £1bn

Arriva bus drivers' action wins pay rise

PFI privateers dodge tax

Widening wealth gap, increase in poverty...make the fat cats pay

Travel chaos for Ryanair customers as airline cancels thousands of flights