The Socialist 3 January 2018
Widening wealth gap, increase in poverty¬Ömake the fat cats pay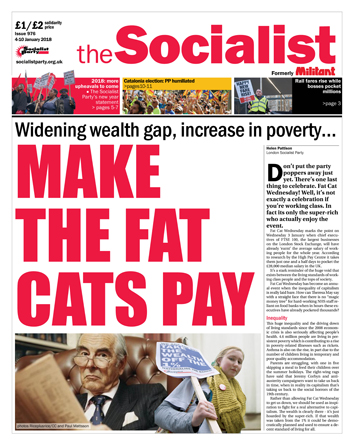 ---
---
Tory prescription for mental illness: stress and bureaucracy
---
Widening wealth gap, increase in poverty...make the fat cats pay
Mobilise against rip-off executive pay
Rail: fares up, bosses' pay up - delays and cancellations up
Thousands live in tents and sheds - seize empty homes
Heart unit rescued by campaigning saves baby with pioneering surgery
NHS in winter crisis as Branson creams off £1bn
---
Blairite council 'all ears' to rich property developers
Stop the rotten redevelopment plan, demand residents
Housing victory for Sussex students
Leeds: temporary reprieve for playing fields
Bradford protest against children's service cuts
Trade Unionist and Socialist Coalition conference
---
Equal sick pay rights for staff at Charlton Park Academy
Newham: school strike solid against academy
---
Catalan elections: PP humiliated
PO Box 24697, London, E11 1YD
020 8988 8777
editors@socialistparty.org.uk

Link to this page: http://www.socialistparty.org.uk/issue/976/26652
Home | The Socialist 3 January 2018 | Join the Socialist Party
Subscribe | Donate | Audio | PDF | ebook
Bradford protest against children's service cuts
Iain Dalton, Socialist Party West Yorkshire organiser
Demonstrators gathered ahead of Bradford council's monthly meeting to protest proposals in the consultation of an 'early help service', part of the children's services directorate of the council.
The plans propose a £13 million cut mostly by making up to 480 staff redundant. The council also wants to downgrade children's centres across the district, currently used by 22,000 young children, 60% of all under-fives.
Trade unionists in the council, users of the service and their supporters distributed leaflets produced by the local Unite the Union branch.
David Ward, former Liberal Democrat MP and now an independent councillor spoke to demonstrators opposing the proposals and mentioned the Green Party group on the council was challenging the proposals too.
Unfortunately, the response from the local Labour leadership is to double down on pushing these cutbacks through. Val Slater, the executive member covering the service, told the local press: "Naturally people have a right to protest but until government starts to address our major concerns regarding funding for children's social care, then we have to manage with the limited funding we have." As if the government is going to change its position without huge pressure being exerted on them to do so.
If Labour councillors want to follow through on Jeremy Corbyn's anti-austerity policies then they ought to be leading the fight to force the money out of the government to fund vital local services, such as this or the library service, which faces a further near £1 million worth of cuts in the forthcoming budget proposals.
Anything less than doing so is a dereliction of duty for those who want to fight the cuts. It should include putting forward a no-cuts budget for 2018-19.
In the meantime, campaigners are planning for a second, larger demonstration to take place outside the council budget setting meeting in February. Socialist Party members will be arguing that this should be opened out to all those fighting against the various raft of cuts being made by the council.
---
In this issue
---
New Year statement

2018: more upheavals loom
---
Socialist Party comments and reviews

Tory prescription for mental illness: stress and bureaucracy

The Socialist inbox
---
Socialist Party news and analysis

Widening wealth gap, increase in poverty...make the fat cats pay

Mobilise against rip-off executive pay

Rail: fares up, bosses' pay up - delays and cancellations up

Thousands live in tents and sheds - seize empty homes

Heart unit rescued by campaigning saves baby with pioneering surgery

NHS in winter crisis as Branson creams off £1bn
---
Socialist Party reports and campaigns

Blairite council 'all ears' to rich property developers

Stop the rotten redevelopment plan, demand residents

Housing victory for Sussex students

Leeds: temporary reprieve for playing fields

Bradford protest against children's service cuts

Trade Unionist and Socialist Coalition conference
---
Socialist Party workplace news

Equal sick pay rights for staff at Charlton Park Academy

Newham: school strike solid against academy

Fire service victory

Leeds college pay protests
---
International socialist news and analysis

Catalan elections: PP humiliated
---
Home | The Socialist 3 January 2018 | Join the Socialist Party
Related links:

Bradford protests against kids' service cuts

Bradford Socialist Party: A strategy to defeat the cuts

Bradford campaign to save children's services launched

Demonstrators see off far-right in Keighley

Bradford Socialist Party: What the election results mean and what we do next

Swansea Labour council votes for cuts

Seeing-off the bigoted, billionaire toff!

Salford Socialist Party: US gun control, the NRA and protest

Protesters denounce oppressive Sri Lankan regime

Socialist Party congress 2018

Profits up Wages down

TUSC plans to stand on Waltham Forest anti-monster block platform

International Women's Day

The Socialist inbox: International Women's Day

Leicester: Blairites block Labour Party democracy

Spring Statement 2018: Tory austerity staggers on despite economic and political weakness

Russia, spies and nerve agents

Derbyshire says: No fracking way!

Whole lotta shakin' goin' on in DOO dispute