The Socialist 24 January 2018
Socialist planning needed to end privatisation scam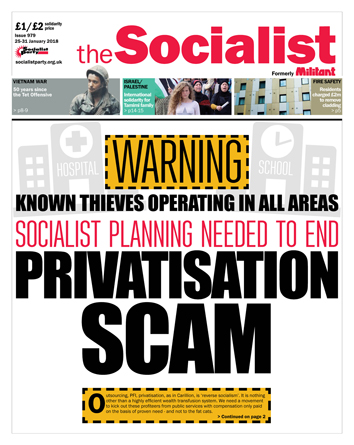 ---
Turn Carillion crisis into movement against privatisation and capitalism
---
Welsh NHS crisis - we cannot go on like this
£2m to remove Grenfell-type cladding: residents to get bill
Leeds playing fields rescued from Blairites
May's "war on plastic" still puts profits before the planet
---
Vietnam War: 50 years since the Tet Offensive
---
Lecturers vote for strikes against pension cuts
PCS executive agrees next steps in pay campaign
Brum care workers protest council attacks
Amy Murphy Usdaw campaign meeting
Ballots against Bromley privatisers
Ferrybridge: Workers down tools over unpaid wages
---
Punishment of Tamimi family awakens wave of international solidarity
---
Defend Louise Harrison - save Yorkshire women's services!
Victory against government's war on eastern European homeless
Gentrification scourge hits Kent
Kirklees council opens consultation of library services
Southampton: Pay rise for uni boss, job losses for lecturers
---
Obituary: Maureen Mulhearn 1945-2018
---
Carillion and the construction industry
Carillion crisis exposes PFI chaos
Universal credit: set up to fail
PO Box 24697, London, E11 1YD
020 8988 8777
editors@socialistparty.org.uk

Link to this page: http://www.socialistparty.org.uk/issue/979/26772
Home | The Socialist 24 January 2018 | Join the Socialist Party
Subscribe | Donate | Audio | PDF | ebook
Lecturers vote yes to national strikes against pension cuts
Sam Morecroft, Sheffield UCU anti-casualisation officer
88% of University and College Union (UCU) members in 68 universities have voted for national strikes on a 58% turnout.
Universities UK is proposing to scrap the 'defined benefit' element of our pensions. This will reduce the value of staff pensions by 50% or more, and leave an average lecturer £200,000 worse off in retirement.
This is the highest turnout for a national ballot in the history of UCU, showing the anger at the scale of the attack. Many branches worked hard to build this, giving us a strong mandate for action.
At the time of writing there are further negotiations scheduled, beginning on 23 January.
But if there is no change in the employer's plans, UCU has announced a sustained, escalating programme of 14 days of strike action. This will begin with a two-day stoppage on or around 22 February, alongside action short of strike like working to contract.
61 of the universities balloted secured turnouts above 50%. The seven other institutions which voted for action but didn't secure the threshold required by the latest anti-union law will now be quickly re-balloted in light of the national result.
On all affected campuses, and on those not affected, meetings of workers and students must be held to begin to build solidarity for the strikes. This attack on our pensions is part of the marketisation and privatisation strategy of the Tory government. Unite to defend pensions and education!
---
In this issue
---
What we think

Turn Carillion crisis into movement against privatisation and capitalism
---
Socialist Party news and analysis

Welsh NHS crisis - we cannot go on like this

£2m to remove Grenfell-type cladding: residents to get bill

Private profit out of our NHS

Leeds playing fields rescued from Blairites

May's "war on plastic" still puts profits before the planet

News in brief
---
Vietnam war

Vietnam War: 50 years since the Tet Offensive
---
Socialist Party workplace news

Lecturers vote for strikes against pension cuts

PCS executive agrees next steps in pay campaign

Brum care workers protest council attacks

Amy Murphy Usdaw campaign meeting

Ballots against Bromley privatisers

Ferrybridge: Workers down tools over unpaid wages
---
International socialist news and analysis

Punishment of Tamimi family awakens wave of international solidarity
---
Socialist Party reports and campaigns

Defend Louise Harrison - save Yorkshire women's services!

Victory against government's war on eastern European homeless

Women rally defiantly

Gentrification scourge hits Kent

Kirklees council opens consultation of library services

Southampton: Pay rise for uni boss, job losses for lecturers
---
Obituaries

Red Mary - a Force of Nature

Obituary: Maureen Mulhearn 1945-2018
---
Opinion

Carillion and the construction industry

Carillion crisis exposes PFI chaos

Universal credit: set up to fail

The Socialist inbox
---
Home | The Socialist 24 January 2018 | Join the Socialist Party