The Socialist 16 May 2018
Middle East in crisis - no to war!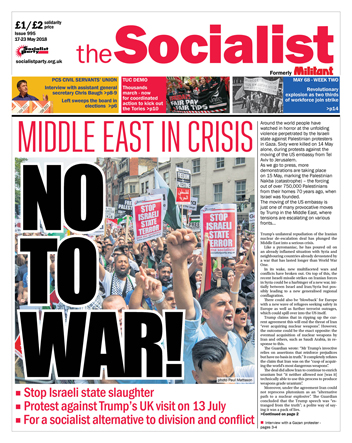 ---
Exclusive interview with Gazan activist: "The more they kill us, the more the anger increases"
---
May 1968: Revolutionary explosion as two thirds of workforce join strike
---
PCS conference 2018: building on the union's militant record
PCS elections - Left sweeps the board
---
Tories' continuing EU quagmire is Corbyn's opportunity
Royal wedding opulence... during longest pay squeeze in 200 years
Richest worth £724bn... as 100,000 kids fall into poverty
---
Strike at Tesco Dagenham for better pay
Lively Hull demo against college cuts
Harrogate College strike against cuts
Leeds Acas conciliators walkout
---
'When we fight, we can win' - campaign halts hospital closure
Chesterfield May Day: march turnout great
Save Our Square takes fight to developers
Save Southall Town Hall legal hearing success
---
Ronan Point disaster 50 years on
---
Spain: Student general strike against sexist, capitalist 'justice' system
Sweden: Socialist elected leader of 77,000-strong tenants' union
---
PO Box 24697, London, E11 1YD
020 8988 8777
editors@socialistparty.org.uk

Link to this page: http://www.socialistparty.org.uk/issue/995/27353
Home | The Socialist 16 May 2018 | Join the Socialist Party
Subscribe | Donate | Audio | PDF | ebook
Belgium Lidl strike victory
Socialist Party members in Usdaw
A week-long series of strikes by Lidl workers in Belgium has led to increased staff at stores across the country. A strike broke out at one store in Oostkamp over the dismissal of a sales manager, which also raised the issue of workloads.
After a failed set of negotiations, where the company wanted to push for longer opening hours, including Sunday, a number of stores went on strike immediately, but soon began being joined by other less organised stores. By 27 April, 147 out of 302 stores in Belgium were reported as closed by the company,
The strikes forced management to concede an extra 42 staffing hours per store for six months, but this was rejected by the SETCa/BBTK unions and the strike continued for a further two days until this was made permanent. Key in winning this was the picketing of the five distribution depots in the country, effectively shutting the company down.
Understaffing is a problem across the whole of the retail sector. The Lidl strike in Belgium shows once again that shop workers do not have to take the attacks of management lying down.
---
In this issue
---
Middle East

Middle East in crisis

Exclusive interview with Gazan activist: "The more they kill us, the more the anger increases"
---
France '68

May 1968: Revolutionary explosion as two thirds of workforce join strike
---
PCS

PCS conference 2018: building on the union's militant record

PCS elections - Left sweeps the board
---
Socialist Party news and analysis

Tories' continuing EU quagmire is Corbyn's opportunity

Royal wedding opulence... during longest pay squeeze in 200 years

Richest worth £724bn... as 100,000 kids fall into poverty
---
Socialist Party workplace news

Strike at Tesco Dagenham for better pay

Belgium Lidl strike victory

Lively Hull demo against college cuts

Harrogate College strike against cuts

Leeds Acas conciliators walkout

Workplace news in brief
---
Socialist Party reports and campaigns

Thousands march on TUC demo

'When we fight, we can win' - campaign halts hospital closure

Chesterfield May Day: march turnout great

Save Our Square takes fight to developers

Save Southall Town Hall legal hearing success
---
Ronan Point

Ronan Point disaster 50 years on
---
International socialist news and analysis

Spain: Student general strike against sexist, capitalist 'justice' system

Sweden: Socialist elected leader of 77,000-strong tenants' union
---
Opinion

The Socialist Inbox
---
Home | The Socialist 16 May 2018 | Join the Socialist Party