The Socialist 16 May 2018
Middle East in crisis - no to war!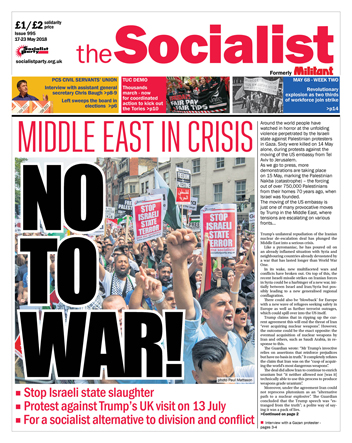 ---
Exclusive interview with Gazan activist: "The more they kill us, the more the anger increases"
---
May 1968: Revolutionary explosion as two thirds of workforce join strike
---
PCS conference 2018: building on the union's militant record
PCS elections - Left sweeps the board
---
Tories' continuing EU quagmire is Corbyn's opportunity
Royal wedding opulence... during longest pay squeeze in 200 years
Richest worth £724bn... as 100,000 kids fall into poverty
---
Strike at Tesco Dagenham for better pay
Lively Hull demo against college cuts
Harrogate College strike against cuts
Leeds Acas conciliators walkout
---
'When we fight, we can win' - campaign halts hospital closure
Chesterfield May Day: march turnout great
Save Our Square takes fight to developers
Save Southall Town Hall legal hearing success
---
Ronan Point disaster 50 years on
---
Spain: Student general strike against sexist, capitalist 'justice' system
Sweden: Socialist elected leader of 77,000-strong tenants' union
---
PO Box 24697, London, E11 1YD
020 8988 8777
editors@socialistparty.org.uk

Link to this page: http://www.socialistparty.org.uk/issue/995/27358
Home | The Socialist 16 May 2018 | Join the Socialist Party
Subscribe | Donate | Audio | PDF | ebook
Workplace news in brief
TGI Fridays strike
Workers at TGI Fridays restaurants in Milton Keynes and Covent Garden, London, will take their first ever strike action on 18 May in a dispute over tips and minimum wage abuses which could cost waiting staff £250 a month in lost wages.
The Unite the Union members voted 100% on a 75% turnout to walk out. The strike will be the first in a series of 24-hour strikes over consecutive Fridays during the summer.
The dispute arose when the company introduced a new tipping policy with only two days' notice, which would see money earned by the waiting staff redirected to top up the low wages of kitchen staff. This was driven by the need to stop the high turnover of kitchen staff.
The move means waiting staff can lose up to £65 a week from their wage packets. There are further industrial action ballots at four more restaurants currently underway, and more planned.
---
>
Cleaners action
Cleaners at Kensington and Chelsea town halls - all of who are migrant workers and members of the United Voices of the World trade union - are set to strike for the London Living Wage of £10.20 an hour. They are currently only paid the minimum, poverty wage of £7.83 an hour.
Stay tuned for strike dates and solidarity actions! Once again low paid migrant and precarious workers are taking the fight to the bosses! See facebook.com/uvwunion
---
>
Wilmington walkout
Unison members at FCC Wilmington, who ended their two-week strike on 14 May, voted to strike for a further one month in the immediate future.
Please send messages of support to Adrian Kennett (secretary of Hull Unison) and Mick Whale (secretary of Hull Trades Council).
Email hullnut@hullnut.karoo.co.uk and a.kennett@unisonhull.org.uk
---
In this issue
---
Middle East

Middle East in crisis

Exclusive interview with Gazan activist: "The more they kill us, the more the anger increases"
---
France '68

May 1968: Revolutionary explosion as two thirds of workforce join strike
---
PCS

PCS conference 2018: building on the union's militant record

PCS elections - Left sweeps the board
---
Socialist Party news and analysis

Tories' continuing EU quagmire is Corbyn's opportunity

Royal wedding opulence... during longest pay squeeze in 200 years

Richest worth £724bn... as 100,000 kids fall into poverty
---
Socialist Party workplace news

Strike at Tesco Dagenham for better pay

Belgium Lidl strike victory

Lively Hull demo against college cuts

Harrogate College strike against cuts

Leeds Acas conciliators walkout

Workplace news in brief
---
Socialist Party reports and campaigns

Thousands march on TUC demo

'When we fight, we can win' - campaign halts hospital closure

Chesterfield May Day: march turnout great

Save Our Square takes fight to developers

Save Southall Town Hall legal hearing success
---
Ronan Point

Ronan Point disaster 50 years on
---
International socialist news and analysis

Spain: Student general strike against sexist, capitalist 'justice' system

Sweden: Socialist elected leader of 77,000-strong tenants' union
---
Opinion

The Socialist Inbox
---
Home | The Socialist 16 May 2018 | Join the Socialist Party