The Socialist 16 May 2018
Middle East in crisis - no to war!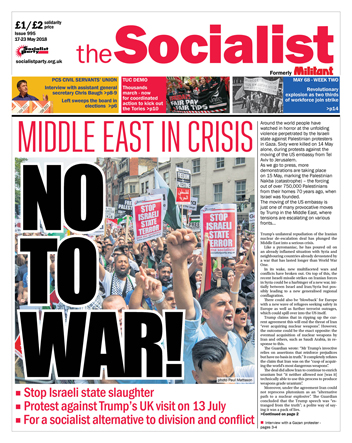 ---
Exclusive interview with Gazan activist: "The more they kill us, the more the anger increases"
---
May 1968: Revolutionary explosion as two thirds of workforce join strike
---
PCS conference 2018: building on the union's militant record
PCS elections - Left sweeps the board
---
Tories' continuing EU quagmire is Corbyn's opportunity
Royal wedding opulence... during longest pay squeeze in 200 years
Richest worth £724bn... as 100,000 kids fall into poverty
---
Strike at Tesco Dagenham for better pay
Lively Hull demo against college cuts
Harrogate College strike against cuts
Leeds Acas conciliators walkout
---
'When we fight, we can win' - campaign halts hospital closure
Chesterfield May Day: march turnout great
Save Our Square takes fight to developers
Save Southall Town Hall legal hearing success
---
Ronan Point disaster 50 years on
---
Spain: Student general strike against sexist, capitalist 'justice' system
Sweden: Socialist elected leader of 77,000-strong tenants' union
---
PO Box 24697, London, E11 1YD
020 8988 8777
editors@socialistparty.org.uk

Link to this page: http://www.socialistparty.org.uk/issue/995/27360
Home | The Socialist 16 May 2018 | Join the Socialist Party
Subscribe | Donate | Audio | PDF | ebook
Royal wedding opulence... during longest pay squeeze in 200 years
Bea Gardner, Southampton Socialist Party
The cost of Harry and Meghan's marriage will be 110 times that of the average couple - 1,785 times including security - according to estimates by wedding planner Bridebook. This extravagance is a window into the lives of the super-rich who have not suffered the decade of austerity we have.
It should be a national outrage that the taxpayer will fork out £300,000 on just one marquee for the night, when rough sleeping has more than doubled since Harry's brother got married in 2011.
They will move into a grace-and-favour 21-bedroom "apartment" in the grounds of Kensington Palace, says House Beautiful. Meanwhile, two-fifths of their fellow Millennials are still stuck in overcrowded and extortionate private rentals by the age of 30 (see 'Young people trapped in private rental').
Just a glance at the anticipated costs of the day exposes the bitter reality of class division in Britain. Almost a year's pay on the UK median salary will go on sausage rolls alone.
And Markle - a privately educated celebrity who is soon to be the Duchess of Sussex - is not subject to the fear and insecurity that face most migrants and refugees starting out in Britain. (See 'Royal wedding exposes them-and-us visa system'.)
But while many working class people will be seething at the inequality behind the headlines, the royal wedding couldn't have come at a better time for the Tories. They hope the round-the-clock coverage will distract the public, at least temporarily, from the catastrophe that is their weak and divided government.
Royal pageantry has long been used by the ruling class to divert attention from its problems - weddings in particular since World War One. But the capitalist establishment is foolish if it thinks a wedding is enough to soothe the effects of a decade of austerity.
In 2011, some might still have been clinging to nostalgic notions that we were "all in it together." But we are now in the middle of the longest pay squeeze in two centuries according to the Trade Union Congress.
We all know the super-rich have continued to get richer while we foot the bill. There should be no place in society for freeloading feudal relics. We say: stuff the wedding - abolish the monarchy - fight the cuts!
---
In this issue
---
Middle East

Middle East in crisis

Exclusive interview with Gazan activist: "The more they kill us, the more the anger increases"
---
France '68

May 1968: Revolutionary explosion as two thirds of workforce join strike
---
PCS

PCS conference 2018: building on the union's militant record

PCS elections - Left sweeps the board
---
Socialist Party news and analysis

Tories' continuing EU quagmire is Corbyn's opportunity

Royal wedding opulence... during longest pay squeeze in 200 years

Richest worth £724bn... as 100,000 kids fall into poverty
---
Socialist Party workplace news

Strike at Tesco Dagenham for better pay

Belgium Lidl strike victory

Lively Hull demo against college cuts

Harrogate College strike against cuts

Leeds Acas conciliators walkout

Workplace news in brief
---
Socialist Party reports and campaigns

Thousands march on TUC demo

'When we fight, we can win' - campaign halts hospital closure

Chesterfield May Day: march turnout great

Save Our Square takes fight to developers

Save Southall Town Hall legal hearing success
---
Ronan Point

Ronan Point disaster 50 years on
---
International socialist news and analysis

Spain: Student general strike against sexist, capitalist 'justice' system

Sweden: Socialist elected leader of 77,000-strong tenants' union
---
Opinion

The Socialist Inbox
---
Home | The Socialist 16 May 2018 | Join the Socialist Party