The Socialist 16 May 2018
Middle East in crisis - no to war!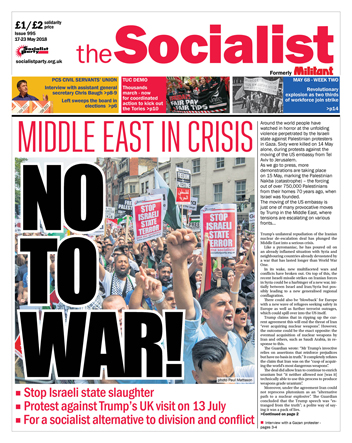 ---
Exclusive interview with Gazan activist: "The more they kill us, the more the anger increases"
---
May 1968: Revolutionary explosion as two thirds of workforce join strike
---
PCS conference 2018: building on the union's militant record
PCS elections - Left sweeps the board
---
Tories' continuing EU quagmire is Corbyn's opportunity
Royal wedding opulence... during longest pay squeeze in 200 years
Richest worth £724bn... as 100,000 kids fall into poverty
---
Strike at Tesco Dagenham for better pay
Lively Hull demo against college cuts
Harrogate College strike against cuts
Leeds Acas conciliators walkout
---
'When we fight, we can win' - campaign halts hospital closure
Chesterfield May Day: march turnout great
Save Our Square takes fight to developers
Save Southall Town Hall legal hearing success
---
Ronan Point disaster 50 years on
---
Spain: Student general strike against sexist, capitalist 'justice' system
Sweden: Socialist elected leader of 77,000-strong tenants' union
---
PO Box 24697, London, E11 1YD
020 8988 8777
editors@socialistparty.org.uk

Link to this page: http://www.socialistparty.org.uk/issue/995/27361
Home | The Socialist 16 May 2018 | Join the Socialist Party
Subscribe | Donate | Audio | PDF | ebook
Sunday Times Rich List 2018
Richest worth £724bn... as 100,000 kids fall into poverty
Andrew Carss, Salford Socialist Party
£724 billion. This is the combined wealth of Britain's 1,000 richest. The Sunday Times has produced its annual Rich List, and the working class can see who is dipping their hand in our pockets.
The top 1,000 have increased their worth by 10% in a year. In the same time, another 100,000 children fell into poverty - making 4.1 million, about 30% of all kids - according to the Department for Work and Pensions.
The top spot this year has been claimed by spiv-in-chief union-buster Jim Ratcliffe, net worth £21 billion. Back in 2013, the Ineos chair and majority owner used the livelihoods of thousands of workers as leverage to extract £134 million from the taxpayer for his oil refinery at Grangemouth.
In real terms, average wages are still lower than they were in 2007. The Tories have offered NHS workers a miserly below-inflation pay 'increase'. Wages are recovering slower than even after the Great Depression, according to the Trade Union Congress.
Meanwhile, at the top of the pile, capital gains tax is 28%, and corporate tax just 20% - both lower than the higher rates of income tax! For all their spiel about "making work pay," in Tory and Blairite Britain work is disincentivised for the super-rich.
They ferret away their ill-gotten gains in tax havens, where capital languishes until a profitable investment opportunity opens up for it.
Under Jeremy Corbyn's anti-austerity leadership, donations to Labour from the very wealthy have almost disappeared. Meanwhile, of the top 50 political donors in this year's Rich List, only one was not a Tory donor.
Capitalist politicians tell us that if we stand up to the billionaire 'Masters of the Universe' and demand they pay more, they will simply leave the country, taking thousands of jobs with them. But working people create all the wealth in society - the bosses just take it.
The Times has lauded the "triumph" of the "self-made" billionaires this year. "94% of most wealthy made own fortunes" in the top 1,000, it claims.
Really? Did Jim Ratcliffe make petrochemical products worth €2.3 billion profit last year himself? Or was that, in fact, the workers whose terms and conditions he battered in 2013 while relaxing on a £130 million yacht?
The answer to billionaire thieves threatening to leave is to nationalise their business empires under democratic workers' control and management. Britain is an enormously wealthy country. There is enough wealth to guarantee every person a decent standard of living - but not while supporting a billionaire class.
The Socialist Party fights for the nationalisation of the banks and top corporations as part of a democratic, socialist plan of production - and heavy, progressive taxes on the stolen fortunes of the super-rich.
---
In this issue
---
Middle East

Middle East in crisis

Exclusive interview with Gazan activist: "The more they kill us, the more the anger increases"
---
France '68

May 1968: Revolutionary explosion as two thirds of workforce join strike
---
PCS

PCS conference 2018: building on the union's militant record

PCS elections - Left sweeps the board
---
Socialist Party news and analysis

Tories' continuing EU quagmire is Corbyn's opportunity

Royal wedding opulence... during longest pay squeeze in 200 years

Richest worth £724bn... as 100,000 kids fall into poverty
---
Socialist Party workplace news

Strike at Tesco Dagenham for better pay

Belgium Lidl strike victory

Lively Hull demo against college cuts

Harrogate College strike against cuts

Leeds Acas conciliators walkout

Workplace news in brief
---
Socialist Party reports and campaigns

Thousands march on TUC demo

'When we fight, we can win' - campaign halts hospital closure

Chesterfield May Day: march turnout great

Save Our Square takes fight to developers

Save Southall Town Hall legal hearing success
---
Ronan Point

Ronan Point disaster 50 years on
---
International socialist news and analysis

Spain: Student general strike against sexist, capitalist 'justice' system

Sweden: Socialist elected leader of 77,000-strong tenants' union
---
Opinion

The Socialist Inbox
---
Home | The Socialist 16 May 2018 | Join the Socialist Party