The Socialist 16 May 2018
Middle East in crisis - no to war!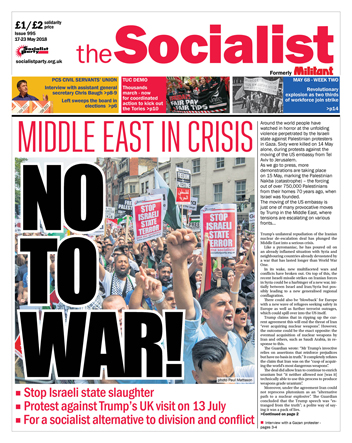 ---
Exclusive interview with Gazan activist: "The more they kill us, the more the anger increases"
---
May 1968: Revolutionary explosion as two thirds of workforce join strike
---
PCS conference 2018: building on the union's militant record
PCS elections - Left sweeps the board
---
Tories' continuing EU quagmire is Corbyn's opportunity
Royal wedding opulence... during longest pay squeeze in 200 years
Richest worth £724bn... as 100,000 kids fall into poverty
---
Strike at Tesco Dagenham for better pay
Lively Hull demo against college cuts
Harrogate College strike against cuts
Leeds Acas conciliators walkout
---
'When we fight, we can win' - campaign halts hospital closure
Chesterfield May Day: march turnout great
Save Our Square takes fight to developers
Save Southall Town Hall legal hearing success
---
Ronan Point disaster 50 years on
---
Spain: Student general strike against sexist, capitalist 'justice' system
Sweden: Socialist elected leader of 77,000-strong tenants' union
---
PO Box 24697, London, E11 1YD
020 8988 8777
editors@socialistparty.org.uk

Link to this page: http://www.socialistparty.org.uk/issue/995/27364
Home | The Socialist 16 May 2018 | Join the Socialist Party
Subscribe | Donate | Audio | PDF | ebook
Spain: Student general strike against sexist, capitalist 'justice' system
Sindicato de Estudiantes (Students' Union)
The general student strike on 10 May, called against the shameful light sentencing of the 'wolfpack' rapists, was a great success. More than one million students emptied classrooms and more than 100,000 attended over 60 demonstrations organised by the Sindicato de Estudiantes (SE - Students' Union) and Libres y Combativas platform of SE and Izquierda Revolucionaria (CWI in the Spanish state).
Madrid city centre was filled by over 20,000 young people with an exceptionally combative atmosphere; the same in Barcelona where over 40,000 filled the streets of the Catalan capital.
In the Basque country, thousands marched in Bilbao, Gasteiz, Donosti and Iruña, as well as in all provinces of Andalucia, Valencia, Galicia, Aragon, Extremadura, etc. Tens of thousands of students shouted loud and clear: "It was rape!", "Sister, we are your 'wolfpack'!", "I believe you!" and "Down with sexist 'justice'!"
It was an extraordinary day of struggle in which students expressed their support and solidarity with the victim of the wolfpack as well as rejection of all such savage attacks, which we will not allow to continue, despite the 'justice' system protecting perpetrators.
We showed that the feminists who defend a programme of struggle and anti-capitalism are widening their influence. This is a feminism which is not afraid to call things by their proper name, does not hesitate to denounce the justice system which protects rapists. A feminism which fights the reactionary policies of the People's Party (PP - the main ruling party of prime minister Mariano Rajoy), Ciudadanos and all others who pretend to be feminists while sustaining the capitalist system which oppresses and kills us.
The sentence handed to the wolfpack is part and parcel of the misery which the capitalist system and this corrupt right-wing government forces millions of women, young people and workers to experience on a daily basis.
They wish to send us a clear message: while there is persecution of those who struggle, there is impunity for sexists and corrupt politicians and bosses.
We made history once more in the struggle for freedom. But we cannot now let our guard down. From Libres y Combativas and the Sindicato de Estudiantes we call on all young people to continue to mobilise against all oppression and invite you to join us in building a revolutionary, anti-capitalist feminist movement.
---
In this issue
---
Middle East

Middle East in crisis

Exclusive interview with Gazan activist: "The more they kill us, the more the anger increases"
---
France '68

May 1968: Revolutionary explosion as two thirds of workforce join strike
---
PCS

PCS conference 2018: building on the union's militant record

PCS elections - Left sweeps the board
---
Socialist Party news and analysis

Tories' continuing EU quagmire is Corbyn's opportunity

Royal wedding opulence... during longest pay squeeze in 200 years

Richest worth £724bn... as 100,000 kids fall into poverty
---
Socialist Party workplace news

Strike at Tesco Dagenham for better pay

Belgium Lidl strike victory

Lively Hull demo against college cuts

Harrogate College strike against cuts

Leeds Acas conciliators walkout

Workplace news in brief
---
Socialist Party reports and campaigns

Thousands march on TUC demo

'When we fight, we can win' - campaign halts hospital closure

Chesterfield May Day: march turnout great

Save Our Square takes fight to developers

Save Southall Town Hall legal hearing success
---
Ronan Point

Ronan Point disaster 50 years on
---
International socialist news and analysis

Spain: Student general strike against sexist, capitalist 'justice' system

Sweden: Socialist elected leader of 77,000-strong tenants' union
---
Opinion

The Socialist Inbox
---
Home | The Socialist 16 May 2018 | Join the Socialist Party