The Socialist 16 May 2018
Middle East in crisis - no to war!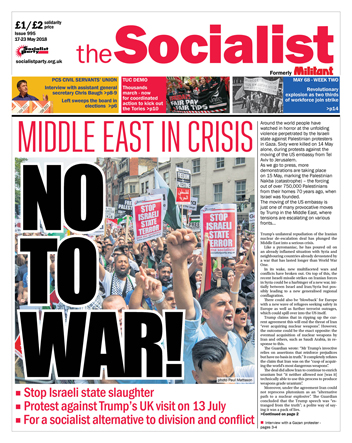 ---
Exclusive interview with Gazan activist: "The more they kill us, the more the anger increases"
---
May 1968: Revolutionary explosion as two thirds of workforce join strike
---
PCS conference 2018: building on the union's militant record
PCS elections - Left sweeps the board
---
Tories' continuing EU quagmire is Corbyn's opportunity
Royal wedding opulence... during longest pay squeeze in 200 years
Richest worth £724bn... as 100,000 kids fall into poverty
---
Strike at Tesco Dagenham for better pay
Lively Hull demo against college cuts
Harrogate College strike against cuts
Leeds Acas conciliators walkout
---
'When we fight, we can win' - campaign halts hospital closure
Chesterfield May Day: march turnout great
Save Our Square takes fight to developers
Save Southall Town Hall legal hearing success
---
Ronan Point disaster 50 years on
---
Spain: Student general strike against sexist, capitalist 'justice' system
Sweden: Socialist elected leader of 77,000-strong tenants' union
---
PO Box 24697, London, E11 1YD
020 8988 8777
editors@socialistparty.org.uk

Link to this page: http://www.socialistparty.org.uk/issue/995/27367
Home | The Socialist 16 May 2018 | Join the Socialist Party
Subscribe | Donate | Audio | PDF | ebook
Chesterfield May Day: march turnout great
Dave Gorton, Chesterfield Socialist Party
Glorious bank holiday weather brought a high turnout to the 40th Chesterfield May Day march and rally, where Unite's Len McCluskey and the National Education Union's Kevin Courtney delivered strong messages that the labour movement must fight back against austerity and a weak Tory government.
Len's warm mentions of the town's former MP, the late Tony Benn, and Dennis Skinner, himself in attendance, were in stark contrast to his justified attack on former North East Derbyshire MP, Natascha Engel, whose pro-fracking stance lost Labour a safe seat to the Tories at the last election. Labour had held the seat for 80 years. Engel has since become a consultant to Ineos, the company seeking to develop fracking in the area! The founder and boss of Ineos, multi-billionaire Jim Ratcliffe, has been declared Britain's richest man in the Sunday Times Rich List.
Many demonstrators were carrying Unison and Socialist Party placards calling for Derbyshire's threatened library services to remain in public hands.
Socialist Party members from Chesterfield, Mansfield, Nottingham, Leicester and Sheffield ensured the Socialist Party had high visibility on the day. Over 40 copies of the Socialist were sold, the top seller being Denise Tooley-Okonkwo, and nearly £100 collected for the Socialist Party's Fighting Fund.
---
In this issue
---
Middle East

Middle East in crisis

Exclusive interview with Gazan activist: "The more they kill us, the more the anger increases"
---
France '68

May 1968: Revolutionary explosion as two thirds of workforce join strike
---
PCS

PCS conference 2018: building on the union's militant record

PCS elections - Left sweeps the board
---
Socialist Party news and analysis

Tories' continuing EU quagmire is Corbyn's opportunity

Royal wedding opulence... during longest pay squeeze in 200 years

Richest worth £724bn... as 100,000 kids fall into poverty
---
Socialist Party workplace news

Strike at Tesco Dagenham for better pay

Belgium Lidl strike victory

Lively Hull demo against college cuts

Harrogate College strike against cuts

Leeds Acas conciliators walkout

Workplace news in brief
---
Socialist Party reports and campaigns

Thousands march on TUC demo

'When we fight, we can win' - campaign halts hospital closure

Chesterfield May Day: march turnout great

Save Our Square takes fight to developers

Save Southall Town Hall legal hearing success
---
Ronan Point

Ronan Point disaster 50 years on
---
International socialist news and analysis

Spain: Student general strike against sexist, capitalist 'justice' system

Sweden: Socialist elected leader of 77,000-strong tenants' union
---
Opinion

The Socialist Inbox
---
Home | The Socialist 16 May 2018 | Join the Socialist Party