Reports and Campaigns

About the Socialist Party

Anti-capitalism

Anti-privatisation

Anti-war

Election campaigns

Environment

Health

Socialist women

Workplace

Youth and Students
---
NHS keywords:
---
Reports and campaigns:
Stop the slaughter of Tamils (89)
Workplace and TU campaigns (8233)
Related websites
Trade Unionist and Socialist Coalition
National Shop Stewards Network
---
---
16 July 2008

Ambulances - calls doubled, no extra staff
I WROTE recently to Ben Bradshaw, minister in charge of ambulance services, calling for an increase in front-line emergency vehicles. I said that we have not had an increase in the number of front line staff or vehicles for over ten years...
20 February 2008

Hospitals "stacking" patients
THE GOVERNMENT has a long-standing promise that all out-patients are treated within four hours of admission to accident and emergency units...
13 December 2007

Warning: NHS cuts seriously damage your health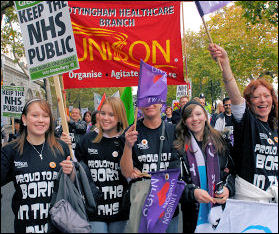 NHS demonstrations November 2007., photo Paul Mattsson
AS THE year ends, the grim reality of privatisation and a market-driven NHS is clear...
By Lois Austin
17 May 2007

FBU conference: Preparing for future battles
"THE LAST three years have been very hard for all of us. It's time to put our heads up. We're not going backwards, we ain't running anymore, come July...
3 November 2005

Don't let Blair wreck hospitals and schools
BLAIR'S GOVERNMENT is destroying our public services. As our reports from Yorkshire and London show our NHS and our schools are more and more...
24 April 2004

"A Lonely Death With No Dignity"
CHRISTOPHER ALDER is one of 81 black people who have died in police custody since 1990 in England and Wales. Christopher's death, however, is unique - his final eleven minutes was shown to millions in BBC's Rough Justice programme...
6 December 2002

'Modernisation': Saving Money Not Saving Lives
THE FIREFIGHTERS' union has called off the next planned strike to go into 'exploratory talks' brokered by ACAS
6 April 2001

After the suits had gone....
NORTHWICK PARK hospital, Harrow, has just completed a £3.9 million refurbishment to its accident and emergency department, writes Steve Harbord, UNISON rep, Kenton ambulance station.